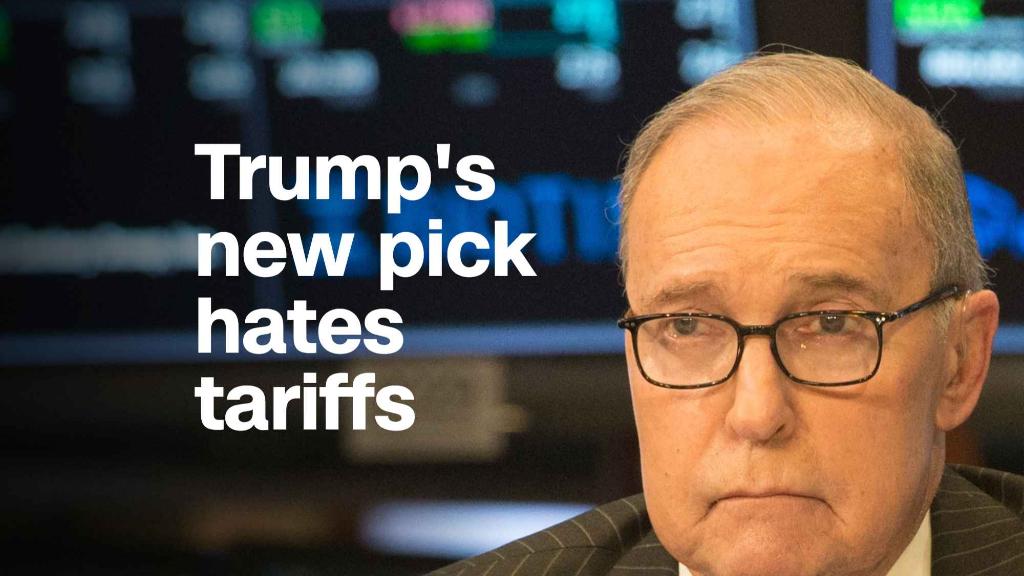 Frictions over global trade are likely to escalate as finance chiefs of the Group of 20 nations arrive in Buenos Aires on Monday.
The Trump administration's move toward protectionism looms over talks this week among the world's largest advanced and emerging economies.
Trump has already announced a tariff of 25% on foreign steel imports and 10% on imported aluminum. And he is considering additional penalties on a range of Chinese products along with a restriction in Chinese investment in the United States.
"This is a very significant moment in the G20 and elsewhere," said Edward Alden, a senior fellow at the Council on Foreign Relations. "The US is trying to force a change in its trading relationships with the world, and every country in the G20 is going to have to decide how to respond to that."
Related: Europe reveals long list of US exports it could hit
It will be left to Treasury Secretary Steven Mnuchin to be the Trump administration's explainer-in-chief as he meets with his counterparts.
Mnuchin has defended Trump's tariff plan and has played down threats of retaliation by other nations.
"While our objective is not to get into a trade war, we are going to defend the US interests," Mnuchin said earlier this month. He said the tariffs strike the "right balance."
The secretary is already expected to meet with several partners on the sidelines of the two-day meeting, including South Korea, France, Saudi Arabia, Canada, Australia and the United Kingdom, according to a senior US Treasury official.
"Mr. Mnuchin will have to do some explaining," said Edwin Truman, a senior fellow at the Peterson Institute for International Economics and former assistant secretary for international affairs at the Treasury Department. "The real challenge is whether this is something that is a one-off or are you going to find other measures that are going to be applied as you go through the next year or two."
Related: Boeing would be on the front lines of a trade war with China
Significant trading partners like the European Union have already threatened to retaliate should the United States move forward with the steel and aluminum tariffs.
The EU published a list of hundreds of American products that could be a target — including US cigarettes, sweetcorn, ovens, sailboats, lipstick and steel sinks.
The Trump administration has left the door open for other countries to avoid the trade penalty, and is in negotiations with certain partners. So far only Canada and Mexico are off the hook.
The tariffs are expected to take effect on Friday.
Trade and foreign policy experts view the tariffs as leverage by the United States to put increased pressure on allies to address concerns beyond China.
"If it was just about steel and aluminum, there are other mechanisms to deal with this," Truman said.
President Trump has repeatedly threatened to get tough on countries that have trade surpluses with the United States. His view is that tariffs can be used to nudge allies on a variety of other issues, Alden said, from reducing the trade gap to spending more on security and defense.
Related: Jamie Dimon warns Trump tariffs may 'backfire'
The administration has already signaled it plans to work with "like-minded countries" in Argentina this week to push back against China's state subsidies and investment policies. The United States argues that government subsidies to exporters and other directives give China's homegrown players an extra advantage.
"There's been substantial recognition of this problem," a senior US Treasury official said on a call with reporters Thursday. "What we can say is the world is recognizing the problem and looking for ways to deal with it."
The senior official said he didn't expect the administration's recent tariff announcement to interfere with those efforts to tackle China's move away from market liberalization.
But experts cast doubt on the US strategy, saying it only creates divisiveness among partners.
"When you approach your own allies with such threats of tariffs, it takes away your ability to convene and get everybody on your side," said Heidi Crebo-Reiker, an adjunct senior fellow at the Council on Foreign Relations and a former chief economist at the State Department.
The United States and other countries are worried about Beijing's overproduction of steel. China dumps that steel on trade partners at low prices that hurt those countries' industries.
Other countries are also worried about China's theft of intellectual property and bids to acquire emerging technology as an early investor in joint ventures.
"But that's not the way the administration looks at it," Alden said. "They think they are more likely to get the cooperation they want through threats rather than inducements."