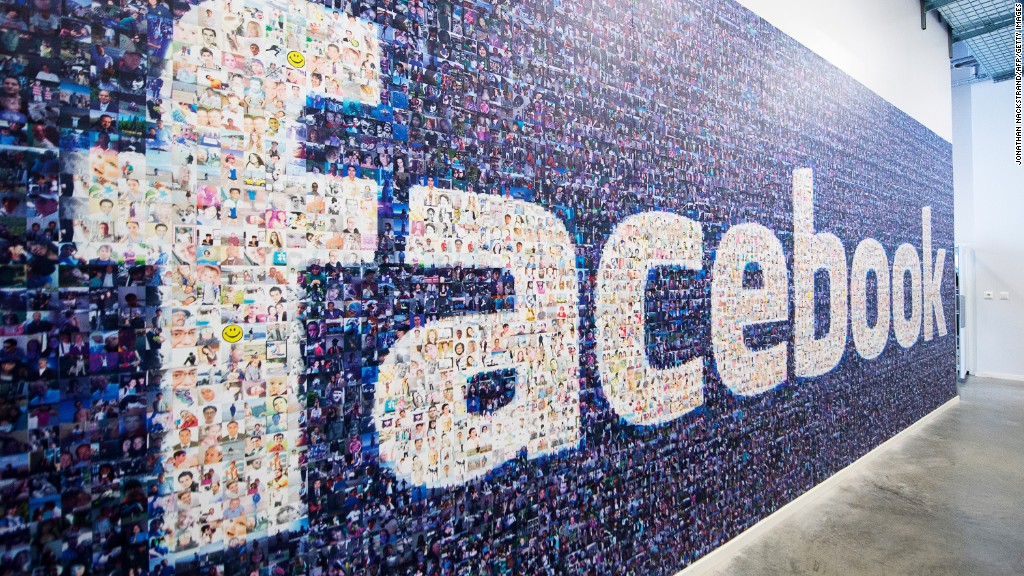 Facebook is under fire for its role as a conduit of influence in American elections. But Mark Zuckerberg has insulated himself, ensuring his job is secure.
It's possible that politicians may eventually rap the Facebook (FB) CEO's knuckles. Customers might revolt. Shareholders could one day even call for Zuckerberg to step down -- although that seems doubtful.
But it's unlikely anyone will be able to force Zuckerberg to make significant changes to how the company is run in the foreseeable future.
That's because Zuckerberg owns more than 75% of Facebook's class B stock, which get 10 shareholder votes -- compared to the one vote for an ordinary Facebook investor who owns the A shares that are traded on Wall Street.
In other words, Zuckerberg doesn't have to listen to what Wall Street says. But should he make even bigger changes?
Politicians in the United States and in Europe are calling on Zuckerberg to look into how the social network's user data may have been compromised after data firm Cambridge Analytica, which had ties to Trump's campaign, reportedly gained access to information from approximately 50 million Facebook users.
Facebook disclosed Friday it is no longer allowing Cambridge Analytica to use its platform.
Still, that hasn't been enough to stop investors from worrying how all the Russia/Trump/Cambridge drama will hurt the company over the long haul. It is starting to take its toll on Facebook's stock too.
Shares of Facebook fell nearly 7% Monday, erasing all of the company's gains for 2018 in the process.
Daniel Ives, head of technology research, for GBH Insights, wrote in a report that "Facebook has yet again found itself on the wrong side of political headwinds and angst."
Ives added that the suspension of Cambridge Analytica from its data platform "now throws Zuckerberg & Co. squarely back into this heated debate and regulatory crosshairs of both the Beltway and EU."
Related: Facebook is facing an existential crisis
To be sure, marketers may not flee Facebook because of these problems just yet.
"The company's business won't likely be meaningfully impacted for now because we don't think advertisers will suddenly change the trajectory of their spending growth on the platform," said Brian Wieser, an analyst with Pivotal Research Group, in a report.
Nonetheless, Wieser still has that rarest of ratings -- a "sell" -- on Facebook stock.
That's because he thinks "there are limits to the company's growth" given how big Facebook already is and that "costs and capital expenditures will continue to rise as the company grows and makes efforts to sustain its user base."
But Wall Street is already nervous that Facebook may be maturing in its home market. The company's daily active users in North America -- while a still impressive 184 million in North America -- fell from a year ago for the first time ever last quarter.
Political problems are the last thing that Facebook needs as it tries to convince users and investors that its best days aren't behind it.
Related: Facebook suspends former Cambridge Analytica contractor from using its platform
Antonio Tajani, president of the European Parliament, tweeted Monday morning that "allegations of misuse of Facebook user data is an unacceptable violation of our citizens' privacy rights" and that the European Parliament planned to investigate.
And US senator Amy Klobuchar, a Democrat from Minnesota and member of the Senate's Judiciary Committee, said on Twitter Saturday that the Cambridge Analytica news represents a "major breach " that Congress must look at as well.
"It's clear these platforms can't police themselves. I've called for more transparency & accountability for online political ads. They say 'trust us.' Mark Zuckerberg needs to testify before Senate Judiciary," she wrote.
John Kennedy, a Republican senator from Louisiana, joined Klobuchar Monday in calling for Zuckerberg and the CEOs of other tech firms, to come before the Judiciary Committee.
Will that happen? For what it's worth, Zuckerberg didn't appear in front of lawmakers last November when Congress was holding hearings about how Russian troll farms tried to impact the 2016 election. Facebook general counsel Colin Stretch did.
Lawyers from YouTube owner Google (GOOGL) as well as Twitter (TWTR) also testified at the November hearing.
But Zuckerberg did tell Wall Street analysts and investors during an earnings conference call a day after Stretch's testimony that he was "upset" over how "the Russians tried to use our tools to sow mistrust."
Zuckerberg may not have to answer to anyone, but if the calls from politicians, customers and shareholders intensify, he may come to realize that it's in his best interests to do so.