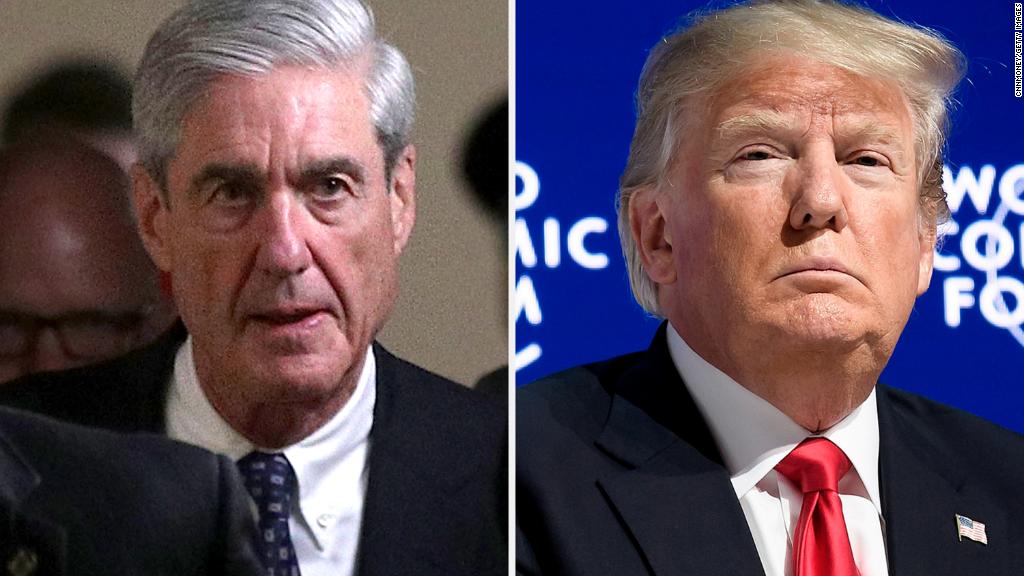 Wall Street would probably flip out if President Trump tried to fire Special Counsel Robert Mueller.
Market analysts warn the stock market would drop sharply, at least at first, because trying to oust Mueller would create immeasurable uncertainty and could even ding the economy.
"That would be stepping on the rule of law and a potential constitutional crisis," said Art Hogan, chief market strategist at B. Riley FBR.
"That's a real difficult one to model," he said, "but it's sure as heck not a positive."
Firing Mueller could also raise the odds of a blue wave in the midterm elections that would leave Democrats in charge of Congress.
Isaac Boltansky, director of policy research at Compass Point Research and Trading, said in a report that firing Mueller would represent a "dramatic escalation in political risk."
The White House has repeatedly said Trump is not planning to fire Mueller. A spokesman repeated that stance on Monday, saying it's "pretty clear there are no conversations or discussions about removing Mr. Mueller."
Still, analysts cited Trump's more aggressive stance against Mueller, as a contributing factor behind Monday's Facebook (FB)-led market tumble. The Dow dropped 336 points.
"The drumbeat has gotten louder," Hogan said.
Brad McMillan, chief investment officer at Commonwealth Financial Network, said Trump's tweets about Mueller over the weekend "raised some uncertainty."
Related: What boom? The economy is off to a 'meh' start to 2018
For the first time, Trump mentioned Mueller by name in a tweet over the weekend, calling the special counsel's investigation a "WITCH HUNT!"
His legal team also announced the hiring of Washington lawyer Joseph diGenova, an outspoken critic of the Russia investigation. "A group of FBI and DOJ people were trying to frame Donald Trump of a falsely created crime," diGenova said on Fox News in January.
To be sure, ordering the firing of Mueller would be legally complicated and risk a challenge from within Trump's own party.
Republican Senator Lindsey Graham told CNN's Jake Tapper on Sunday that firing Trump would mark the "beginning of the end of his presidency. Because we are a rule-of-laws nation."
House Speaker Paul Ryan said on Tuesday that Mueller "should be free to follow through his investigation to its completion without interference, absolutely." And Senate Majority Leader Mitch McConnell said Mueller "should be allowed to finish his job."
For the most part, Wall Street has shrugged off the Russia investigation. Investors have instead focused on Trump's agenda, booming corporate earnings and strengthening economic growth.
There have been a few exceptions, though. For instance, last May, the market fell sharply on concerns about the circumstances surrounding the firing of FBI Director James Comey. That proved to be a fleeting sell-off.
Another question is how Mueller's firing would affect the midterm elections in November. A takeover of Congress by Democrats could spook the market because of the prospect of the reversal of Trump's tax and regulatory agenda.
The key would be whether the economy would be hurt by a political crisis. Analysts said a prolonged period of uncertainty could slow growth by hurting consumer and business confidence.
"What the market would not be fine with is a drawn-out constitutional crisis," said Ed Mills, Washington policy analyst at Raymond James.
On the other hand, a quick resolution could be a nonevent, economically speaking.
"I believe a decline would be short-lived," said Sam Stovall, chief investment strategist at CFRA Research. "If the fundamentals have not changed, I would tend to think it would be a buying opportunity."
Given the great uncertainty that ousting Mueller would spark, Ed Yardeni, president of Yardeni Research, suggested the best outcome for the market would be for the investigation to continue.
"If you really have nothing to hide, then why not let the investigation move along?" he asked.
—CNN's Nathaniel Meyersohn, Kristin Wilson and Allie Malloy contributed to this report.