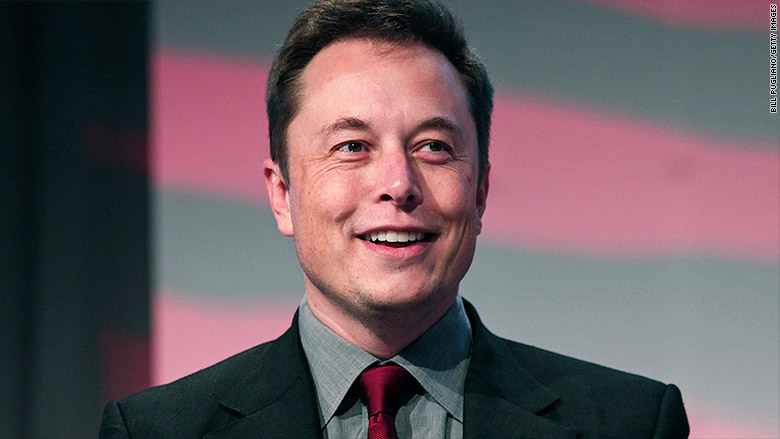 If Elon Musk can turn Tesla into a $650 billion company over the next decade, he could become one of the richest men in the world. By far.
A new payment plan for the CEO was approved by Tesla (TSLA) shareholders Wednesday, a spokesperson confirmed.
The incentive-based package essentially states that if Musk hits a series of performance milestones between now and January 2028, and he drives his electric car company's market value 12 times higher — taking it from $54 billion to $650 billion — he'll become astronomically rich.
Musk currently has a stake in Tesla worth about $12 billion.
Now, if Musk does drive a 12-fold increase in Tesla's market value, that doesn't necessarily mean the price of a single share in the company will be 12 times larger. The company can do things like issue new stock that could dilute the value of existing shares.
Related: Tesla, GM buyers to lose $7,500 tax credit within a year
But let's assume Musk's Tesla stock would grow at least 10 times more valuable. That would mean just the shares Musk owns today would be worth $120 billion.
Plus, reaching the agreed upon milestones means Musk would get additional stock awards.
According to the new compensation plan, Tesla estimates the value of the stock awards to be $2.6 billion, using accounting methods for estimating the cash value of stock options. But if Tesla's market value balloons just as the payment plan hopes, those stock awards could be worth nearly $56 billion, according to a public filing.
However, the filing cautions that $56 billion is the maximum possible profit he could make on the stock options, and that it is likely to sell additional shares to the public that would limit their value.
But he doesn't need to hit that $56 billion target to pass the current $132 estimated net worth of Jeff Bezos, who is the wealthiest man on the planet. That maximum value of his options would take the value of his Tesla stake as high as $176 billion and that's not taking into account Musk's stake in his rocket company, SpaceX.
There are no guarantees, however, that Musk can hit the those targets and become the richest person on Earth.
Bezos, the Amazon (AMZN) chief, is likely to keep getting wealthier in the years to come as well.
And there's a big kicker: If Musk fails to hit the goals laid out in his pay package, Tesla won't pay him at all.
Related: Tesla is helping build the world's biggest 'virtual power plant'
It hasn't been smooth sailings for the company as of late. The rollout of its first mass market car, the Model 3, has been hamstrung by one manufacturing delay after another.
CNBC added to the bad news when it reported last week that Tesla is producing a large number of flawed parts and vehicles, requiring expensive fixes.
The Model 3 is considered key to transforming Tesla from a niche luxury automaker into a prolific brand in the vein of Ford (F) or General Motors (GM).
Tesla is also a stock that Wall Street loves or hates. While it's notorious for attracting droves of short sellers, or investors who bet its stock price will lose value, Tesla shares have also performed extremely well over the long term. It's up more than 778% over the past five years.
--CNN's Paul La Monica contributed to this report.