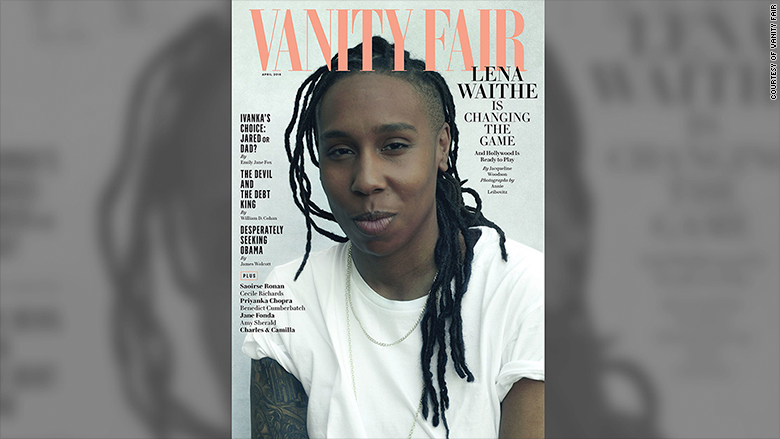 Vanity Fair's decision to put actress Lena Waithe on the magazine's latest cover is being hailed as a watershed moment for the venerable publication.
The woman behind the pick for April's cover story: Vanity Fair's new editor-in-chief Radhika Jones, who took over after longtime editor Graydon Carter announced last September that he was stepping down after a 25-year run.
"When I thought about the kind of person I'd like to see on the cover of Vanity Fair, I thought about Lena Waithe — a member of the new creative elite remaking entertainment for her generation," Jones wrote in an editor's note published on VanityFair.com on Thursday.
Jones enlisted award-winning author Jacqueline Woodson to interview Waithe and Vanity Fair's star portrait photographer Annie Leibovitz to capture the actress in her Los Angeles apartment.
Jones' decision to assemble this all-star team of women for April's cover story is paying off.
"Dear @RadhikaJones, You're changing the game by centering this game-changer on the @VanityFair cover," director Ava DuVernay tweeted on Thursday. "You've done something big here. Something bold. I'm excited by you. And grateful for this powerful image of our sister warrior, the great @LenaWaithe. Who we hold so dear. Brava."
Lydia Polgreen, editor in chief of HuffPost, noted why Waithe's cover story is groundbreaking.
"Wow wow wow. @radhikajones is changing the game," Polgreen tweeted. "Queer black writer @JackieWoodson profiling queer black actor @LenaWaithe on the cover of Vanity Fair. The future is now."
Waithe made history last year when she became the first black woman to win an Emmy for Outstanding Writing for a Comedy Series for the Netflix original "Master of None." Waithe plays Denise, best friend to Aziz Ansari's character, Dev. The award-winning episode she wrote, "Thanksgiving," is based on her personal story of coming out to her mother.
Waithe is about to make her big-screen debut in Steven Spielberg's sci-fi flick "Ready Player One," which comes out later this month.
Related: New York Times books editor to head Vanity Fair
The March issue of Vanity Fair was Jones' first as editor, but for timing and transition reasons, the issue still had Carter's fingerprints on it.
Jones' vision for the April issue is captured in her editor's note and her editorial decisions so far represents a new era for the magazine where inclusion and representation appears to be a priority.
"The truth is, Lena made my choice easy," Jones wrote. "The pilot of her show 'Twenties' has been picked up by TBS, and she's turning her unofficial mentoring program into a pipeline for writers of color looking to break into Hollywood."