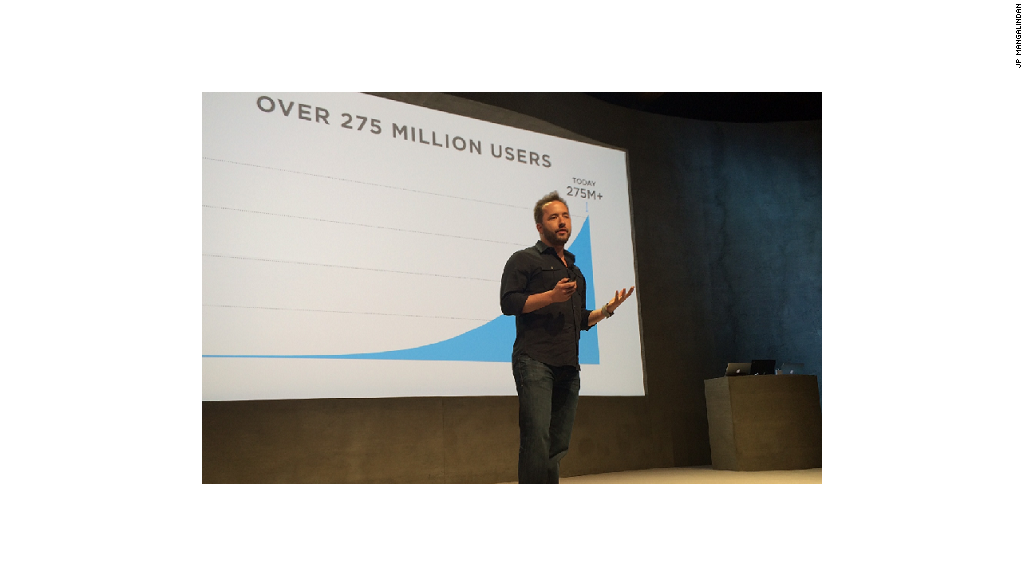 Dropbox just filed away a strong public market debut.
Dropbox (DBX), a cloud storage company, began trading at $29 a share on the Nasdaq Friday, a 38% increase over its IPO price. The stock quickly jumped above $30 in early trading.
At the opening price, Dropbox had a market value of more than $11 billion.
The company priced its initial public offering at $21 a share Thursday, raising $756 million in the process. The amount was well above its original proposed price range of $16 to $18 a share amid strong investor demand.
At the IPO price, Dropbox had a market value of more than $8 billion. However, that still put it below the $10 billion valuation it reportedly hit on the private market in 2014.
Dropbox's public debut is being closely watched as a signal for how the market may view other tech unicorns. Spotify is set to go public next month. Uber expects to go public next year. Lyft and Airbnb are thought to be waiting in the wings.
Dropbox, founded more than a decade ago, topped $1 billion in sales for the first time last year. It has worked to trim its losses by cutting costs, but the company still lost more than $100 million in 2017.
By tech standards, though, those numbers aren't so bad. Unlike Snapchat (SNAP), Dropbox's losses aren't growing ahead of its IPO. And unlike Blue Apron (APRN), there's no new threat from a tech giant like Amazon (AMZN) at the last minute before it goes public.
"Dropbox represents a refreshing change from many other tech IPOs over the last few years," says James Gellert, CEO of Rapid Ratings, which rates the financial health of public and private companies. "They're a more mature company than Snap, Blue Apron and even Box (BOX) were at the times of their public debuts."
Related: Dropbox: The company everyone wants to kill
The key challenge for Dropbox going forward will be proving that it can convert more of its registered users into paying customers. At the end of 2017, Dropbox had an impressive 500 million users, but only 11 million of them paid for the service.
And Dropbox must build up that paying user base in the face of stiff competition from seemingly every major tech company on the planet.
Apple (AAPL), Microsoft (MSFT) and Amazon have all launched rival services for storing documents, photos and other files online. In its IPO paperwork, Dropbox said it only expects the "competition to intensify in the future."
"Those are names you don't want to be up against," says Matt Kennedy, an analyst at Renaissance Capital, which manages IPO-focused exchange-traded funds. But Dropbox has also survived that competition for years.
"Investors are more comfortable with the competition," Kennedy said. "They know what they are getting into."