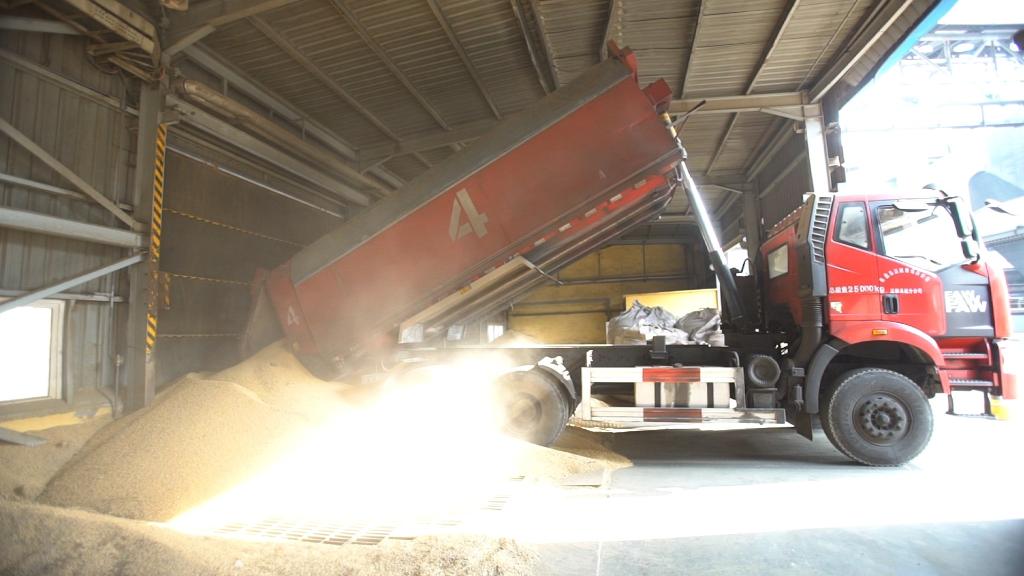 China is targeting American fruit, wine and pork producers.
The Chinese government said that tariffs on about $3 billion worth of US imports are going into effect Monday. The tariffs will hit 128 products ranging from pork to steel pipes.
Related: China hits the United States with tariffs on $3 billion of exports
The sanctions are in response to President Donald Trump's tariffs on imports of steel and aluminum from China and several other countries.
China will put 15% tariffs on American cherries, almonds, wine, ethanol and steel pipes, and 25% on pork meat and recycled aluminum.
Related: Apples and cherries are at stake in China trade fight
Trump has also announced separately that he would impose tariffs on $50 billion worth of imports to punish China for stealing American tech and trade secrets.
The US Department of Agriculture provided CNNMoney with 2017 export values for many of those products that China would target to retaliate for the steel and aluminum tariffs. The data was compiled by the Census Bureau and is categorized by federal commodity and shipping standards.
Fruit: $260.1 million exported to China, 6% of all US fruit exports
Cherries: $121.7 million
Oranges: $48.5 million
Grapes (fresh): $22.2 million
Grapes (dried): $18.9 million
Apples (fresh): $18.4 million
Apricots (fresh): $5.5 million
Plums: $5.1 million
Prunes (dried): $4.5 million
Strawberries: $3 million
Fruit and nuts: $2.3 million
Lemons and limes (fresh and dried): $1.3 million
Sour cherries: $1.3 million
Pears (fresh): $744,000
Figs: $457,000
Citrus fruits (fresh): $373,000
Grapefruit: $361,000
Cranberries: $232,000
Apples (dried): $136,000
Mandarins: $93,000
Peaches and nectarines: $56,000
Wilkings: $33,000
Wine: $74.6 million of wine exported to China, 5% of all US wine exports
Grape wines (in containers holding 2 liters or less): $67.6 million
Grape wines (in containers holding 2-10 liters): $3.7 million
Grape wines (in containers holding more than 10 liters): $2.1 million
Grape wine (unfermented): $674,000
Grape wines (sparkling): $526,000
Pork: $487.9 million exported to China, 9% of all US pork exports
Swine offal (frozen): $250.6 million
Swine cuts (frozen): $166 million
Swine hams (frozen): $69.4 million
Swine carcasses (frozen): $1.3 million
Swine cuts (fresh or chilled): $286,000
Swine hams (fresh or chilled): $147,000
Swine livers (frozen): 0
Swine carcasses (fresh or chilled): 0
Nuts: $224.9 million exported to China, 3% of all US nuts exports
Pistachios (in shell): $37.9 million
Nuts Nesoi: $35.8 million
Almonds (in shell): $24.3 million
Walnuts (no shell): $16.8 million
Walnuts (in shell): $15.5 million
Macadamia nuts (in shell): $9.4 million
Macadamia nuts (shelled): $76,000
Mixtures of nuts: $5.4 million
Almonds (no shell): $4.9 million
Hazelnuts (in shell): $2 million
Pistachios (shelled): $1.9 million
Cashew nuts (without the shell): $962,000
Cashew nuts (in shell): $9,000
Coconuts (in shell): $3,000
Brazil nuts: 0
Coconuts dessicated: 0
Ginseng: $22.6 million exported to China, 40% of all US ginseng exports
Ethanol alcohol: $32.2 million exported to China, 3% of all US ethanol alcohol exports