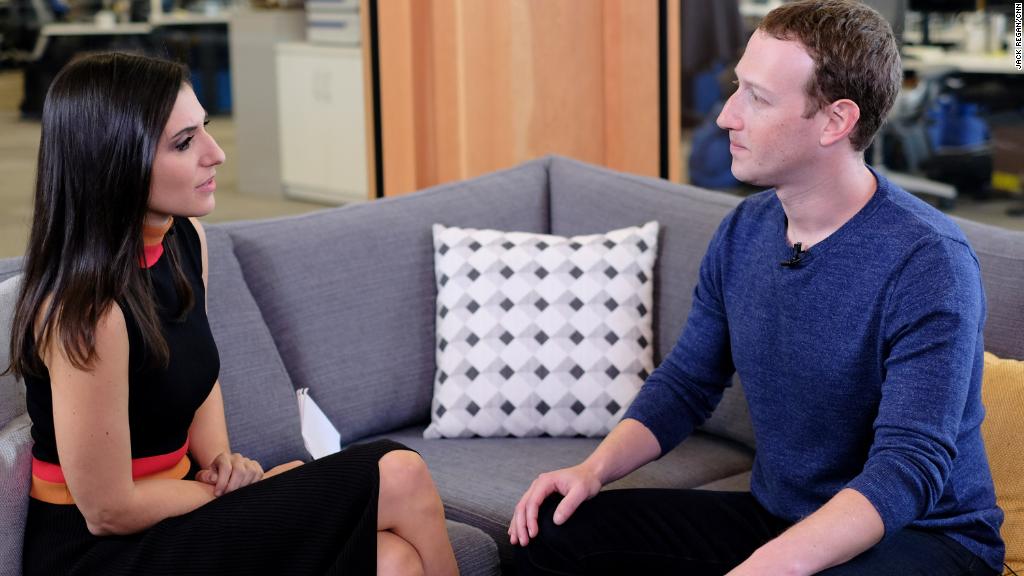 Advertisers are turning up the heat on Facebook.
At least three companies -- Sonos, Commerzbank (CRZBF) and Mozilla -- have pulled advertisements off Facebook after a data scandal engulfed the social network. Others are asking tough questions.
ISBA, a UK industry body that represents advertisers including Unilever (UL), McDonald's (MCD) and Adidas (ADDDF), met with Facebook on Friday. It said following the meeting that Facebook had offered to discuss data privacy with its members individually.
"It is clear from our meeting today that this is a priority for Facebook and that they now have a lot of work to do," the group said in a letter to its members that was provided to CNN.
A controversy erupted last weekend following reports that Cambridge Analytica, a data firm with ties to President Donald Trump's campaign, accessed information from about 50 million Facebook users without their knowledge.
Facebook CEO Mark Zuckerberg told CNN on Wednesday that he would take steps to protect data and fix what he called a "breach of trust" between the social network and its users.
Related: The 13 best lines from CNN's Mark Zuckerberg interview
A potential revolt by advertisers represents a major threat to Facebook. In 2017, 98% of its revenue came from advertising.
Mozilla said in a statement that the steps outlined by Zuckerberg were positive, and that it would consider returning to Facebook when it "takes stronger action in how it shares customer data."
Sonos, which makes smart speakers, said it was pulling its advertising off Facebook and Instagram, as well as Google and Twitter (TWTR), for one week.
"Now is the time to have the hard discussions and to support those who drive things forward in an effort to make us all better technologists and more educated consumers of technology," it said in a statement on Friday.
Advertising giant WPP (WPP) said its clients had been asking questions about the scandal. But none had yet decided to remove advertising from Facebook.
Another major advertising agency, M&C Saatchi, said its clients were going to exert real pressure on Facebook.
"I think that clients have come to a point, quite rightly, where enough is enough," CEO David Kershaw told the BBC on Thursday.
Facebook (FB) said in a statement that advertisers "know how important it is for people to trust their information with" the social network.
"Most of the businesses we've spoken with this week are pleased with the steps we've outlined to better protect people's data, and they have confidence that we'll respond to these challenges and become a better partner and company as a result," it said.
Related: Facebook has gotten too big for Mark Zuckerberg
Google and Facebook have dominated the online ad market for years, thanks to their massive reach and vast amounts of data. The companies are estimated to have gobbled up more than 60% of digital ad spending in 2017.
Google (GOOGL) has already come under fire from companies that discovered their ads were being shown alongside objectionable videos on its YouTube video platform.
Facebook has previously faced a groundswell of criticism for enabling fake news, filter bubbles, foreign election meddling and social media addiction.
Unilever, which owns brands including Dove, Lipton, and Ben & Jerry's, issued a forceful warning to the platforms in February, saying they had become a "swamp" of fake news, racism, sexism and extremism.
"We cannot continue to prop up a digital supply chain ... which at times is little better than a swamp in terms of its transparency," said Unilever marketing boss Keith Weed.
"2018 is either the year of techlash, where the world turns on the tech giants -- and we have seen some of this already -- or the year of trust," he added. "The year where we collectively rebuild trust back in our systems and our society."