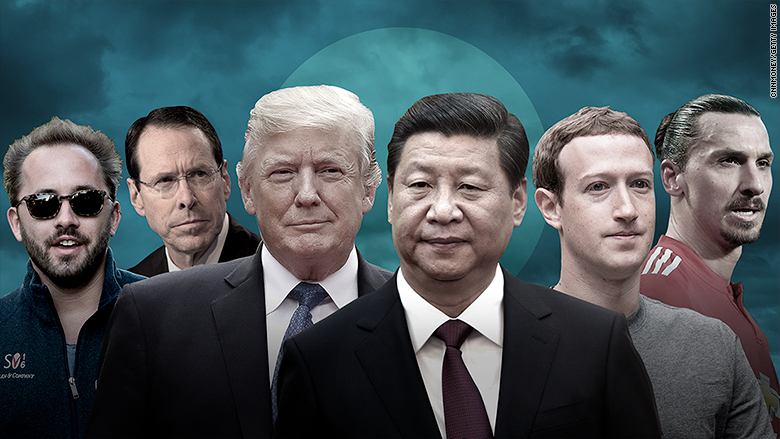 What's next: Every U.S.-China policy expert and academic I've spoken with over the last 24 hours has told me the same thing: Trump's crackdown will be undermined by his inability to enlist other countries in the effort.
An Obama administration alum emails:
• "In a different world -- one where Trump had not yanked the U.S. out of the Trans-Pacific Partnership -- two weeks ago we would have inked a deal that would have significantly strengthened the U.S.'s hand on international trade in the Asia-Pacific region, protected U.S. companies' intellectual property, and opened up new markets to U.S. business."
The WSJ editorial board: "Persuading [China] to conform to trading norms requires more than scattershot tariffs. It demands patient, sophisticated American leadership to rally other nations to join the effort."
The latest:
• China plans to impose $3 billion worth of tariffs on U.S.-made products like wine, nuts and pork as retaliation against Trump's $60 billion worth of tariffs on Chinese-made products.
• The Chinese embassy in Washington says China will "fight to the end to defend its own legitimate interests with all necessary measures... China is not afraid of and will not recoil from a trade war."
The Big Picture:
• Clayton Dube, Director of USC's U.S.-China Institute, emails: "Americans and Chinese will likely suffer in both the short and long term as prices rise, orders fall, projects are postponed, and the bigger issues of market access and intellectual property security are set aside."
Bonus: Tomorrow's ten-cent thrillers: "How China became a powerhouse of espionage" by Axios' Erica Pandey: "As China's influence spreads to every corner of the globe under President Xi Jinping, so do its spies...."
---
Today's PACIFIC
What Silicon Valley is talking about: Mark Zuckerberg's next moves, Google's GDPR plans and Dropbox's big IPO ... What Silicon Alley is talking about: New Blade money ... What Hollywood is talking about: DOJ and AT&T fighting words...
Good morning. Welcome to the weekend. There is a large coyote sitting beneath a grove of oak and cypress trees in our neighbors' yard. He seems totally at peace with the world and entranced by the sound of a garbage truck.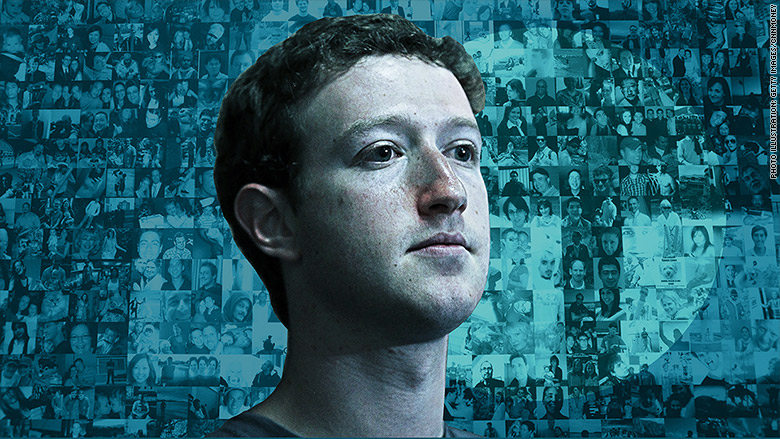 The Trust Crisis: What Zuck does next
What Mark Zuckerberg will do next, per Facebook sources:
• He will take questions from staff at the company's weekly town hall meeting today in Menlo Park.
• He will personally oversee the effort to implement the changes to data privacy policy outlined in his Facebook post on Wednesday.
• He will continue to refine Facebook's plans for compliance with the European Union's General Data Protection Regulation (GDPR), which will go into effect on May 25 and give Europeans the ability to opt out of having their data collected.
What Mark Zuckerberg should do next, per The Economist:
• "Facebook needs a full, independent examination of its approach to content, privacy and data... Each year Facebook should publish a report on its conduct that sets out everything from the prevalence of fake news to privacy breaches."
• "Facebook and other tech firms... should create an industry ombudsman — call it the Data Rights Board. Part of its job would be to set and enforce the rules by which accredited independent researchers look inside platforms without threatening users' privacy."
Has Facebook has gotten too big for Zuckerberg?
• CNN's Seth Fiegerman: Zuckerberg's interviews this week "highlight his clear discomfort with the responsibility he now has, not just to make products, but to make policies with global impact."
Money quote, from The New Yorker's David Remnick:
• "What we've learned from the scandals that have beset Silicon Valley of late is what we learned from the scandals that beset the Catholic Church: a self-protective assumption of righteousness can make it harder to acknowledge and confront patterns of abuse."
---
Innocents Abroad: Google's GDPR plans
The Wall Street Journal's Lara O'Reilly lifts the curtain on Google's plans to comply with the forthcoming European regulations, which requires companies to get user consent to gather personal information:
• "The company will be gathering consent directly from users for data usage on its own properties such as Google.com, Gmail and YouTube."
• "[F]or third-party websites and apps that use Google's ad technology to sell ads, the tech giant wants those publishers to be responsible for obtaining consent."
• "Google also plans to offer publishers a way to serve non-personalized ads to users who don't consent to their data being used for ad-targeting."
The Big Picture: Europe's GDPR has the potential to reshape data collection and could be a model for future regulation in the U.S. Lawmakers and policy experts are watching implementation efforts like these closely.
---
What San Francisco is Reading
"Can Big Tech Be Tamed?" by Gary Kamiya in San Francisco Magazine: "As the tech industry grows to unfathomable proportions, San Francisco needs to grow to match it. A call to arms for a city under siege." Illustrations by Clark Miller feature 50-foot-tall tech titans roaming the Fog City streets.
Bonus: My colleague Jordan Valinsky emails: "Amazon, Facebook and Google are all in talks to move in to the brand new 43-story Park Tower in San Francisco, one of the few buildings in the city without a tenant."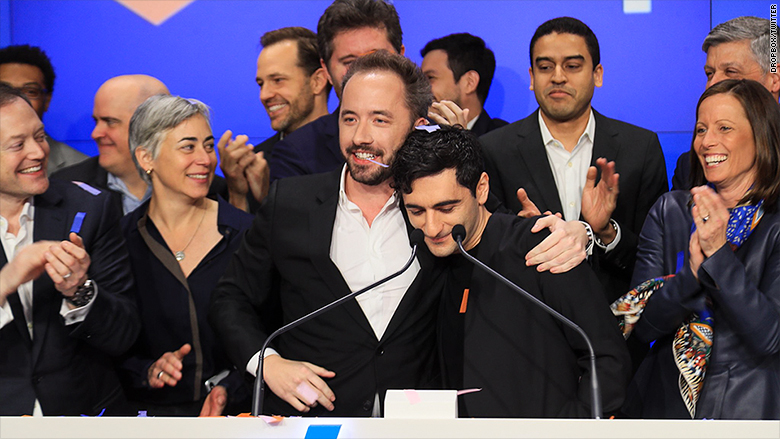 Dropbox IPO: Drew Houston rings the bell
Dropbox has debuted on NASDAQ at $21-per-share, valued at $9.2 billion.
What you need to know:
• DealBook's Matt Phillips: "Dropbox has never turned an annual profit, but the company has achieved annual sales growth of more than 30 percent in recent years, with its revenue topping $1 billion annually."
Who's smiling:
• Recode's Teddy Schleifer: "The marquee venture capital firm [Sequoia] owned 25 percent of the company before the IPO. And that percentage reflects a big lesson about Silicon Valley finance: It's hard to get rich in tech if you aren't early to a deal."
The Big Picture: Dropbox is the first major tech opening since Snap and sets the stage for future unicorns to go public. Spotify will open next month.
---
Hold 'Em, Fold 'Em: Apple's new phone?
"Apple is working on a 'foldable' iPhone for release in 2020, says Bank of America," via CNBC's Tae Kim:
• Bank of America Merrill Lynch analyst Wamsi Mohan in a note to clients: "We expect the iPhones this fall to be largely unchanged for the OLED versions although size changes have proved to be a catalyst in the past... Our checks also suggest that Apple is working with suppliers on a foldable phone (that potentially could double up as a tablet) for launch in 2020."
No comment yet from Apple.
---
Only Way to Fly
"Blade raises $38 million to build flying taxi infrastructure" by Axios' Dan Primack: "Blade, a short-distance aviation company known for helicopter rides from airports into city centers, has raised around $38 million in new funding from backers that include Airbus and real estate company Colony NorthStar."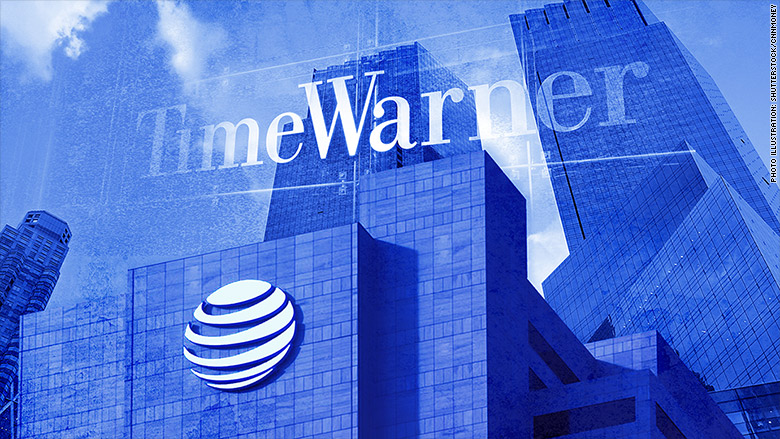 Going Vertical: DOJ vs. AT&T gets real
Opening arguments, via CNN's Hadas Gold, Tom Kludt and Jessica Schneider:
• Justice Department lawyer Craig Conrath "argued that at its core, a union between AT&T and Time Warner would harm consumers because it would cause an increase in prices and would hurt the competitive landscape."
• AT&T/Time Warner lawyer Daniel Petrocelli argued "that the government will not be able to show that this vertical merger will stifle competition or hurt consumers.... [and] pointed to the changing media landscape as the primary reason that AT&T needs to acquire Time Warner and its programming. The move is necessary, he said, in order to compete with newer entities like Facebook, Amazon, Apple, Netflix and Google" (aka FAANG).
Fireworks, via Axios' David McCabe and Sara Fischer:
• "Petrocelli aggressively attacked the credibility of the Justice Department's lead witness, Cox Communications exec Suzanne Fenwick."
• "He noted multiple times that Cox worked with DOJ ahead of the case and questioned why she hadn't brought hard data... "So you're just basing this on your background, your experience, your opinion?" Petrocelli asked...: "Does your boss know that you're giving this testimony?"
The Big Picture: "FAANG" is the most important word AT&T's lawyers are saying. The DOJ argument that AT&T would be an unstoppable behemoth once it acquired Time Warner falls apart if you believe that AT&T is now in competition with big tech.
---
Sports Break: Zlatan goes Hollywood
It's official: The famously bombastic and cocksure soccer star Zlatan Ibrahimovic is leaving Manchester United and will move to Los Angeles to join the L.A. Galaxy.
ESPN FC: "Sources say Ibrahimovic signed a two-year contract and the Galaxy will pay Ibrahimovic $3 million using targeted allocation money.
Zlatan's full-page ad in today's LAT: "Dear Los Angeles, You're welcome."
---
Have a fantastic weekend, folks. We'll see you Monday.