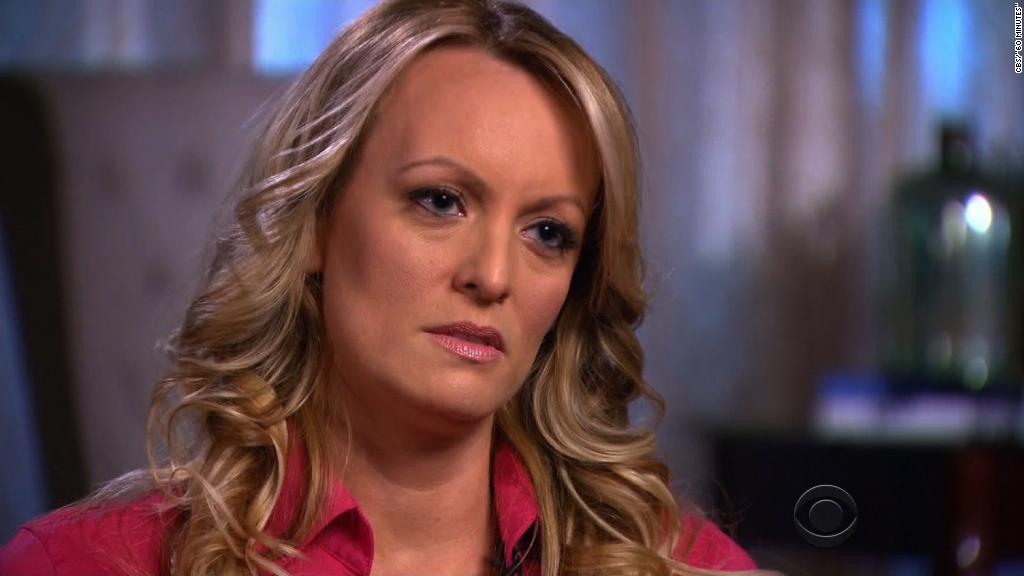 Anderson Cooper's interview with Stormy Daniels propelled "60 Minutes" to its highest-rated episode in 10 years.
The CBS newsmagazine averaged 22.1 million viewers for Sunday's show, according to Nielsen, which is more than twice as many viewers than a typical edition of the show.
(The preliminary viewer number was 21.3 million, but the total ticked up a bit when same-day DVR viewership was factored in.)
"60 Minutes" benefited from a huge ratings lead-in -- an NCAA basketball game that went into overtime -- and from intense interest in Daniels' story.
Among total viewers, the program ranked as the highest-rated "60 Minutes" episode since Barack and Michelle Obama sat down for their first post-election interview in 2008.
In the younger demo categories that advertisers covet, it was the highest-rated "60" episode in more than two years.
CBS said "60" is "on track to be the week's #1 program in viewers."
When the network distributed its initial numbers on Monday morning, NPR's Tamara Keith quipped on Twitter, "This press release from '60 Minutes seems custom designed to drive the president crazy."
The outpouring of reactions after the interview aired suggest that her account of an alleged affair with Donald Trump in 2006 captivated viewers across the country.
Related: Viewers, critics weigh in on Stormy Daniels interview
While President Trump stayed silent about the subject, Daniels' name was the No. 1 trending topic in the U.S. on Twitter on Sunday evening -- and stayed at the top of the list for several hours after the broadcast. Daniels was also a trending topic on Facebook.
The sexual encounter allegedly happened a decade before Trump was elected president. But the apparent "hush money" cover-up is much more recent.
The porn star's media-savvy attorney, Michael Avenatti, bluntly told Cooper, "This is about the cover-up."
On Monday, Avenatti made the rounds on the morning shows, promising to reveal "a whole host of evidence" about the alleged affair and the attempt to silence her.
"We're just getting started," Avenatti said.
While critics grumble that Avenatti may be overplaying his hand, Sunday's Sunday's "60 Minutes" broadcast was undeniably newsworthy. The broadcast contained new information about the alleged affair in 2006 and marked the first time that Daniels described being threatened by an unknown person in 2011, a few weeks after she agreed to talk to a tabloid magazine about Trump.
"I think it was important for people to actually see her and hear her," Cooper said on CNN's "New Day" on Monday.
"Viewers can make up their own mind whether they believe she's credible," he added.
The two-part "60 Minutes" story also focused on the "hush money" payment in 2016 from one of Trump's personal attorneys and the possible campaign finance law violations.
"The Stormy Daniels story is certainly about sex but it's also -- and more importantly -- about financial and emotional intimidation," Margaret Sullivan wrote in a column for Monday's Washington Post.
"The ultimate verdict" on Cooper's interview "will be whether viewers accept his claim that this is serious news," Politico's Michael Calderone wrote.
It is unknown if President Trump watched the tell-all interview, although many commentators assumed he did, given his well-known TV viewing habits.
In the past, he has been a "60 Minutes" fan. After a September 2015 story about his primary campaign, Trump tweeted, "Wow, the ratings for @60Minutes last night were their biggest in a year--- very nice!"
Trump's last appearance on "60" was shortly after Election Day, when he was president elect. The episode featuring his interview with Leslie Stahl averaged 19 million viewers.
The newsmagazine's producers have been trying to book him for another interview, but Trump has declined.
He tweeted one thing on Monday that could be construed as a reference to the broadcast.
"So much Fake News. Never been more voluminous or more inaccurate," he wrote. "But through it all, our country is doing great!"
Correction: An earlier version of this article stated that Trump's tweet touting "60 Minutes" ratings followed his November 2016 appearance. In fact, the tweet was after his September 2015 appearance on the program.