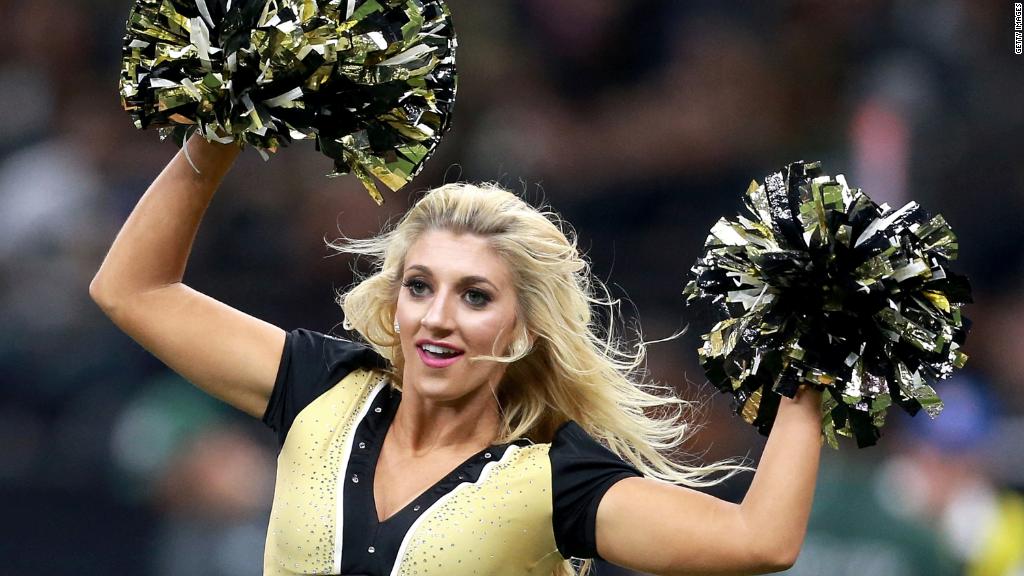 A former NFL cheerleader who was fired in part for an Instagram post that was deemed inappropriate is alleging gender discrimination by the New Orleans Saints and the NFL.
Jacalyn Bailey Davis filed a complaint with the Equal Employment Opportunity Commission that says the Saints and the NFL hold female cheerleaders and male players to different standards of personal conduct.
The complaint says that Saints cheerleaders received guidance verbally and via email that outlined the ways cheerleaders should avoid interacting with NFL players.
According to the complaint, Saints cheerleaders:
-- are barred from following any players or coaches on social media
-- must block any Saints player who follows them on social media
-- cannot contact players, respond to messages from them or "like" any of their social media photos
-- must not post any images of themselves in Saints gear.
-- must not post any images of themselves that are considered "semi-nude" or that show them in lingerie
-- must avoid making eye contact and move to the side if they encounter a player in the tunnel that leads into the stadium
-- must leave a restaurant, bar or party if an NFL player is already there or arrives after them
According to the complaint, these restrictions extend to Saints cheerleaders' interactions with all players in the NFL and NBA.
Related: New York Jets settle wage lawsuit with cheerleaders
The complaint notes that the rules for cheerleaders are in addition to the NFL's personal conduct policy, which applies to all NFL personnel -- owners, coaches, players, other team employees, game officials and league office employees.
The NFL did not respond to a request for comment. An attorney for the Saints said in a statement that the team "denies that Ms. Davis was discriminated against because she is female."
The statement said the team's "policies and workplace rules will withstand legal scrutiny."
According to the complaint, the team's guidelines impose different treatment based on gender. The complaint quotes an email from a Saints employee saying the guidance is meant to "protect" female cheerleaders "from player advances and activity that can be deemed suspicious."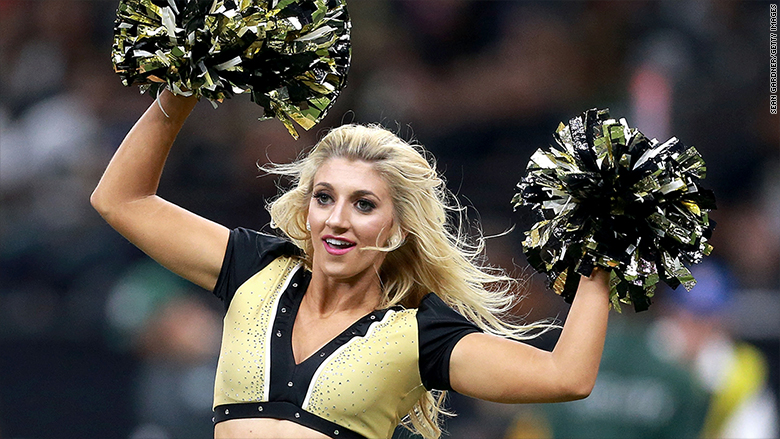 Related: The words we use to talk about the gender pay gap
The complaint states that the team investigated rumors that Davis attended a party where an NFL player was present, and warned her about the behavior. The team also accused her of receiving messages from players on Instagram, according to the complaint.
Davis denied attending the party. She admitted to receiving messages from players but said she never responded. Davis agreed to change her Instagram account from public to private to prevent players from finding her online. All Saints cheerleaders were then asked to make their accounts private.
Davis later posted a photo to her private Instagram account of herself wearing lacy lingerie. The photo was taken by a professional photographer, according to Davis' attorney, Sara Blackwell.
The photo was eventually seen by her bosses, who then terminated her employment for posting it and violating standards for conduct.
The complaint asserts that while female cheerleaders must heed numerous behavioral guidelines, no such restrictions exist for male players, who often post shirtless photos and are free to like photos of cheerleaders.
Related: What happens when women know how much other women make
Davis' attorney says the EEOC will investigate the allegations of gender discrimination and make a determination.
Normally an attorney could then file a formal lawsuit in court. However, Davis can't sue the Saints because she signed an arbitration agreement, giving up that right. Instead, her attorney has requested an arbitration hearing where a panel will review Davis' case.
Her attorney has also requested an immediate hearing with NFL Commissioner Roger Goodell.
This isn't the first time NFL cheerleaders have brought complaints against the league and its teams alleging unfair treatment. Cheerleaders have sued NFL teams, including the New York Jets, Cincinnati Bengals, Tampa Bay Buccaneers, Oakland Raiders, and Buffalo Bills demanding fair pay.
Cheerleaders for the Buccaneers, Raiders, Bengals and Jets reached settlements with the teams.
The cheerleaders for the Bills filed a class action suit against the team, the NFL and several intermediary companies. The case currently isn't moving forward because one of the companies being sued went bankrupt.