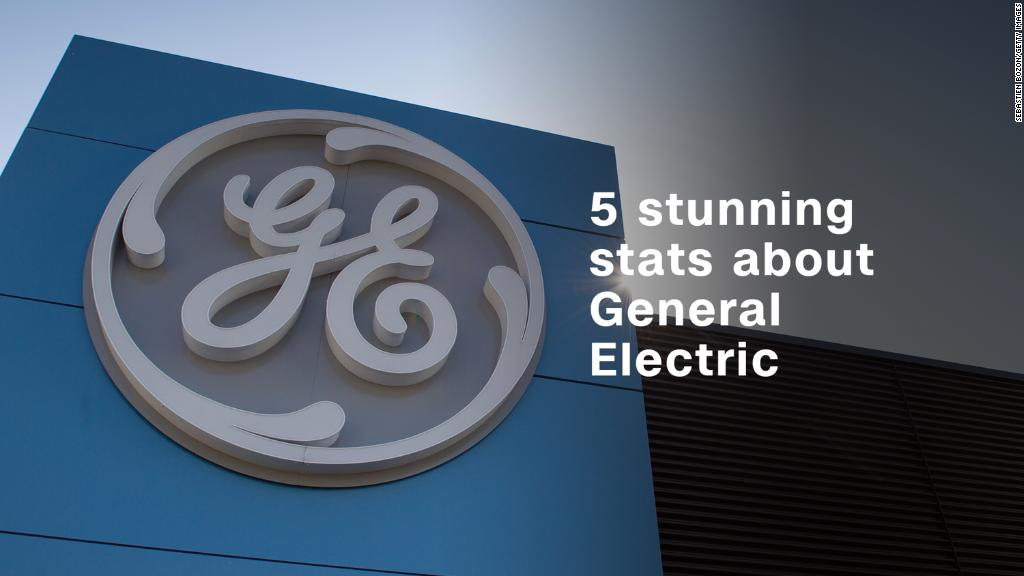 Warren Buffett swooped in to rescue General Electric once. Could he do it again?
GE's demolished stock rose 5% on Tuesday following chatter that the Oracle of Omaha could make an investment in the embattled company he helped stabilize in 2008. GE was on track for its best day in three years.
Neither GE nor Berkshire Hathaway (BRKA), Buffett's holding company, would comment on the market rumors.
At first blush, the idea of Buffett or another famed investor taking a gamble on GE sounds a bit crazy. GE has a ton of problems: A mountain of debt, a pile of legal troubles, the biggest pension shortfall in the S&P 500 and a cash crunch caused by decades of bad decisions.
Wall Street has been deeply worried about GE. That was made abundantly clear when GE shares tumbled on Monday -- a stunning rebuke because the Dow spiked 669 points, or 2.5%, that day. GE was the only Dow stock to lose ground. Its stock has lost 57% of its value since the end of 2016.
But even GE's biggest critics concede the stock isn't going to zero. The company isn't rumored to be on death's door like Sears (SHLD). And Buffett is always searching for a bargain.
Despite its real troubles, GE is still a massive conglomerate that makes everything from light bulbs and jet engines to freight trains and MRI machines. It's expected to haul in $123 billion in revenue this year, more than IBM (IBM) ($80 billion), Nike (NKE) ($34 billion) and Twitter (TWTR) ($2.7 billion) combined.
"There is a disconnect between the fear and fundamentals," said Nicholas Heymann, a rare GE bull among Wall Street analysts.
Related: GE's $24 billion buyback boondoggle
Heymann, an analyst at the brokerage William Blair, attributed GE's stock spike to "speculation -- and nothing more than that -- that Berkshire Hathaway might be interested in investing in the company."
It would be fitting for Buffett to make a play for GE now because the stock is trading near its 2009 prices. That was shortly after Buffett poured $3 billion into GE during the financial crisis.
It was a lucrative investment that helped ease fears that GE's reliance on risky short-term financing would ruin the company. Days later, the federal government stepped in to guarantee the commercial paper market after funding dried up.
Similarly, a Buffett investment today would be a huge coup for GE and a signal to Wall Street that the worst may be over.
"It could invert the debate about the company -- quite literally -- from how low to how high GE might move," said Heymann.
Buffett, who sold off his stake in GE last year, is known for making investments when few others see the value. And Berkshire is sitting on roughly $116 billion of cash -- money that's earning very little right now.
Related: Buy high and keep buying? Analysts bullish on already hot stocks
In January, Buffett told CNBC that Berkshire would buy GE at the "right number," without revealing what that price is. GE shares have plunged by nearly 30% since Buffett made those comments.
"My job is to have the capital of Berkshire invested in businesses we think we understand pretty well and that are at an attractive valuation," Buffett said at the time.
There is some overlap between Berkshire's various businesses and GE's. Berkshire owns Burlington Northern Santa Fe, which operates one of the largest freight railroads in North America. GE is among the largest producer of freight locomotives in the world, although it's looking to sell this century-old business to raise cash.
Berkshire also spent $37 billion in 2015 to buy Precision Castparts, which makes parts for aircraft makers, power companies and other industrial firms. GE not only makes jet engines, but it builds turbines and other systems for power plants.
It's too early to say whether Buffett will make another bet on GE.
But it's clear that an endorsement from Buffett would go a long way toward restoring confidence in this fallen company.