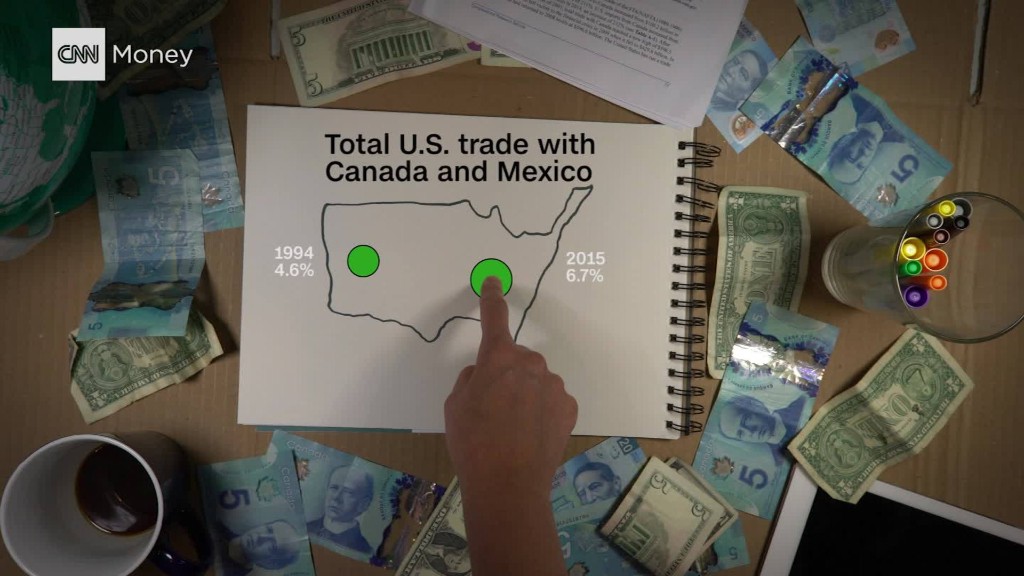 President Trump threatened repeatedly to kill NAFTA. He called it "the worst deal maybe ever signed."
But America's free trade agreement with Canada and Mexico may just survive.
Hopes are rising that NAFTA negotiators are compromising on tough issues and that Trump's threat to tear it up is a thing of the past.
"If there's a real effort made to try to close out and to compromise and do some of the things we all know we should do, I'm optimistic we can get something done in principle in the next little bit," US Trade Representative Robert Lighthizer, the top American negotiator, told CNBC on Wednesday. "I think we are making progress."
That optimism is relatively new. NAFTA talks began last August, and by November, Lighthizer was criticizing negotiators from Canada and Mexico — to their faces and in public — for failing to compromise, in his view.
Related: NAFTA Round 7: Time is running out, but progress made
Canadian and Mexican officials called the Trump administration's demands unacceptable. And Trump himself kept threatening to tear up the deal, which he has the power to do without Congress.
The most contentious issues are auto manufacturing in North America, how long the deal would run and how companies would resolve investment disputes.
Lighthizer's upbeat tone adds to similar remarks he made last week. It also complements White House trade adviser Peter Navarro, who told CNBC earlier this week, "we might get a really good deal on NAFTA."
Canadian Prime Minister Justin Trudeau said last week that he sees positive "momentum" at the negotiating table.
The Mexico peso, perhaps the ultimate NAFTA bellwether, confirms that view. It rose again Thursday. It's up 3% this month and almost 8% for the year. This week the peso hit its highest level since early October.
Related: Trump's low-profile trade leader gains more power
That's a major turnaround. The peso plunged as much as 11% after Trump won the election in 2016, and it kept falling until Inauguration Day. After recovering early last year, the peso fell again when NAFTA talks were stumbling last fall.
Now the currency is rising because of "a smaller probability of a NAFTA breakdown," said Carlos Capistran, an economist at Bank of America based in Mexico City.
There's a long way to go. Negotiators have agreed on only six of 30 chapters in a new NAFTA. And time is working against them: Mexico's presidential election in July and the US midterm elections in November could risk what progress has been made.
Canada's chief negotiator, Steve Verheul, expressed a commitment on Wednesday to get a deal done. But he questioned what Lighthizer meant by an agreement in principle and noted Canadian "concerns" about US proposals and "issues that are going to be difficult to resolve."
"On the core, most important issues, there is still a significant amount of work to be done," Verheul said at a press conference.
Still, the United States and Canada aren't reversing roles. Canada has long urged the United States to stay in NAFTA. For now, fears of the worst are giving way to cautious hope.