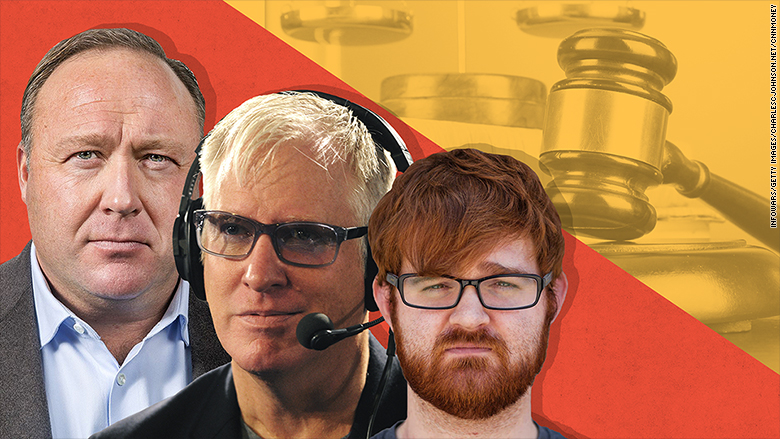 Conspiracy theorists are facing a surge in legal troubles.
Over the last few months, a spate of lawsuits have been filed targeting fringe internet activists and far-right outlets for spreading baseless theories about topics that range from the unsolved murder of Democratic National Committee staffer Seth Rich, to last summer's attack against demonstrators in Charlottesville, Virginia.
The litigation has entangled some of the most notorious individuals and organizations on the right, including: Alex Jones, the founder of InfoWars, a website notorious for spreading conspiracy theories; Jim Hoft, the founder of the Gateway Pundit, a far-right blog; Chuck Johnson, the founder of GotNews, another far-right blog; and Fox News, the cable news network whose star prime time host, Sean Hannity, has also espoused conspiracy theories on his platform.
The string of lawsuits is raising the possibility that conspiracy theorists may see incentives to tone down their rhetoric to avoid further scrutiny in the courts and, ultimately, potential payouts of large sums of money. At least one website founder told CNN he has instructed his staff to tread more carefully to avoid additional lawsuits, while others in media have defended their editorial decisions.
Hoft, the Gateway Pundit founder who is facing two separate lawsuits stemming from his coverage of the Charlottesville attack, said that he doesn't think the lawsuits against him hold much legal weight, and believes they are part of a multi-pronged effort to attack media outlets on the right.
Nevertheless, Hoft told CNN the pending litigation has prompted him to be more careful, and stressed that he had "no problem admitting that."
"I did speak with my writers," he said, adding that he told them, "I don't want any more lawsuits so we have to be really careful with what we put up."
Representatives for Jones and Fox News did not immediately respond to requests for comment. Johnson declined to comment.
Related: Family of slain Democratic staffer Seth Rich sues Fox News
While Jones was largely dismissive earlier this month about one of the lawsuits filed against him, he has previously apologized under the pressure of legal action. In March 2017, he retracted his support for the "PizzaGate" conspiracy theory in the face of a looming legal threat. And he admitted in May 2017 under legal pressure that he made "certain statements" about yogurt company Chobani "that I now understand to be wrong."
"Lawsuits do have a way of forcing media types -- and conspiracy theorists masquerading as media types -- to reckon with the sort of information that they are peddling," said Erik Wemple, a media critic for The Washington Post. "A complaint filed in court needs to be dealt with. Lawyers get involved and ask tough questions of their own clients .... All of which is to say that a well-written legal complaint will do a hell of a lot more than people like me or you denouncing these people as purveyors of BS."
But not everyone is of the same mind.
Charlie Warzel, a senior writer at BuzzFeed who covers the dark underbelly of the web, told CNN that he thinks the legal action "feels more like a retroactive measure for some justice than a deterrent that stops future trolling."
"Recent history would suggest that litigation isn't going to stop shock jocks on the fringes of the internet from being cavalier with their reporting," Warzel said. "I think what's more likely is that litigation like this prompts a retraction or a public apology."
And John Ziegler, a conservative talk show host who writes regular columns on conservative media for Mediaite, seemed equally skeptical that the lawsuits would have a significant effect on those who occupy the fringe corners of the internet.
"I think it may take someone losing a big judgment for behavior to radically change because, unfortunately, engaging in nutty conspiracy theories which make ignorant people feel better about what they already want to believe is now clearly a lucrative niche business," Ziegler told CNN.
Related: Man misidentified as Charlottesville driver had to flee home
Indeed, there is some evidence to suggest that might be the case. Jones has continued peddling conspiracy theories in the face of legal action. And after a lawsuit filed on Tuesday named Matt Couch, a fringe internet activist, as a defendant for his role in pushing a strain of the Seth Rich conspiracy theory, Couch appeared defiant in a Periscope video.
"You're not going to deter us from investigating this and reporting the truth," Couch said. "And what you've done now is you've opened yourself up to a discovery phase. A discovery phase. Which means now I can subpoena your phone records, your bank records, the laptops, the cell phones. And guess what folks? I want it all."
The lawsuits have also surfaced another question about whether First Amendment protections might be eroded in court and ultimately hurt traditional news organizations down the road.
"Might these cases come back to haunt the media? I think in a lot of ways the devil is in the details," Joel Kurtzberg, an attorney who specializes in First Amendment cases, told CNN. "I think it is in the media's interest that stories published that are false, in blatant disregard for the truth, for those stories not to be published. On the other hand, I think the First Amendment protections that provide a very high bar for liability, are also important. And the cases have the possible outcome that they can reduce those important protections."
Charles Tobin, another attorney who specializes in First Amendment cases and who has provided legal representation to CNN, said he was "confident" that when examining the cases, "courts are going to figure out who is telling lies and who is reporting the news."
"I think the First Amendment is an excellent tool to sort journalism from fake news," Tobin said, adding that after reviewing the lawsuits, he believes there are a lot of "dark conspiracy theorists operating on the web" that won't be constitutionally protected.
Michael Gottlieb, an attorney who filed a lawsuit Tuesday on behalf of the brother of Seth Rich, echoed that sentiment.
"I think what you are seeing is lawsuits being filed against activists who are masquerading as journalists and news organizations," he said.
Gottlieb added, "You always have concerns in defamation media-related litigation about where an appropriate line will be drawn. I don't think these cases -- at least as far as the First Amendment goes -- push that line in any meaningful way. These cases are involving a principle that is a very well-established principle on the division between opinion and fact. And the division between false speech and true speech."