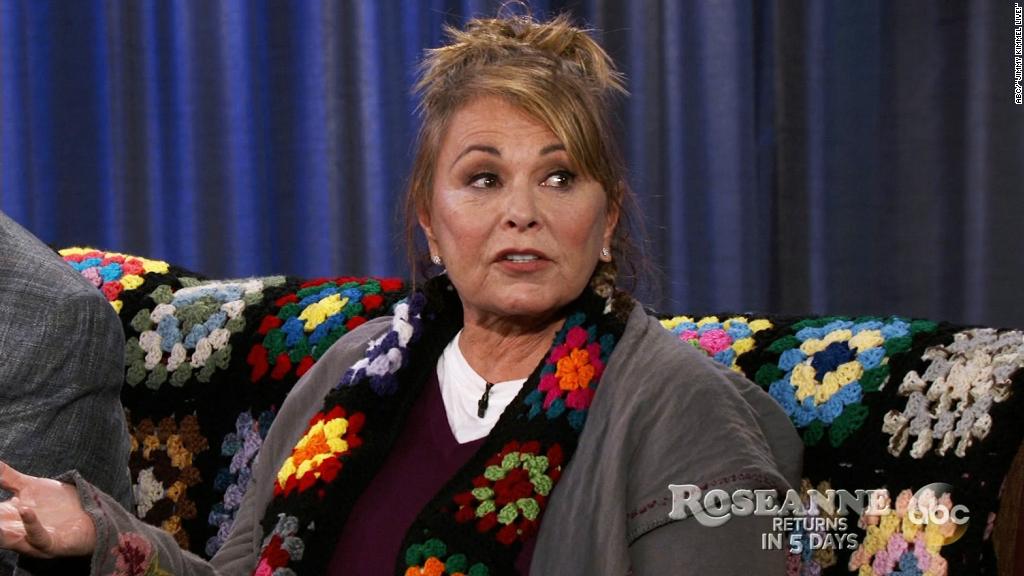 If you never watched the original run of "Roseanne," it's easy to feel out of the loop this week.
The premiere of ABC's reboot — its first episode in more than 20 years — drew more than 18 million viewers. Debates about Roseanne Barr's support of President Trump, and the show's relevance in today's political culture wars, have been everywhere.
There is a way to catch up, of course: Binge the entire original series. And a small ecosystem of distributors and cable channels, many of which you've probably never heard of, are hoping you'll do just that.
Like many classic TV shows, "Roseanne" can be purchased on DVD, or, more conveniently, streamed online. (In this case, Prime Video, a service of Amazon.)
Revivals of old TV shows have flooded the market in recent years. And media executives say that nostalgia generates renewed interest in the original series — a perk that pays off for whoever has the rights.
"I'm not surprised by this reboot culture we're in right now," said Jordan Fields, the vice president of acquisition at Shout! Factory, which distributes classics and cult favorites like "WKRP in Cincinnati" and "Mystery Science Theater 3000." "There's a comfort in revisiting these familiar and beloved shows."
Related: 'Roseanne' comes roaring back with 18 million viewers
In "Rosanne's" case, the buzz has paid off for more than just ABC. FilmRise, the distributor that worked with the Prime Video Direct service to make old seasons available for streaming on Prime Video, has also reaped the benefits.
CEO Danny Fisher said the revival wasn't really part of the decision to pick up "Roseanne," because the company bought the rights before the new season was announced. But he said the show has performed well since it began streaming. And though he did not disclose numbers, he said online viewership has been "though the roof" recently.
"It was the kind of show that people love, and people want to see," Fisher added.
More traditional formats have also done well with "Roseanne." The cable comedy network Laff, which is owned by Scripps (SSP), said the show was a "monster hit" after episodes began airing last October. During the lead-up to the revival, Laff also aired a special selection of episodes loved by particular cast members.
Related: It makes perfect sense that Roseanne is a Trump voter
It takes a bit of work to acquire one of those old shows, though. Buying a piece of someone's childhood doesn't necessarily come easy or cheap.
Fields, the Shout executive, said a show's availability often comes down to whether the owner is looking to sell rights for DVD, broadcast or streaming distribution. Shout has streaming rights for a few classics, but does most of its business in the DVD market.
He added that major studios control a lot of coveted TV shows, and demand a higher price from companies that are looking to market those programs.
"Where we've had success acquiring shows to stream is when they were controlled independently," he added. "Mystery Science Theater," for example, was owned by the people who created it for a local network in Minneapolis three decades ago.
Shout bought that show outright, and now owns it along with the original creator. It controls distribution on platforms like Hulu and Netflix. It even worked with Netflix to create a 2017 revival.
"Our licensing of 'Mystery Science Theater' was profitable — continues to be profitable," said Garson Foos, one of Shout's founders and CEOs. He said revenue that the company makes from the show just about doubled from what it was before they rebooted it.
Related: ABC is about to announce Season 2 of 'Roseanne' reboot
Finding a show's owner and negotiating a price aren't the only obstacles to acquisition.
Music rights are a big challenge, for example. Bob Emmer, the other Shout CEO and founder, said songwriters want license fees for tunes that appear in an old show, so the costs add up quickly.
A distributor who is unwilling to pay those costs can work around the issue by replacing the original music with something else. But Fields said that decision isn't always welcomed by fans: When 20th Century Fox released the first season of "WKRP" on DVD, for example, the company was criticized for changing the music.
Fields said that series still sold well. So when Shout acquired the DVD rights for other seasons, the company found the music costs worth the hassle.
Streaming shows can be complicated, too.
Fisher, the FilmRise CEO, said his company wants its shows to air in as many places as possible. That's not always possible if the owner of the show or the platform that hosts it wants a shorter or more exclusive deal.
"If we have our druthers, we like to have everything play everywhere," he added.
But streaming's ubiquity is great for TV buffs, Fisher said. He added that broadened access to old hits has likely created an appetite for reboots and revivals.
"People forget that there was actually really amazing work done years ago, and now this is available," he added. "There's so much that can be watched online."