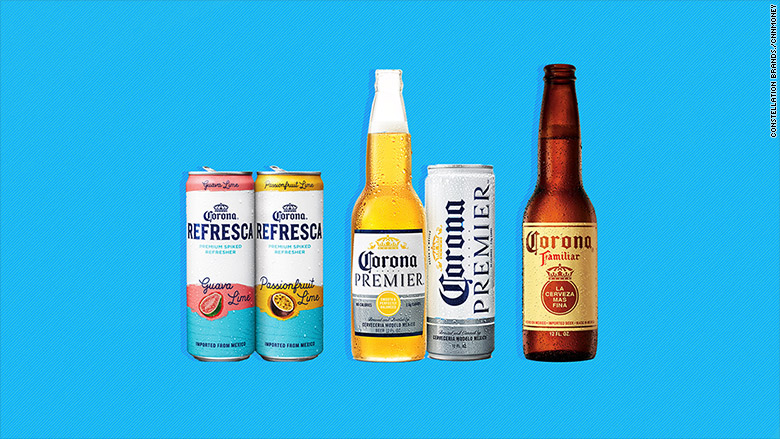 Corona wants to take up more space in your cooler.
Constellation Brands, the company behind Corona, Modelo and Pacifico, has a new low calorie, premium light beer: Corona Premier. It's also expanding Corona Familiar, a beer targeted to Hispanic drinkers, and testing Corona Refresca, a flavored malt beverage.
Constellation is betting that the market for premium Mexican lagers can keep growing and that Corona has the brand power to win over drinkers tired of Buds, Coors and Millers.
Related: America is falling out of love with Budweiser
"They are striking while the iron is hot on Corona," said Dan Ahrens, portfolio manager of the AdvisorShares Vice ETF (ACT), whose largest holding is Constellation. "The mass-produced big beers aren't as attractive right now."
Premier is the first extension to Corona's main line in 29 years. A 12-ounce bottle has 90 calories, nine fewer than Corona Light, and will be priced in line with its sister beers — about 50% more than domestic light beers. It's available nationwide.
The company says it's marketing Premier to men 35 and older. They make up more than half of the US light beer market, and Constellation hopes to persuade them to upgrade their low-calorie choice. Constellation is running national ads for Premier with the tagline "lower carbs, lower calories, higher expectations."
Related: Forget craft beer. The next craze is non-alcoholic brews
"Think Corona for coastal yuppies, with a slant towards men," Evercore ISI analyst Robert Ottenstein wrote in a research note this week about Premier.
The beer will compete with Anheuser-Busch InBev (BUD)'s Michelob Ultra, and Ultra's new Ultra Pure Gold, both of which have similar calories counts. It will also go up against MillerCoors' Miller64.
"Everybody has been been waiting for someone to go after Michelob Ultra," said Eric Shepard, executive editor of the industry publication Beer Marketer's Insights. "Ultra is the fastest growing brand in the business now."
Extra is the top imported US beer with 4.2% of the market. Ultra trails slightly behind, followed by Modelo Especial. All three lag Bud Light, Coors Light, Miller Light and Budweiser, according to Beer Marketer's Insights data.
Related: Budweiser falls off the list of America's three favorite beers
Extra has moved away from a narrow "summer vacation/beach beer" to a "broader and more personal" drink under the slogan "Find your beach." That evolving image contributed to its growth, Ottenstein argued in his report.
At the same time, Modelo has made targeted pitches to different demographics to mold together its "fighting spirit" motto.
A spot aimed at immigrants: "It doesn't matter where you come from. It matters what you're made of." And it recently debuted a campaign spotlighting the obstacles overcome by the first Latina military pilot.
Ottenstein claimed the differences between Corona and Modelo have become clearer than between Bud Light and Budweiser or between Coors Light and Miller Lite. Constellation is also launching its first national ads for Pacifico — the theme is "live life anchors up" — that helps it stand as "Corona's wild and crazy little brother," he said.
As Extra and Modelo widen their appeal and Pacifico gains more attention, Shepard said the new Premier will be "another test to see if an import light can make a serious dent in the overall domestic market."
Related: Corona owner soars as Trump tariff fears fade
The initial reaction from beer distributors on Premier has been positive, according to Bonnie Herzog, an analyst at Wells Fargo. Nearly 80% of distributors surveyed by Wells Fargo believe Premier and Familiar will help Corona drive sales.
Familiar has been available in 32-ounce sharing sizes in Mexico and the United States for two decades, but now Corona is bringing it to 10 major Hispanic markets in the United States in 12-ounce bottles.
Early ads point to Corona marketing Familiar as a beer for men to enjoy with their friends and family. It has a slightly higher alcohol content and a fuller flavor, and is packaged in a darker bottle than Extra. Ottenstein called it Extra's "big brother."
Constellation says Hispanic people make up 40% of its drinkers. Its decision to expand Familiar was a "no brainer" because of the beer's popularity in Mexico, Ottenstein said.
Corona is also testing Refresca, a "premium spiked refresher" malt beverage, this spring in Denver, Milwaukee, and Providence, Rhode Island. It comes in guava lime and passionfruit lime.
Constellation's versatility has helped it navigate shifts in drinkers' habits and tastes, Shepard said. "They're not locked into traditional beer strategies."
Related: The company that owns Corona is getting into the pot business
Investors have bought into the flexible approach, too. Constellation (STZ) is one of the hottest stocks in the beverage industry. The company jumped 4% Thursday after it reported that beer and wine sales both grew by double digits last year.