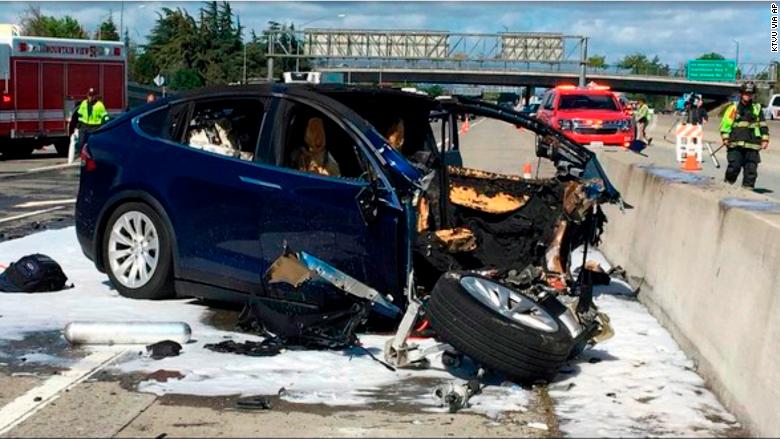 Tesla said autopilot was activated during a fatal Model X crash last week in California.
The driver's hands were not on the steering wheel for about six seconds before the Model X collided with a highway median on Highway 101 in Mountain View, the company said in a statement issued late Friday. And the driver had received "several visual and one audible" cue from the vehicle to grab the wheel "earlier in the drive," it added.
The autopilot feature is not fully autonomous. It handles some driving functions, but not all, and drivers are expected to stay engaged when the feature is activated.
In a blog post, Tesla called the crash, which killed the driver, "devastating." It also said that drivers are safer when they have autopilot activated than when they do not.
"Tesla Autopilot does not prevent all accidents -- such a standard would be impossible -- but it makes them much less likely to occur," the post reads.
Related: Tesla stock falls after NTSB announces investigation into deadly crash
The company also pointed to a government report from January 2017 that found autopilot reduced crash rates for Tesla by 40%.
"The consequences of the public not using Autopilot, because of an inaccurate belief that it is less safe, would be extremely severe," Tesla said.
The incident is being investigated by the National Transportation Safety Board, and the news came amid a brutal week of headlines for Tesla as the company continues to struggle with production issues of its new mass-market car, the Model 3.
And a recall for 123,000 luxury Model S sedans was issued Thursday due to an issue that can make the cars difficult to steer at low speeds.
The company's shares are down more than 22% so far this month.
The Tesla crash followed a high-profile crash in Tempe, Arizona, in which a fully autonomous Uber car struck and killed a pedestrian.
Tesla's semi-autonomous autopilot technology has been a factor in crashes before. In January, a Model S sedan struck a fire truck while driving down a California highway. The driver was unharmed. And federal investigators found that Tesla's autopilot was partly to blame in the fatal crash of a Model S in 2016.
Tesla vehicles typically rank very high in terms of crash safety ratings. Last June, the Model X was deemed the safest SUV ever tested by federal regulators.