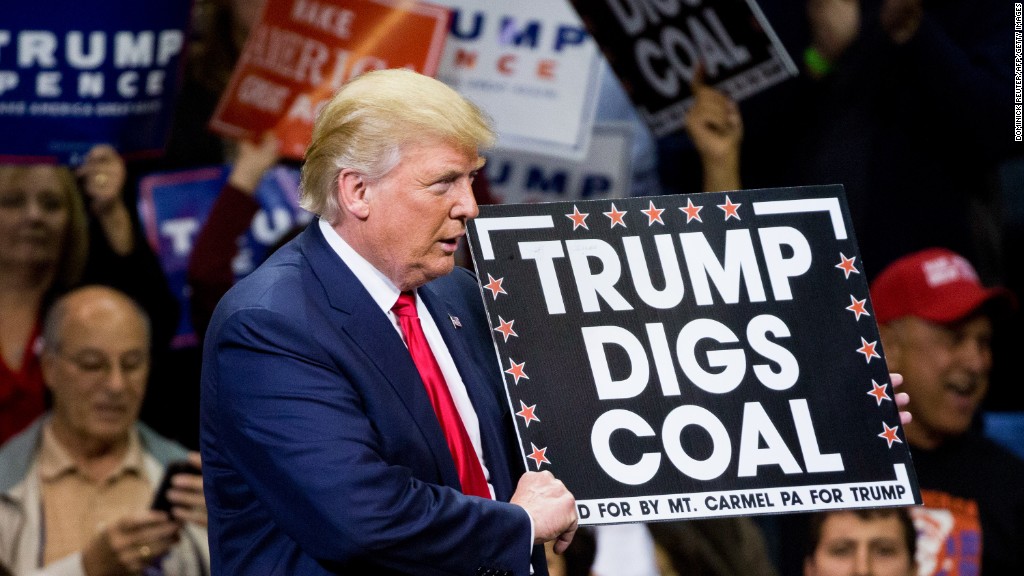 Once again, coal country is begging the Trump administration for help.
The coal and nuclear divisions of Ohio power company FirstEnergy (FE) filed for Chapter 11 restructuring over the weekend, mere days after the company sent a letter to the Energy Department requesting emergency relief. They're seeking a bailout through a rarely-used section of federal law normally reserved for natural disasters or times of war.
A spokeswoman from the Energy Department said the FirstEnergy request is "now under review."
FirstEnergy Solutions and FirstEnergy Nuclear Operating Company have been teetering on the brink of bankruptcy for months. They said they plan to use about $550 million in cash to continue operating and pay their 3,000 employees.
The divisions own and operate two coal-fired power plants, one dual natural gas/coal plant, one petroleum-coke plant and three nuclear power plants. FirstEnergy is a major customer of Murray Energy, the mining giant run by outspoken coal CEO Robert Murray.
The Chapter 11 filing does not include the parent company, Akron-based FirstEnergy.
The bankruptcy case and bailout request show how the coal industry continues to face enormous pressure, mostly from cheap natural gas, despite Trump's promises to revive the industry by slashing regulations.
"It really comes down to economics. Coal continues to be challenged by cheap and plentiful natural gas," said Matthew Hoza, senior energy analyst at research firm BTU Analytics.
BTU expects US coal power generation to drop by another 12% this summer compared with last summer.
Related: Coal country shouldn't count on a Trump-fueled comeback
Last week, FirstEnergy wrote to Energy Secretary Rick Perry to request he "find that an emergency condition exists" in the PJM Interconnection, a regional grid operator that in Illinois, New Jersey, Virginia and 10 other states. First Energy wants the grid operator to be required to "compensate" nuclear and coal-fired plants for the "fuel security and diversity" benefits that they provide.
"Threats to the Nation's power supply and grid are real and can no longer be ignored," FirstEnergy wrote in the letter.
The White House did not respond to a request for comment on FirstEnergy's emergency request.
The Energy Department has only invoked Section 202(c) of the Federal Power Act eight times since 2000, including during the aftermath of Hurricane Katrina in 2005, according to a DOE website.
"It seems like they are grasping at straws," said Andrew Cosgrove, senior analyst on global metals and mining at Bloomberg Intelligence. "If they simply can't make money, asking the government for a quasi-bailout is delaying the inevitable."
Murray Energy said in a statement to CNNMoney it "fully supports" FirstEnergy's request for federal relief and urges Perry to "immediately issue this emergency order."
"Murray Energy Corporation expresses our sincere sympathies to the management and employees of First Energy Solutions during this very difficult time," the company said.
The Trump administration rejected a similar request from Murray Energy last August. The White House and Department of Energy decided "the evidence does not warrant the use of this emergency authority."
"It's not an emergency to bail out one company," a person familiar with the matter told CNNMoney at the time.
Related: Demand for oil could peak by late 2030s
Yet last September Perry called on federal regulators to subsidize coal and nuclear power plants in a bid to improve the resilience of the nation's power grid. Months later, the Federal Energy Regulatory Commission dismissed Perry's proposal -- a decision that Murray strongly criticized.
Environmental groups slammed FirstEnergy's latest request for help from Washington.
Dick Munson, director of Midwest clean energy for the Environmental Defense Fund, called it an "outrageous request" that amounted to a "multibillion-dollar-a-year bailout."
"Americans don't deserve to be charged for more expensive, dirty power when cheaper, clean options exist," Munson wrote in a blog post.