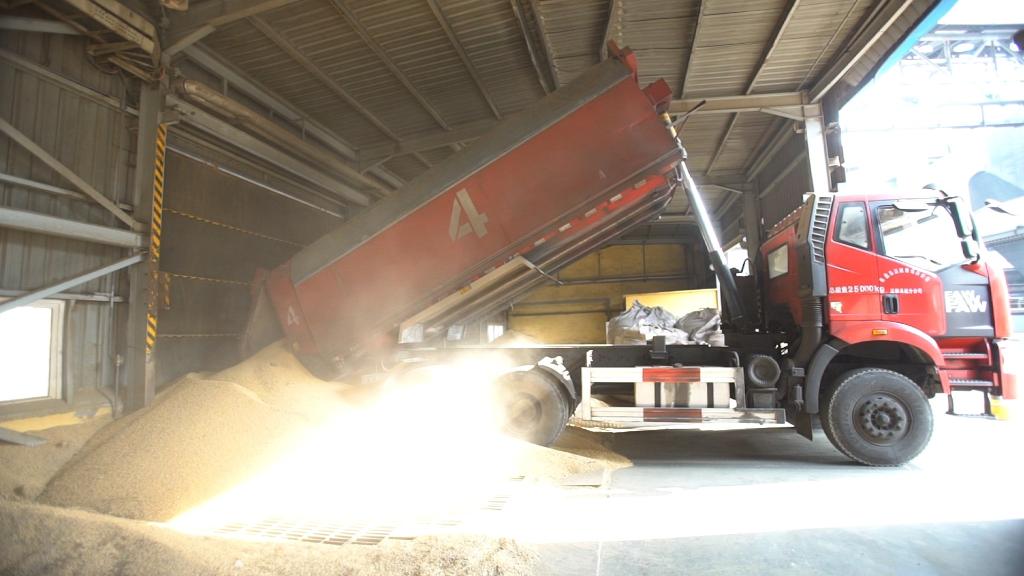 In November, President Trump claimed a win when he returned from his Asia tour touting $250 billion in deals with China.
Now, those agreements — which span sectors like energy, aviation and tech — could be ammunition for Beijing as it spars with Washington over trade.
"The Chinese are going to see these things as bargaining chips," said Edward Chow, a global energy expert at the Center for Strategic & International Studies. "Clearly, Trump is a transactional guy."
Last week, Trump told the US trade representative to levy tariffs on about $50 billion worth of Chinese imports, after a seven-month investigation into intellectual property theft. The United States also intends to impose new restrictions on Chinese investment.
The moves, which follow new US tariffs on steel and aluminum imports, have sparked fears of a trade war. The Chinese government said that tariffs on about $3 billion worth of US imports will go into effect on Monday, hitting 128 products ranging from pork and fruit to steel pipes.
China has yet to announce its response to the coming IP theft tariffs. But as the situation escalates, the deal package announced during Trump's state visit with President Xi Jinping could come up — especially because it involves some big corporate names.
— Goldman Sachs (GS) said it would create a $5 billion fund with China Investment Corporation, the country's sovereign wealth fund, to invest in US companies.
— Qualcomm (QCOM) signed $12 billion in non-binding deals to supply semiconductors to Chinese smartphone brands Xiaomi, Oppo and Vivo.
—Sinopec (SHI), China's state-owned oil and gas company, said it would explore an investment of up to $43 billion in Alaska's energy sector.
— China Energy Investment Corp., which is also state-owned, signed a non-binding agreement with the state of West Virginia to invest nearly $84 billion in shale gas and chemical manufacturing projects.
— Boeing (BA) announced that it would sell about $37 billion worth of planes to a government holding company that buys jets for state-owned carriers such as Air China and China Southern Airlines.
Related: These are the companies behind Trump's $250 billion of China deals
It's not clear if all of the deals were new. And there's been plenty of skepticism about whether many will come to fruition, trade fight or not.
"The Alaska deal, in particular, was signed because it was politically expedient rather than commercially attractive," said Hugo Brennan, senior Asia analyst at consulting firm Verisk Maplecroft. The contract gives China "plenty of room to back out down the line," he added.
For its part, the Alaska group coordinating the project, the Alaska Gasline Development Corporation, said in a statement that it was not concerned that China would pull its support amid trade tensions.
The details may be murky, but these deals could be currency for China as it tries to convince the United States to back down on tariffs. That's especially true because many involve state-controlled entities.
"Whatever trading stock you have for bargaining purposes, you keep — whether [it's] real or phony," Chow said.
Related: Boeing would be on the front lines of a trade war with China
That doesn't mean China won't move forward with the investments it deems strategic.
For example, the plan to invest in shale gas production West Virginia could serve a real purpose. China has made reducing its reliance on coal a top priority, and it needs both the cleaner energy and the technological know-how that would come from such a project.
"[China is] the the largest emitter of greenhouse gases in the world," said Jonathan Elkind, senior research scholar at Columbia University's Center on Global Energy Policy. "It is an economy that is still building very, very vigorously. That represents a lot of a opportunity for US companies that have world-leading technologies."
In the end, China is not going to do anything that it doesn't think is in its best interest, he added.
"You want to hope that after the shouting and screaming is over, some more sensible mutual accommodation will be found," Elkind said.