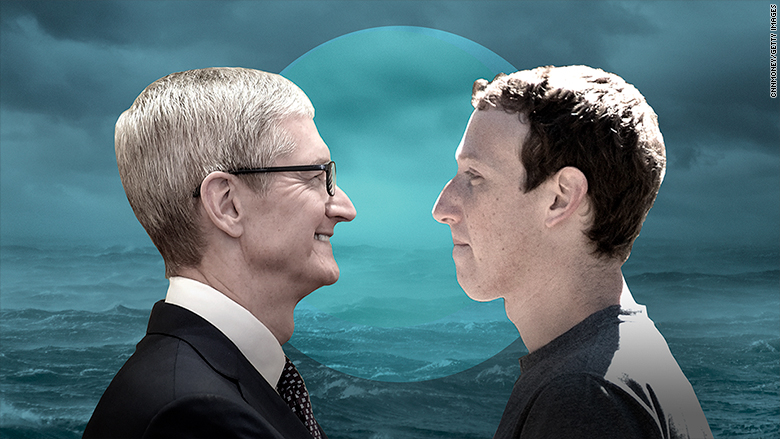 What's Next: Blame Congress.
Lawmakers have spent months beating up on Facebook, Google and other tech giants for their mishandling of user data. But several tech execs, insiders and investors I've spoken with in recent days say Congress deserves a share of the blame for failing to introduce privacy regulations that would actually protect consumers.
Sign up for PACIFIC: The new CNNMoney newsletter about the center of change and innovation
What's more: These sources believe the current Congress may ultimately be incapable of passing regulation that does more than pay lip service to the privacy issue. They fear any new laws will fall short of the European Union's General Data Protection Regulation, which will offer users a clear and obvious way to protect their data.
Right on time: "Facebook Is Not the Problem. Lax Privacy Rules Are," by The New York Times Editorial Board:
"What is needed is for Congress to adopt rigorous and comprehensive privacy laws."
"In 2012, President Barack Obama proposed a privacy bill of rights... [It] fizzled out when Congress showed little appetite for it."
What's Ahead: Zuckerberg testifies on Capitol Hill.
When: We still don't know.
---
Today's PACIFIC
What Silicon Valley is talking about: Mark Zuckerberg's return-fire on Apple, the Spotify IPO and Elon's April Fools' joke ... What Washington is talking about: China tariffs ... What Hollywood is talking about: Mohammed bin Salman ...
Good morning. Tonight: Michigan vs. Villanova in the NCAA National Championship. 6:20 p.m. TBS. Odds, via VegasInsider: Villanova: 5/16, Michigan 13/5
While we're talking sports... Please, please tell us you saw that crazy Zlatan Ibrahimovic goal from L.A.'s first-ever el Trafico.
---
Apple vs. Facebook: Zuckerberg fires back
The longstanding war between Apple and Facebook has broken into the mainstream. Apple CEO Tim Cook spent the last week criticizing Facebook for abusing and profiting off user data. Now Facebook CEO Mark Zuckerberg is portraying Apple as a company that caters only to rich people. The message from both men is that the other guy's company doesn't care about you.
The Latest: Zuckerberg talks to Vox's Ezra Klein:
Klein: "Tim Cook... argued that Apple sells products to users, it doesn't sell users to advertisers, and so it's a sounder business model that doesn't open itself to these problems."
Zuckerberg: "I find the argument, that if you're not paying that somehow we can't care about you, to be extremely glib. And not at all aligned with the truth."
More Zuck:
"The reality here is that if you want to build a service that helps connect everyone in the world, then there are a lot of people who can't afford to pay. And therefore, as with a lot of media, having an advertising-supported model is the only rational model that can support building this service to reach people."
"If you want to build a service which is not just serving rich people, then you need to have something that people can afford."
"I don't think at all that that means that we don't care about people. To the contrary, I think it's important that we don't all get Stockholm Syndrome and let the companies that work hard to charge you more convince you that they actually care more about you. Because that sounds ridiculous to me."
Why the spat matters
Tech companies almost never beat up on one another, as Nick Wingfield points out in today's NYT:
"A spirit of comity prevails among its leaders in moments of crisis..."
"Part of the silence, people in the industry say, comes from a desire to avoid the business equivalent of bad karma — knowing that they, too, may one day face the buzz saw of public censure."
The Big Picture
The war between Apple and Facebook is different:
The two companies have spent a decade sparring over these issues -- see Steve Jobs in 2010 -- and have fundamental differences of opinion on the privacy issue.
Apple is seeking to distinguish itself from Facebook, Google and other ad-reliant data harvesting companies amid growing public scrutiny and impending regulation.
More: "Why Apple uses privacy as a sales pitch" by CNNMoney's David Goldman.
---
Too big to fail
"They Tried to Boycott Facebook, Apple and Google. They Failed," by NYT's Jack Nicas: "As the reach and influence of Silicon Valley's tech giants have increased, so have the calls to boycott their products and services. The problem is that pulling off a boycott is not exactly easy: The tech companies' products are so pervasive that they are difficult to avoid."
---
Going Public: Spotify's moment
Spotify goes public tomorrow. Its seen as the biggest tech IPO since SNAP, and is notable for being a "direct listing" that does not rely on investment banks.
The Big Picture: Spotify faces an uphill climb, as I wrote in the inaugural edition of PACIFIC almost one month ago:
What Spotify has: 71 million paying subscribers, double that of Apple Music and four times that of Amazon Music.
What it doesn't: Substantive differentiation. At the end of the day, all music streaming services provide roughly the same content.
Without differentiation, the advantage may go to those with scale. Spotify's competitors have greater brand recognition, their own hardware distribution (iPhone, HomePod and Echo) and far greater resources.
My colleague Jordan Valinsky rounds up some of the best Spotify coverage ahead of Tuesday's "direct listing" IPO:
"Spotify CEO Daniel Ek: Once the Music Industry's Slayer, Now Its Savior," by WSJ's Maureen Farrell and Anne Steele:
"The 35-year-old Swedish CEO faces the daunting task of making his company profitable while fending off streaming competition from tech giants such as Apple Inc., Alphabet Inc.'s Google and Amazon.com Inc."
"Investors are counting on Mr. Ek to innovate and differentiate Spotify's offerings and gain a foothold in scaling the service onto users' smartphones in new markets."
"Meet Barry McCarthy, the man behind Spotify's daring public offering" by Recode's Teddy Schleifer:
"McCarthy first joined Spotify in 2014 as a member of its board, and moved to the CFO role a year later. As the company started edging toward a long-awaited IPO, he started selling Ek on the direct listing."
"If the direct listing works, it could pave the way for other tech startups to follow suit. That could potentially cut out Wall Street banks and their clients from a lucrative revenue stream, and would roil the financial services industry."
Sign up for PACIFIC: The new CNNMoney newsletter about the center of change and innovation
---
April Fools: Musk makes light
Elon Musk's April Fools' Day tweet:
"Tesla Goes Bankrupt Palo Alto, California, April 1, 2018 -- Despite intense efforts to raise money, including a last-ditch mass sale of Easter Eggs, we are sad to report that Tesla has gone completely and totally bankrupt. So bankrupt, you can't believe it."
What's not funny: Tesla is facing serious concerns about its inability to hit production targets on the Model 3.
The Latest, via Bloomberg's Dana Hull:
"Moody's Investors Service last week downgraded the company's credit rating further into junk, saying production problems and mounting obligations could necessitate a more than $2 billion capital raise soon to avoid running out of cash. Tesla shares plunged as much as 5.7 percent in early trading Monday."
More: A follow-up tweet in which Musk appeared passed out next to a Model 3 seemed to overlook Tesla's potential role in a recent fatal crash.
---
Trade Wars: China's new tariffs
Valinsky emails: "China just sent up a flare signaling it's ready to take the U.S. on in a trade war following Trump's tariffs."
The Latest, from our colleague Daniel Shane:
"The Chinese government said that tariffs on about $3 billion worth of US imports are going into effect Monday, hitting 128 products ranging from pork to steel pipes."
"Authorities are imposing tariffs of 15% on 120 American products -- such as fruits, nuts, wine and steel pipes -- and 25% on eight other products, including pork and recycled aluminum."
What's Next:
"Top US and Chinese officials have been holding talks in an effort to stop the trade tensions from spiraling out of control. But so far, neither side is backing down."
"Experts say they expect further retaliation from China once the Trump administration reveals more details on which products its planned $50 billion in tariffs will target."
Sign up for PACIFIC: The new CNNMoney newsletter about the center of change and innovation
---
The Prince's Diaries: MBS in Hollywood
"Hollywood rolls out the red carpet for Saudi Arabia's crown prince, hoping to cash in on a new market" by LAT's Ryan Faughnder:
"Mohammed's trip to Los Angeles... has elicited excited curiosity among entertainment industry executives who see the desert kingdom as a lucrative new market for movies — and a potential source of much-needed financing."
"Saudi Arabia, like China, wants to use its investments to learn about the global entertainment business and build a modern media industry. A major motivation for the country's plan is to drive tourism..."
Tonight: As I reported last week, MBS will be having dinner tonight at Rupert Murdoch's Bel-Air estate with Disney CEO Bob Iger, Warner Bros. Chairman Kevin Tsujihara, 21st Century Fox President Peter Rice and media investor Peter Chernin, among others.
Bonus: "A Saudi Prince's Quest to Remake the Middle East" by The New Yorker's Dexter Filkins.
---
Thanks for reading, folks. If you're meeting with MBS this week, or if you happen to spot him around town, be sure to shoot us a note.
---
Want this in your inbox every morning? Sign up for PACIFIC: The new CNNMoney newsletter about the center of change and innovation