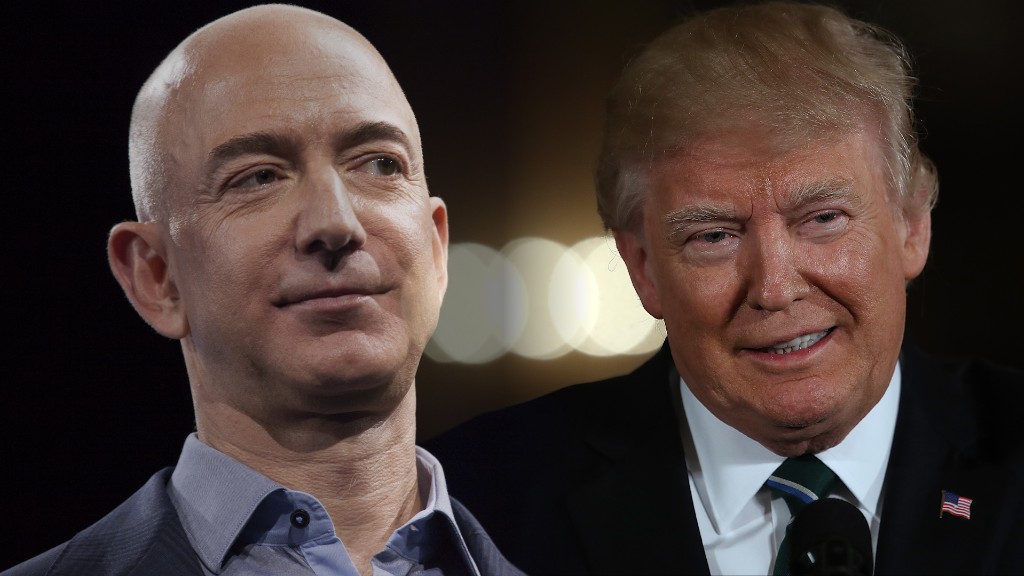 President Trump says he wants to protect American taxpayers by going after Amazon. But his attacks are hurting Amazon's market value — and that may be hurting you.
If you're invested in the stock market, odds are you have at least a small stake in Amazon, most likely through an index fund.
CEO Jeff Bezos owns a 16% stake in the company. After that, the five largest shareholders are mutual fund companies, which run many employee 401(k) plans and increasingly popular exchange-traded funds that track the S&P 500.
Vanguard, T. Rowe Price, Fidelity, BlackRock and State Street Global Advisors collectively own nearly 20% of Amazon's shares, according to data from FactSet Research.
The research firm eVestment said in a recent report that Amazon was the 10th most widely held stock owned by large institutions as of late last year. Amazon was a holding in 14% of the nearly 6,800 funds tracked by eVestment.
Amazon is the fourth-largest stock in the S&P, worth more than $660 billion. So when Amazon has a bad day — as it did Monday, losing 5% after anti-Amazon tweets from the president — the broader market suffers.
Amazon has lost $60 billion in market value since Axios first reported last week that Trump wants to "go after" the company. After that report, Trump began attacking the company with misleading tweets about taxes and bulk shipping rates.
Related: Amazon does big business with Trump's government
Concerns about increased regulatory scrutiny for Facebook (FB) and Google (GOOGL) in the wake of the Cambridge Analytica data scandal are also hurting the market, which has grown increasingly dominated by the tech sector lately.
Google is the second largest company by market value, and Facebook is sixth. Apple (AAPL) is the largest company and Microsoft (MSFT) is the third-biggest. Warren Buffett's Berkshire Hathaway (BRKB) is the fifth most valuable. It recently leapfrogged Facebook as a result of Facebook's stock slide.
Amazon's stock bounced back Tuesday and closed higher. But shares are still down about 7% since Trump escalated his feud with the company and have tumbled 13% from the all-time high they set in mid-March.
So there are probably a lot of disgruntled Amazon shareholders out there who would like to see Trump stop bashing the company.