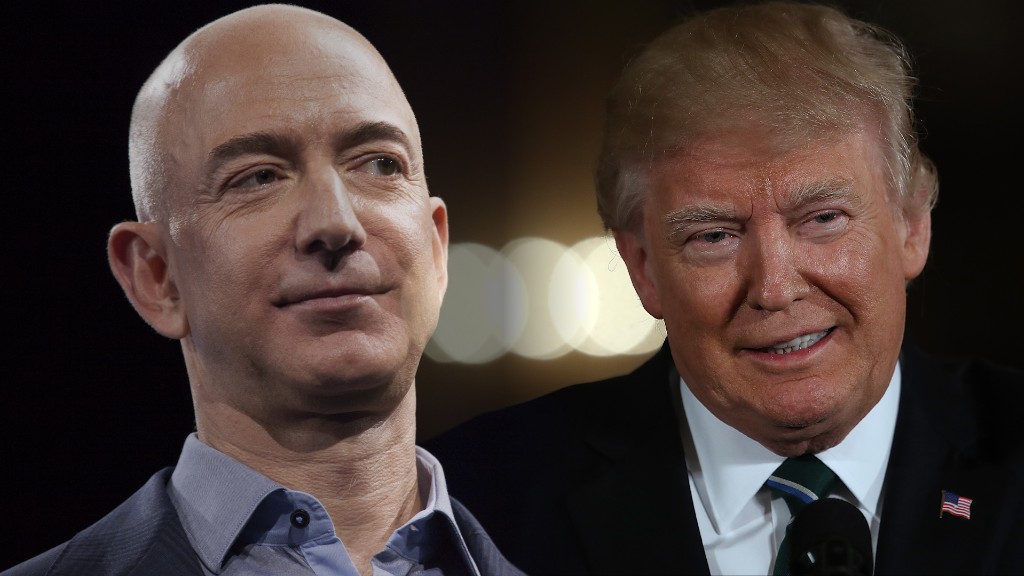 President Donald Trump seems to be preparing for a war with Amazon. But Trump's government is one of Amazon's biggest customers.
Amazon (AMZN), through its massive Amazon Web Services cloud computing division, has a deal with the government to provide cloud services to the CIA and other intelligence agencies.
That deal was first awarded in 2013 and Amazon was said to have beat out IBM (IBM) for the business. It's a massive contract, worth a reported $600 million over 10 years.
The original deal took place during the Obama administration. But there have been some upgrades to the deal since Trump took office.
Amazon said in November that it was rolling out a so-called Secret Region for the CIA as part of the government's existing contract with AWS. Amazon then announced an expansion of that deal just last month.
Related: Wall Street to Trump -- no trade wars and lay off Amazon!
In a March blog post, Amazon said it is "the only cloud service provider" that contracts with the government on "the full range of US Department of Defense data classifications," including Top Secret information.
Amazon advertises its government deals, highlighting the ability for the government to save money by using AWS as opposed to other cloud vendors. Those big cost savings are speaking Trump's language.
But Trump is reportedly looking at ways to increase Amazon's shipping costs and possibly even cancel some of Amazon's government contracts, according to a Vanity Fair article published late Monday night.
Would Trump actually punish Amazon (and potentially taxpayers) by canceling existing deals AWS has with the DoD, CIA and other military and intelligence agencies?
The White House was not immediately available for comment. Amazon did not respond to a request for comment about the AWS deals with the government and Trump's attacks against the company either.
Amazon's stock has fallen nearly 10% since Axios first reported on March 28 that Trump is "obsessed" with Amazon, in part because of critical coverage of the White House by the Washington Post, which is owned personally by Amazon CEO Jeff Bezos.
Trump also tweeted several times last week about how he felt Amazon was taking advantage of the US Postal Service, wasn't paying enough taxes and was "putting many thousands of retailers out of business."
He doubled down Tuesday morning with another attack on Amazon, criticizing the Post Office for being Amazon's "Delivery Boy" that is costing taxpayers "massive amounts of money."