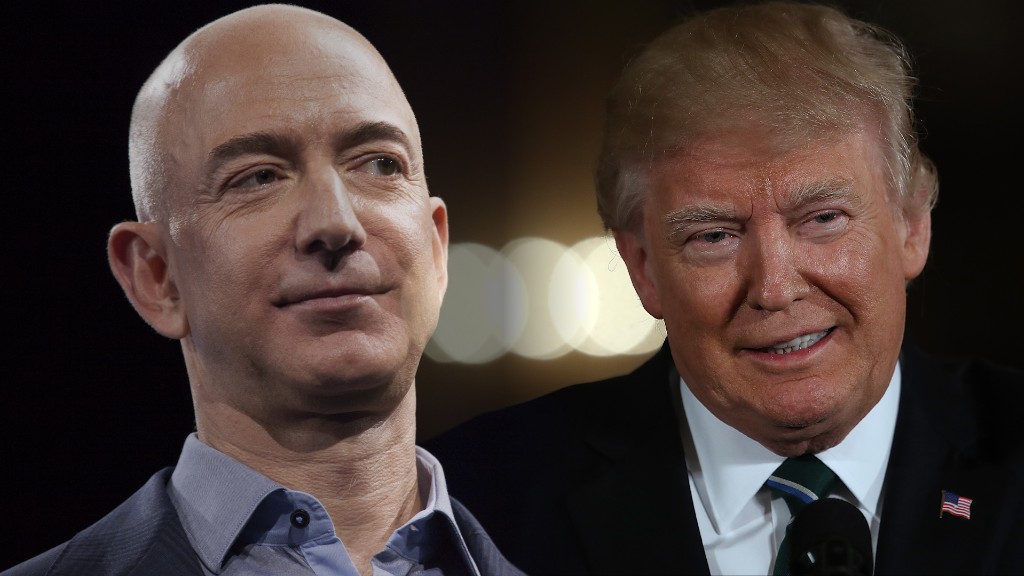 He did it again.
At 9:54 a.m., Amazon's stock was up 1.4%. A minute later, President Trump tweeted his latest attack on Amazon, arguing that it should pay "many billions of dollars" more to the US Postal Service.
Eleven minutes later, Amazon's stock had fallen into the red — and so had the Nasdaq.
Both Amazon and the Nasdaq rallied later and finished the day higher. But Amazon stock has fallen 7% and the company has lost more than $50 billion in market value since Axios first reported last week that Trump wants to "go after" the company.
Trump has tweeted about Amazon five times since Thursday. He says the company takes advantage of the post office and does not pay its fair share of tax. In fact, Amazon pays the same lower rate that the post office charges other bulk shippers, and it collects sales tax in every state that charges it.
Amazon is the fourth most valuable company in America and one of the most widely held stocks, so its slump has dragged the broader stock market down. The Nasdaq has fallen 2% since Trump vs. Amazon became a thing again.
So much for Trump the stock market champion.
So far, he's just tweeting. Trump hasn't taken action against Amazon. But Wall Street investors fear that the president will back up his anti-Amazon tweets with regulatory muscle.
Related: Amazon stock sinks following Trump's attacks
Advisers have encouraged Trump to cancel Amazon's multi-billion-dollar cloud computing contract with the Defense Department, Vanity Fair reported late Monday. He could also ask Republican state attorneys general to open antitrust investigations into Amazon.
Using the government to punish Amazon would not be easy. Amazon dominates online retail, but an antitrust case against Amazon wouldn't be simple: It's difficult to prove consumer harm when Amazon wins by lowering its prices. And tax laws have to be passed by Congress.
What's clear is that Trump's tweets are worrying Amazon (AMZN) shareholders — and Wall Street investors broadly. If the president wants to punish Amazon, he's succeeding. The rest of the stock market is collateral damage.