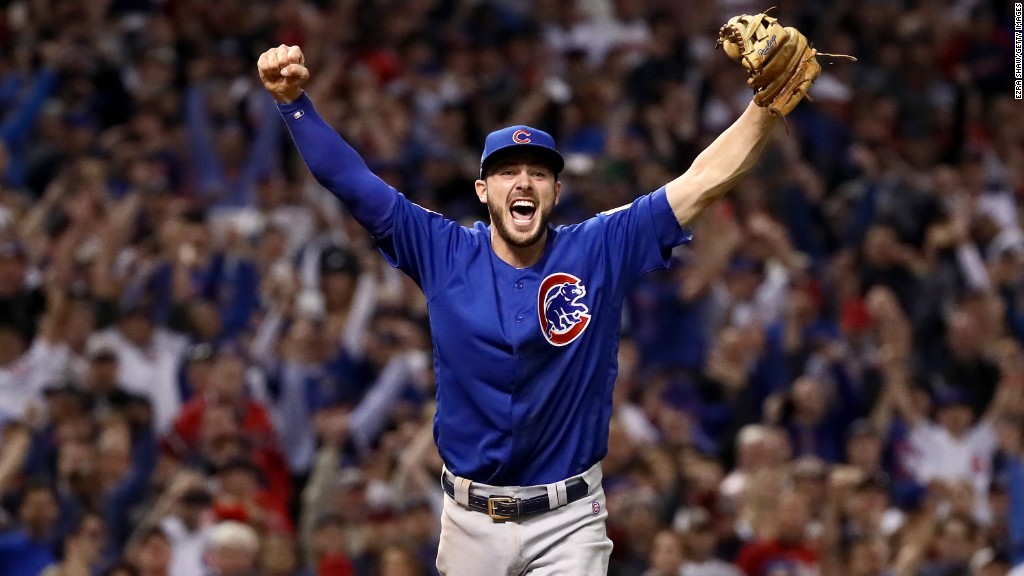 Major League Baseball is tapping into the Chinese market in a big way.
On Tuesday, it announced a deal with China's biggest tech company, Tencent, to stream 125 games this season. Tencent boasts more than 1 billion active users on its social media networks.
The deal kicks off Wednesday with a game between the Cleveland Indians and the Los Angeles Angels.
Tencent will stream regular season games on Wednesdays, Thursdays, Saturdays and Sundays. The social network will also stream the All-Star Game, postseason games, the World Series and a weekly highlight show.
MLB is just the latest league to expand its presence in China, joining similar efforts and partnerships made by the NBA, NFL and NHL, which hope to tap into a potentially massive Chinese audience. The NBA, NFL and NHL also have deals with Tencent.
"Tencent has continued to collaborate with the world's top sports leagues securing broadcast rights for basketball, soccer, tennis, winter sports, football and now baseball," Tencent Vice President Caitlyn Chen said in a statement. "In recent years, baseball has developed rapidly in China, which wouldn't happen without MLB's dedicated promotion in China for over a decade."
Tencent will also become the official partner of MLB Baseball Park, a baseball show that travels around China. The show already garners over 3.5 million fans annually. The tech company will also develop and host an MLB Fan Club in China.
Related: China to US: We'll match your tariffs in 'scale' and 'intensity'
The new deal is part of a major push by MLB to expand its presence in the country.
MLB's first streaming deal in the country was with Chinese media company LeSports, but the current partnership with Tencent provides the league with a much bigger platform.
MLB opened its first office in China in 2007 and launched three development centers in the country to help hone Chinese baseball talent.
Three graduates of the development centers signed MLB contracts, including "Itchy" Xu Guiyan with the Baltimore Orioles, Hai-Cheng Gong with the Pittsburgh Pirates and Justin Qiangba with the Boston Red Sox. None are active members of those teams.
A growing number of players from the development centers have gone on to play college baseball in the US, China, Taiwan and Korea. Some have competed on the China National Team and in the China Baseball League.
MLB has also made a push to expand into more Chinese schools, colleges and universities. More than 40 new baseball facilities have been built since April 2017. As part of the streaming deal with MLB, Tencent will broadcast the league's youth baseball and development events.
Last year, MLB partnered with China Education TV, a national network, to air select MLB shows and games. CETV reaches nearly one billion viewers.