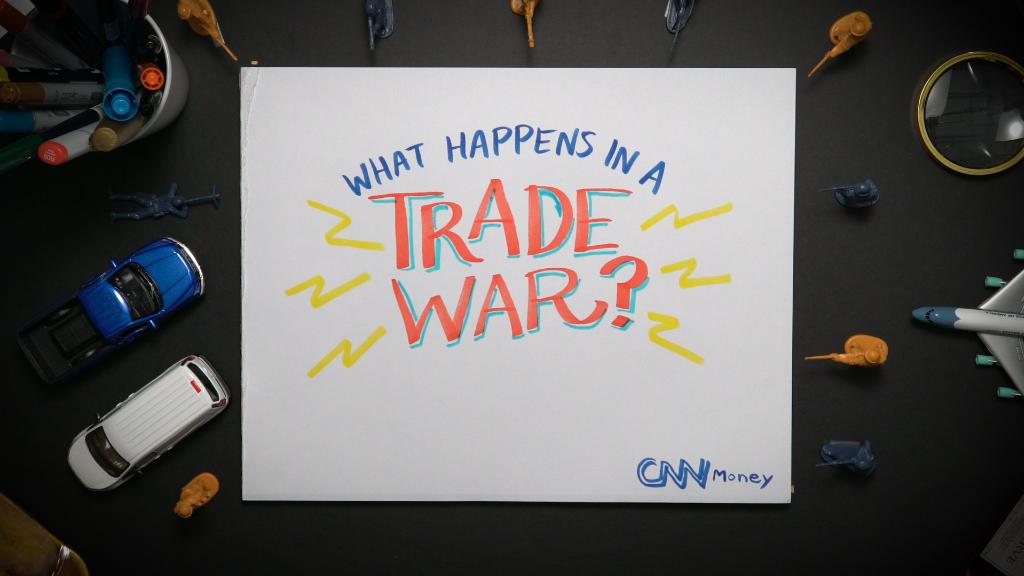 The tariffs that China and the United States threatened this week could harm both sides. But they're not apocalyptic. Not yet.
More concerning is what's next. Escalation is the real concern in a trade war.
Neither side has said when it will, if ever, actually impose the tariffs. Without question, though, the tariffs would raise prices for US consumers and penalize American farmers.
"The big concern is that nobody knows, and nobody has a plan, for how this ends," says Chad Bown, senior fellow at the Peterson Institute for International Economics, a pro-trade research group in Washington. "We're not in a trade war, but we're definitely headed down a slippery slope."
Related: US proposes tariffs on 1,300 Chinese goods
As expected, the Trump administration announced tariffs on Tuesday on about $46 billion of Chinese exports to the United States, including jet engines, medical equipment and machinery. The government is holding a public hearing on May 15 for US businesses to air concerns to administration officials.
The tariffs represent the US response to China's theft of US intellectual property, including software, patents and commerce technology.
The United States would be applying tariffs to 9% of China's annual exports to the US, according to Panjiva, a research firm owned by S&P Global.
China responded Wednesday by announcing plans for a 25% tariff on about $50 billion worth of American exports. The tariff would apply to more than 100 products, including soy. American soy farmers depend heavily on China. They sold 61% of soy to China last year, according to the US soybean export council.
At this moment, China appears to be attacking states — and workers — that voted for Trump in the 2016 election.
Related: China proposes tariffs on over 100 US products
"You're going to have a lot of sectors of the US economy in places that have been fairly supportive of the president where they will all the sudden start to feel some pain -- and that's deliberate," says Phil Levy, senior fellow at the Chicago Council on Global Affairs. If the tariffs are implemented "US consumers are going to take a beating."
The fear is that neither Chinese officials nor President Trump seem keen to back down from their positions. Trump, citing the US trade deficit with China, appeared to argue that going head to head wouldn't be so bad.
For their part, Chinese officials say they will match any US trade action and "will fight to the end" of a trade war.
Experts say they don't know an easy way, politically, to dodge a trade war.
"What's next is we're going to see a tit-for-tat retaliation," says Joseph Brusuelas, chief US economist at RSM, a global accounting and consulting firm. "This is a classic lose-lose proposition, no one wins."
Related: Dow falls 500 points on trade war fears
A key unknown factor is whether the tariff talk is all bluster and negotiating tactic — or actual trade policy that the United States plans to implement come hell or high water. President Trump has routinely made stark comments and threats on trade, then the actual policy gets diluted.
For example, after threatening to impose tariffs on steel and aluminum from every nation, Trump granted exemptions for the European Union and six other major nations. He also threatened to tear up a trade deal with South Korea. The United States and South Korea recently reached a deal in principle. He said he would label China a currency manipulator. He didn't.
And both the United States and China acknowledge they are in active negotiations. Still, experts worry that the United States hasn't been clear with China about what exactly it wants. They say the Trump strategy could falter in the face of a stoic China.
"I assume a good portion of it is negotiating tactic. The question is whether the tactic will backfire," says Matthew Rooney, director of economic growth at the Bush Institute, a research wing of the George W. Bush presidential library. "We've embarked on an experiment with protectionism. It hasn't worked in the past; I doubt it will work this time."