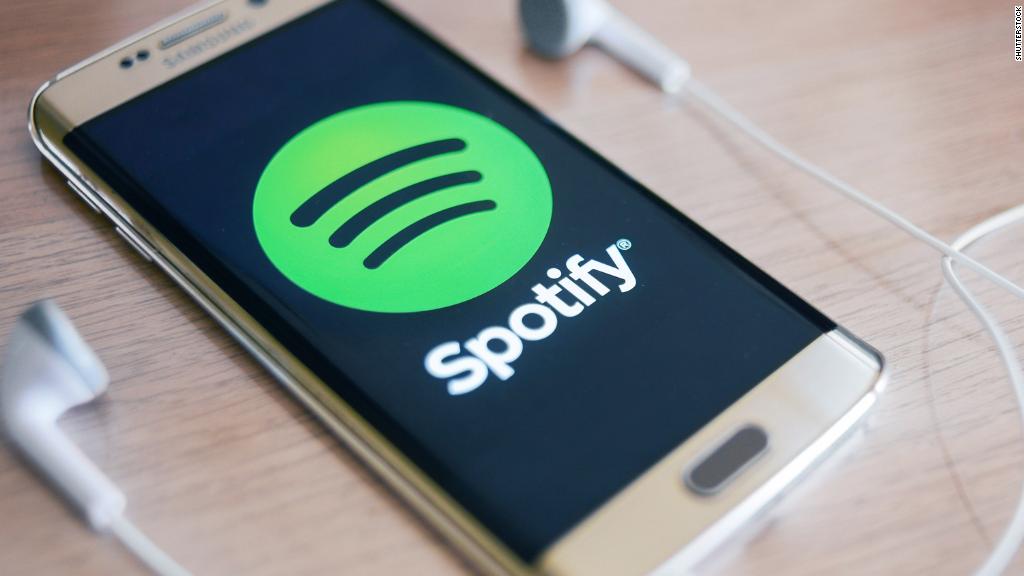 Spotify's arrival on Wall Street is music to the ears of some of Asia's biggest tech companies.
Chinese social media and entertainment firm Tencent (TCEHY) and Japanese electronics icon Sony (SNE) are two of the music streaming platform's biggest backers.
Tencent holds a 7.5% stake in Spotify (SPOT), according to a regulatory filing. After Spotify shares started trading Tuesday, that stake is now valued at about $2 billion.
Spotify opened at $165.90 a share on the New York Stock Exchange. The stock later fell, closing below $150 a share and giving the company a market value of nearly $30 billion.
Spotify and Tencent's music subsidiary announced a share swap in December, taking minority stakes in each other ahead of expected stock market listings this year.
Related: Spotify valued at nearly $30 billion in unusual Wall Street debut
Tencent Music dominates music streaming in China through its QQ Music, KuGou and Kuwo platforms.
It also has a stranglehold on the streaming of mainstream Western music in China through exclusive deals with Sony Music, Universal Music Group and Warner Music Group. Under the arrangement, Tencent gets to decide which songs rivals can stream.
Tencent Music is reportedly preparing for an initial public offering later this year.
Spotify owns about 9% of Tencent Music, a stake valued at €910 million ($1.1 billion), according to a regulatory filing with the US Securities and Exchange Commission. That puts Tencent Music's overall valuation at around €10.1 billion ($12.5 billion).
Related: China's big streaming shift: Paying instead of pirating
Like some other major recording labels, Sony Music owns a big chunk of Spotify.
It had a 5.7% stake in Spotify, but sold nearly a fifth of it on the stock's opening day, according to a company statement on Wednesday. That means it pocketed at least $260 million, based on Spotify's closing share price Tuesday.
After the sale, Sony's stake in Spotify dipped to 4.8%. With its ownership now below 5%, Sony won't be obliged to disclose any further reductions in its Spotify holdings.
The streaming music industry has given a boost to Sony's music business, whose artists include Beyoncé, DJ Khaled and Justin Timberlake.
Sony Music has reported double-digit revenue growth for the past three quarters, citing an "increase in recorded music sales due to an increase in digital streaming revenues."
It said it will share the profits made from selling Spotify shares with its artists and music labels.
Spotify's other top shareholders are co-founders Daniel Ek and Martin Lorentzon, hedge fund Tiger Global and venture capital firm TCV.