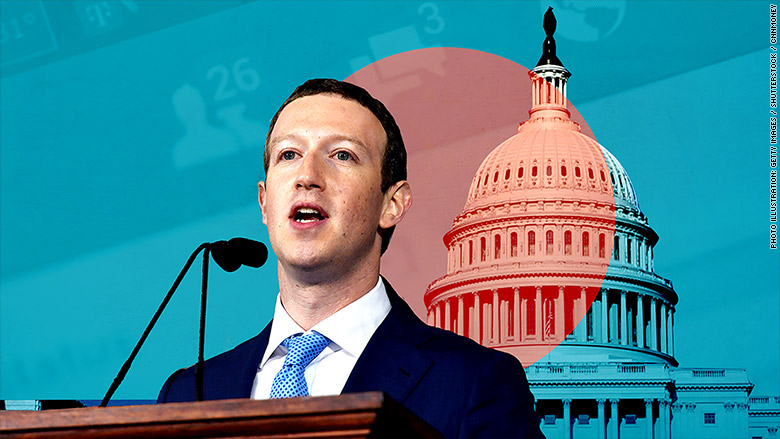 What's Next: The Mark Zuckerberg hearings next week will be a landmark moment for Facebook and the technology industry, with major implications for regulation, data privacy, elections, media and advertising. It will also be the most high-profile face-off to date between two of America's greatest power centers: Silicon Valley and Washington.
Tuesday: Senate Judiciary and Commerce hearing, 2:15 p.m. ET.
Wednesday: House Energy and Commerce hearing, 10 a.m. ET.
I'll be in Washington for both hearings, fresh off the red-eye from the Hewlett Foundation's cybersecurity summit in Sausalito.
Where I'll be tonight: Westwood Village for the world premiere of the new artificial intelligence documentary "Do You Trust This Computer?," which will feature a Q&A with Elon Musk, "Westworld" co-creator Jonathan Nolan, and others. Watch the trailer.
---
Today's PACIFIC
What Silicon Valley is talking about: Zuckerberg's PR offensive, Apple's new Siri fix ... What Seattle is talking about: Spheres, float planes and the Seattle-Vancouver megacity... What Hollywood is talking about: Les Moonves, and the global box office ...
Good morning. Today marks the one-month anniversary of PACIFIC. We're still tweaking everything -- content, design, layout -- and we'd really love to hear your thoughts. What do you like? What do you hate? What do you want to change? The goal is to make this as informative, efficient and easy to read as possible. So let us know: dylan.byers@cnn.com.
Sign up for PACIFIC: The new CNNMoney newsletter about the center of change and innovation
---
The Trust Crisis: Zuck on offense
The Big Picture: Once press shy, the 33-year-old Facebook CEO is now making himself so available to the media that by the time he appears before lawmakers next week everything he says will sound familiar and, Facebook hopes, not newsworthy.
The most important things Zuckerberg said on yesterday's call with reporters:
1. "This is going to be a never-ending battle. You never, ever solve security. It's an arms race."
• Why it matters: Zuckerberg is admitting that Facebook can never entirely prevent abuse on its platform, it can only do a better job of monitoring it.
• What's next: Will that be enough for lawmakers?
2. "I think regulations like the [European Union's] GDPR are very positive. We intend to make all the same controls available everywhere, not just in Europe."
• Why it matters: Zuckerberg is now committing to standards that would give users a clear and obvious way to opt out of sharing their data.
• What's next: Will Zuckerberg fulfill that commitment? Is he committed to making substantive changes in how Facebook collects and uses data?
3. "The vast majority" of data that Facebook collects is "data you chose to share."
• Why it matters: Zuckerberg is still downplaying how vast Facebook's data collection practices are. Facebook collects data on a lot of your internet browsing, even when you're not on Facebook.
• What's next (we hope): More Facebook containers like the one introduced by Mozilla that block Facebook from following you around the Internet.
Latest Headlines
• "Facebook says Cambridge Analytica may have had data on 87 million people" (CNNMoney)
• "Facebook rewrites Terms of Service, clarifying device data collection" (TechCrunch)
• "Facebook will stop sharing as much of your personal data with people outside of Facebook" (Recode)
• "Facebook tweak causes temporary heartbreak for Tinder users" (CNNMoney)
New at PACIFIC: An instant Donie O'Sullivan classic:
Facebook trumpeted... the deletion of hundreds of pages and accounts run by the Internet Research Agency... But of the five examples of deleted accounts Facebook provided the public, CNN has found, two had links to the troll army that should have been obvious to the social networking company months ago.
---
Fixing Siri: Apple hires Google A.I. chief
"Apple has hired Google's chief of search and artificial intelligence, John Giannandrea, a major coup in its bid to catch up to the artificial intelligence technology of its rivals," by NYT's Jack Nicas and Cade Metz:
• "The hire is a victory for Apple, which many Silicon Valley executives and analysts view as lagging its peers in artificial intelligence..."
• "[M]any in the technology industry consider the iPhone's digital assistant, Siri, to be less effective than its counterparts at Google and Amazon."
The Big Picture: A.I. is central to Apple's future, and the Siri troubles have been a rare embarrassment for a company of perfectionists.
Bonus: "Apple Working on Touchless Control and Curved iPhone Screen" by Bloomberg's Mark Gurman.
Sign up for PACIFIC: The new CNNMoney newsletter about the center of change and innovation
---
Google's other headache
"'The Business of War': Google Employees Protest Work for the Pentagon" by NYT's Scott Shane and Daisuke Wakabayashi: "Thousands of Google employees, including dozens of senior engineers, have signed a letter protesting the company's involvement in a Pentagon program that uses artificial intelligence to interpret video imagery and could be used to improve the targeting of drone strikes."
---
Cascadia Corridor: The Seattle-Vancouver Megacity
The Big Picture: Tech and policy leaders in Seattle and Vancouver are actively working to unite the two cities into a global hub of technological innovation, medical research and education:
• Microsoft has more than 800 employees at its Vancouver office and Amazon plans to double its offices there to 2,000 workers by 2020.
• British Columbia has the fastest growing tech sector in Canada.
• Both Seattle and Vancouver are home to major universities with world-class medical research programs.
• Both cities are hotbeds of progressive politics and policy.
The latest in the Cascadia Corridor effort is -- wait for it -- float planes:
• Kenmore Air and Harbour Air have just announced the first direct seaplane service between Seattle and Vancouver. The idea was championed by Microsoft.
Luis Montero, a Microsoft public affairs spokesperson in Seattle, emails:
• "This is a significant step to connect our growing innovation hubs and generate new economic opportunity for the region."
• "Transportation has always been a key part of efforts to enhance connectivity throughout the Cascadia Innovation Corridor. Together with potential for future high-speed rail service, we're excited to see positive, sustained momentum toward this goal."
Not in the discussion: Portland, Ore.
How it's playing with the locals: The Seattle Times: "Seaplane service from Seattle's Lake Union to Vancouver, B.C., starts April 26, but it won't be cheap"
The trip takes one hour. Tickets are $285 one-way.
Bonus: Amazon is planning to open its landmark Spheres to the public.
Next week in Vancouver: TED 2018: The Age of Amazement
---
Talk of Tinseltown: Should Les get CBS-Viacom?
Shari Redstone and Viacom have rejected CBS's below-market offer and are preparing to propose a counteroffer later today, a CBS source confirms.
The Latest, via LAT's Meg James:
• Redstone "has grown frustrated by CBS' seemingly strident approach... [its] recent lowball offer for Viacom, and its desire to dictate who would run the combined company."
• CBS had stipulated that CEO Les Moonves "would run a merged CBS-Viacom for at least two years and that [its COO] Joseph Ianniello... would continue in that role."
• "Redstone, however, wants Viacom CEO Bob Bakish to have a prominent role in the mix..."
What's Next: Moonves' appointment atop CBS-Viacom seems like a foregone conclusion given his status in the industry, but there are some, including media analyst Rich Greenfield, who say his leadership would be too chaotic.
Sign up for PACIFIC: The new CNNMoney newsletter about the center of change and innovation
---
At The Movies: Global Box Office hits high
"Global box office hits a record high while U.S. staggers" by CNNMoney's Frank Pallotta, based off a new report from the Motion Picture Association of America:
• "Worldwide box office hit a record $40.6 billion in 2017, which is a 5% increase from 2016."
• "The U.S. and Canada box office dipped by 2% from the record high of $11.4 billion in 2016."
The Big Picture: "The more concerning drop for Hollywood isn't box office totals, but rather with how many people are actually going to the movies... Online video services... saw overall subscriptions increase to 157 million domestically in 2017, a whopping 21% increase from the year prior."
---
What Next: The Pride of Malibu: "Bob Dylan Sings About Gay Love on New Compilation... St. Vincent, Kesha, Ben Gibbard, Valerie June, and Kele Okereke also contribute," via Pitchfork.
See you tomorrow.
---
Want this in your inbox every morning? Sign up for PACIFIC: The new CNNMoney newsletter about the center of change and innovation