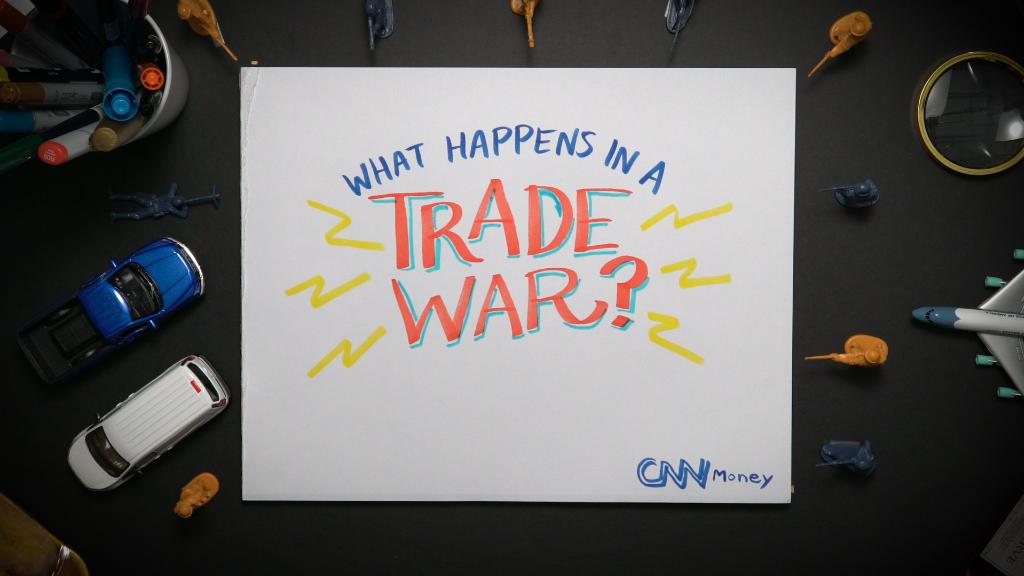 The United States and China are locked in a battle over trade that seems to be escalating by the day.
First, there were US tariffs on steel and aluminum imports. Then the United States proposed tariffs on $50 billion worth of Chinese goods, following an investigation into intellectual property theft. China said it would match the move with $50 billion in tariffs of its own, on items like aircraft and autos.
On Thursday, the situation intensified. President Donald Trump, angered at China's response, said he's considering an additional $100 billion in tariffs. The Chinese government said it doesn't want to fight a trade war, but isn't afraid to do so if necessary.
We asked CNN readers to share their questions about the dispute — what's happened, where it's headed and what it could mean for you.
Here are the answers to some initial questions (lightly edited for clarity). Have your own? You can submit it here, and it could be featured in a future story.
Who has the upper hand in a trade war — the US or China? Which country stands to lose more?
It all depends on how you cut it.
The United States has one big advantage: It ships $130 billion worth of goods to China, while China send $505 billion worth of goods to the US. That means the United States has a much longer list of products it could target, should it need to.
However, China could be in a stronger situation politically than the United States. Chinese President Xi Jinping has absolute power and tools at his disposal to limit public dissent. Trump, meanwhile, has to contend with midterm elections, powerful lobby groups and a free press. He could be more vulnerable to public pressure if prices rise and business suffers because of the tariffs.
"Both sides would end up badly bruised. Politically, [China] may have more stomach for it than we do," said Phil Levy, senior fellow at the Chicago Council on Global Affairs.
Which items should I stock up on before prices increase?
Don't race to the store just yet. The Trump administration has identified about 1,300 Chinese exports that could be targeted with 25% tariffs. Consumer electronics and various home appliances — including flat-screen TVs and dishwashers — could get more expensive if the government works off of this list, and companies decide to pass the cost of the new taxes on to customers.
But there's still time for businesses to lobby the government to remove certain items from the list, and additional products can still be tacked on.
I often buy inexpensive clothing for myself and my family at stores like Old Navy and Target. Will the cost of our clothing go up because of the tariffs?
Clothing and shoes were excluded from the Trump administration's initial list of the 1,300 Chinese exports.
But the retail industry is worried that apparel and footwear could still get hit. If Trump goes ahead with an additional $100 billion in tariffs on Chinese exports, he won't have as many items to choose from. That could mean T-shirts and sneakers get thrown into the mix.
Will the trade fight affect my 401(k)?
It's already is.
In the past week, the stock market has been volatile due to trade war fears, and your 401(k) account could take short-term hit. But day-to-day moves are tolerable for most 401(k) holders in the long run.
Bigger problems can arise if costs for companies go up because of the tariffs. US tariffs on China include many parts that go into products, like bolts. Higher production costs would lead to thinner profits, which could spook investors and sink stocks. Broader concerns about corporate earnings and global growth could eventually trigger a stock selloff.
Of course, if all this talk is just bluster, and no or few tariffs are ultimately applied, this period of volatility will pass — and a typical, diversified 401(k) will be just fine.
Is the threat of Intellectual property theft real? If so, is $50 billion in tariffs an appropriate response?
It's widely accepted in the United States that China steals American companies' software, patents and other technology.
Chinese firms, backed with government support and sometimes funding, force US companies that want to operate in China to go into joint ventures. That forces the US companies to share their secrets with similar Chinese companies. Eventually, the Chinese firm takes the technology, pushes out the US company and profits from it.
Everybody on the US side basically agrees that this is a problem. But there's a debate about the right remedy.
The appropriate response is more about scope of the tariffs than the dollar value attached to them. If the US administration focused on punishing Chinese tech companies that had stolen US tech, that would be a very targeted, narrow approach.
The concern is that the US response will hit lots of Chinese industries, some of which may have nothing to do with intellectual property theft. The tariffs include some odd items like artificial teeth. It's hard to argue that China stole those patents from the United States. (Caveat — we are not experts in the market for artificial teeth.)
Will the tariffs create US jobs?
The tariffs will certainly protect some jobs.
For example, Trump has already imposed a 25% tariff on imported steel from most countries. US steel companies have indicated they will hire more workers as a result of the tariff. Something similar could play out with the tariffs on China. If certain imports from China drop, American companies that make these products may need to ramp up production, which would boost hiring.
However, it's an open question as to whether the tariffs — both on steel and on China — will save more jobs than they cost.
For instance, there are far more jobs in industries that use steel, like car companies, than companies that actually make steel. So the steel tariff is poised to hurt more jobs than it helps.
--Have questions about China, tariffs and a possible trade war? Ask them here.