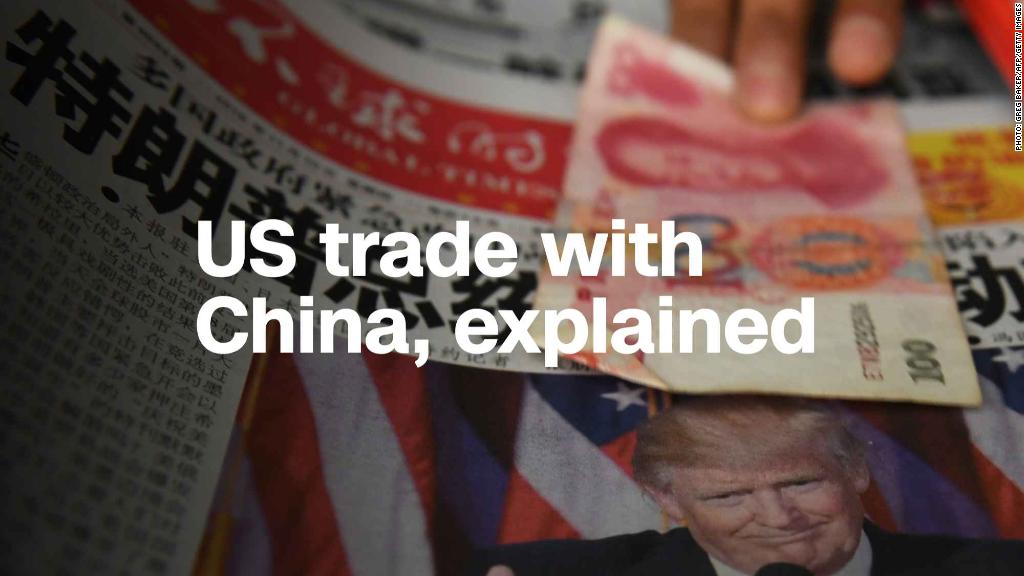 The countries with the two biggest economies are threatening huge tariffs against one another as the world waits anxiously by to see if a trade war will materialize.
The latest salvo came Thursday, when President Donald Trump called for imposing $100 billion in new tariffs on Chinese products.
But a potential trade war between the US and China has been brewing for almost a year.
April 2017 — Trump launches investigation into steel imports
President Trump, who has repeatedly vowed to bring manufacturing and jobs back to the United States, directs the Department of Commerce to investigate whether imports of foreign steel from China and other countries could be a threat to national security.
August 2017 — Another investigation tightens the screws on China
Trump launches a second government probe explicitly targeting China. He asks US Trade Representative Robert Lighthizer to look into unfair China's trade practices, with a particular focus on alleged Chinese theft of US intellectual property.
The government agency later estimates that intellectual property theft by China costs the US "between $225 billion and $600 billion" every year.
China's state-run media says the probe will "poison" the relationship between the two countries, while the Chinese government later slams the Trump administration's "unilateralism and protectionism."
A quiet few months
The Trump administration's threats against China, including the two probes, don't lead to tangible action over the rest of 2017 as Trump shows restraint amid a budding relationship with his Chinese counterpart Xi Jinping.
However, experts warn that 2018 could be a different story, calling a trade war between the two gargantuan economies increasingly likely.
January 2018 — First, solar panels and washing machines
The first major trade action against China comes at the beginning of the year, when the US announces a 30% tariff on imported solar panels -- most of which come from China -- and taxes on large residential washing machines starting at 20%.
China expresses "strong dissatisfaction" over the decision, adding that it "aggravates the global trade environment."
Other affected countries, including South Korea and Mexico, threaten varying degrees of retaliation to the tariffs.
February 2018 — Commerce Department proposes tariffs
The department, led by Commerce Secretary Wilbur Ross, proposed a range of tariffs in February 2018 including 24% on steel and 7.7% on aluminum.
While US steelmakers supported tariffs on their foreign counterparts, much of Corporate America warned that they could backfire and ignite a trade war.
China said it will "take necessary measures to defend our rights" if it is hit with tariffs.
March 9, 2018 -— Trump imposes tariffs on steel imports
Trump follows through on the tariffs recommended by his commerce department, taxing steel imports at 25% and imported aluminum at 10%.
US neighbors Canada and Mexico are exempted from the tariffs, with Trump saying other countries could potentially receive similar exemptions if they can "ensure that their products no longer threaten our security."
China, the world's biggest steel exporter, calls the tariffs "a serious attack" on international trade and says it will take "firm action" if Chinese businesses suffer losses as a result.
April 2, 2018 — China hits back
Beijing imposes tariffs on US imports worth around $3 billion, including a 15% duty on 120 American products including fruits, nuts, wine and steel pipes and a 25% tax on eight others, like recycled aluminum and pork.
The Chinese government says its tariffs are specifically in response to the US trade measures against steel and aluminum.
One of the notable casualties of the Chinese tariffs is a US company that's owned by China. Virginia-based Smithfield Foods, the world's biggest pork producer, will likely be hit hard. Shares in China's WH Group, which owns Smithfield, have plunged more than 11% since the tariffs were first proposed two weeks ago.
April 3, 2018 — US threatens to target another $50 billion in Chinese goods
Trump's next set of potential tariffs comes barely 24 hours after China's first retaliation. In response to the August 2017 investigation into Chinese intellectual property theft, the US Trade Representative proposes a 25% tax on close to 1,300 Chinese goods from the aerospace, machinery and medical industries.
April 4, 2018 — China warns of tariffs on another $50 billion in American goods
The Chinese government announces yet another set of retaliatory tariffs that nearly mirror the Trump administration's proposal a day earlier -- 25% on a range of products from the US, worth approximately $50 billion.
The 106 products on China's list include aircraft and automobiles as well as soybeans and chemicals.
Global markets have been hit hard by the Chinese announcement, as have the products on the list and the companies making them.
April 5, 2018 — Trump calls for targeting another $100 billion in Chinese goods
The stock market enjoys a day of gains as investors warm to the idea that most of the back-and-forth between Beijing and Washington is nothing but talk.
But Trump then makes a late-day statement calling for the broadest wave of new tariffs yet — $100 billion worth. He asks US Trade Representative Robert Lighthizer to look into which products his administration can target.
China warns it would retaliate to any additional tariffs, saying it has "already formulated very detailed countermeasures."
US stock markets are rattled. The Dow closes down 572 points, or 2.3%, on April 6 after falling as much as 767 points earlier in the day.
—CNN's Jackie Wattles contributed to this report.