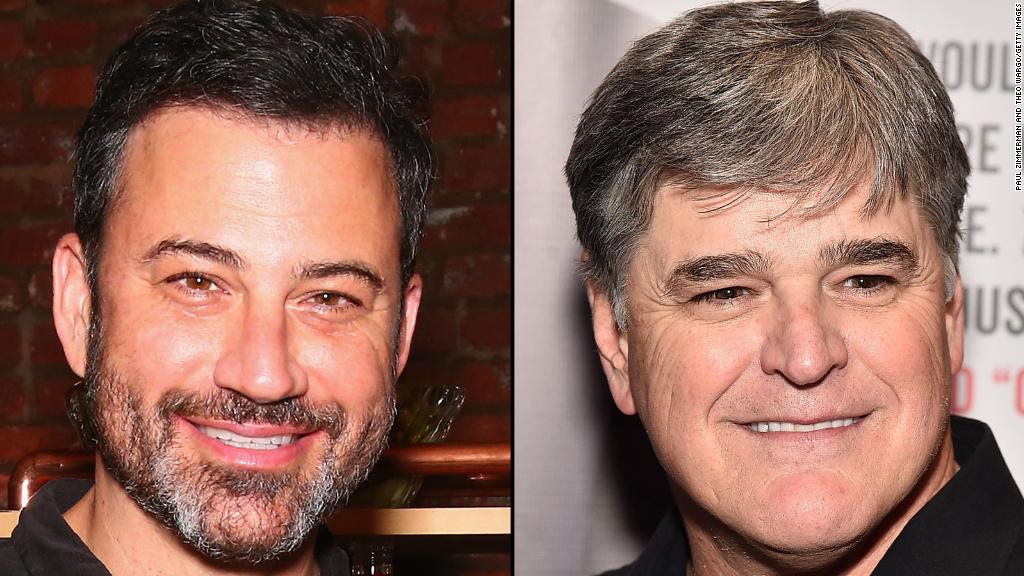 A day after Jimmy Kimmel offered to put an end to his feud with Sean Hannity, the Fox News host responded on his show Monday night by accepting Kimmel's truce and inviting him on his show for a "serious discussion."
Hannity told viewers that he read Kimmel's statement and thought it seemed like a "forced, Disney corporate apology," but said that he believes that everyone should accept apologies. ABC, home of Kimmel's late night show, is a Disney subsidiary.
"I really do kind of enjoy a good fight," Hannity said. "I do agree with Jimmy in the sense it's time to move on."
The Fox News host then explained how this fight was never about him or Kimmel but rather about the level of hatred and vitriol towards the president from the left and the media. The Fox host then extended an invitation to Kimmel to appear on "Hannity."
"Jimmy, you seem focused on politics. You seem sincere when you talked about health care, you seem sincere when you talk about the country" Hannity said. "If you want to come on this show, I promise no name calling, no anger, no rehashing of the Twitter fight."
Hannity said they can talk about Trump and his policies, among other issues.
"My bet is that you'll actually agree with me on more issues than you think," he said. "From my point of view, it's over with Jimmy Kimmel."
The spat started last week after Kimmel mocked First Lady Melania Trump's accent during a segment on "Jimmy Kimmel Live!"
Hannity shot back at Kimmel during his prime time telecast Wednesday, calling Kimmel an "ass clown," which promoted Kimmel to respond Thursday.
"If I'm an ass clown, you are the whole ass circus," Kimmel retorted.
After several days of sparring on social media, Kimmel took to Twitter on Sunday to defuse the situation.
"While I admit I did have fun with our back and forth, after some thought, I realize that the level of vitriol from all sides (mine and me included) does nothing good for anyone and, in fact, is harmful to our country," Kimmel said in a statement published on Twitter.
Related: Jimmy Kimmel apologizes for jabs at Sean Hannity
In his tweet, Kimmel apologized for making sexually suggestive comments about Hannity's love for President Donald Trump that some found to be "homophobic."
"I will take Sean Hannity at his word that he was genuinely offended by what I believed and still believe to be a harmless and silly aside referencing our First Lady's accent," Kimmel added. "I am hopeful that Sean Hannity will learn from this too and continue his newly-found advocacy for women, immigrants and First Ladies and that he will triumph in his heroic battle against sexual harassment and perversion."