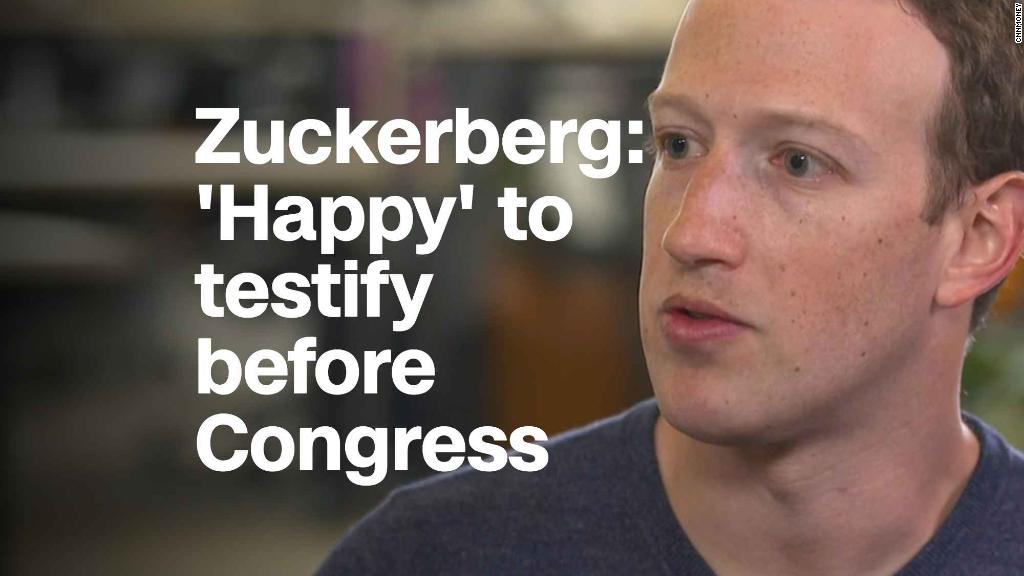 Mark Zuckerberg has a clear message for Congress in the wake of the Cambridge Analytica scandal: It's my fault.
The Facebook (FB) CEO will take the blame for mistakes that led to the data debacle and lay out steps taken to prevent it from happening again, according to a copy of Zuckerberg's remarks as prepared for delivery to one of the committees before which he will be testifying.
"It's clear now that we didn't do enough to prevent these tools from being used for harm as well. That goes for fake news, foreign interference in elections, and hate speech, as well as developers and data privacy," Zuckerberg said in the prepared remarks, which were released by the House Committee on Energy and Commerce on Monday.
"We didn't take a broad enough view of our responsibility, and that was a big mistake. It was my mistake, and I'm sorry. I started Facebook, I run it, and I'm responsible for what happens here."
Zuckerberg is set to appear before a joint hearing of the Senate Judiciary and Commerce committees on Tuesday afternoon followed by a House Energy and Commerce Committee hearing on Wednesday morning.
Related: Facebook announces changes to combat election meddling
The hearings come a little more than three weeks after news broke that Cambridge Analytica, a data firm with ties to President Donald Trump's campaign, reportedly accessed information from about 50 million Facebook users without their knowledge.
Facebook has since said the firm could have had data on as many as 87 million people.
"We have a responsibility to make sure what happened with... Cambridge Analytica doesn't happen again," Zuckerberg says in the prepared remarks.
To that end, Zuckerberg will lay out a series of steps the company is taking to safeguard data. That includes investigating every third-party app with access to user information and making it easier for users to see which apps have access to their data.
While the hearings were called to address data privacy, they will likely also serve as forums to address broader concerns about Facebook's role in spreading misinformation and enabling election meddling.
Zuckerberg will acknowledge that Facebook was "too slow" in spotting and responding to "Russian interference" on its platform during the 2016 election.
Facebook currently estimates that about 126 million people may have been served content associated with a Kremlin-linked troll farm as well as another 20 million on Instagram.
"I don't want anyone to use our tools to undermine democracy," Zuckerberg said in the remarks. "That's not what we stand for."
Zuckerberg reiterated plans to boost transparency around political and issue ads on the platform and to "invest so much in security... that it will significantly impact our profitability."
For Zuckerberg, the hearings serve as a high-stakes debut on Capitol Hill. The CEO has never testified before Congress. It's rare for him to be interviewed in a setting not of his own choosing.
In advance of testifying, the CEO began meeting with lawmakers on Monday, including members of the committees holding the hearings.