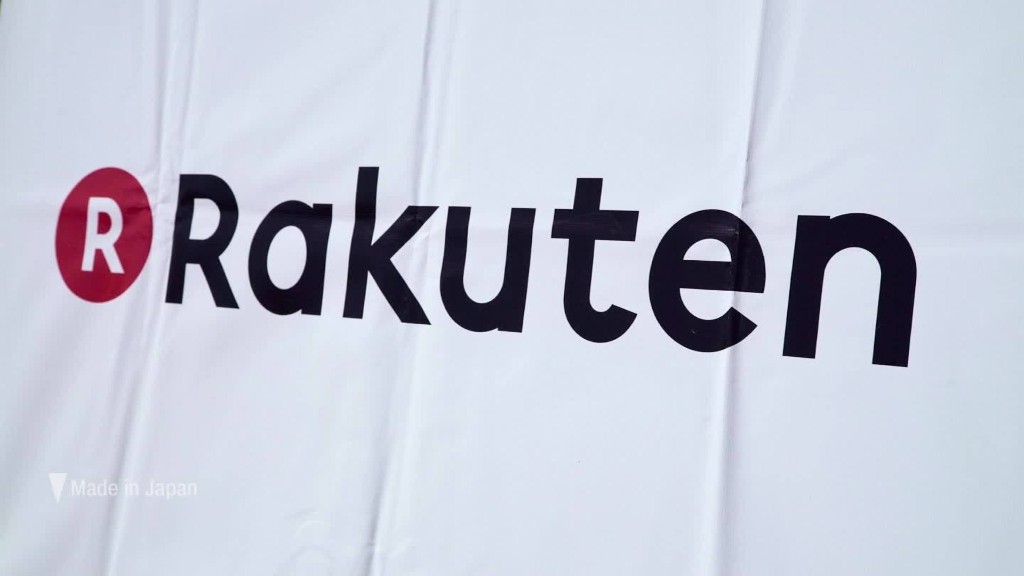 Japan's biggest e-commerce company has received government approval to launch its very own wireless network.
Rakuten (RKUNF) is aiming to get the network up and running next year with the goal of eventually signing up 15 million subscribers.
Analysts said the move was likely a response to fierce competition in Rakuten's core shopping business.
"This is a defensive strategy," says Mitsunobu Tsuruo, an analyst at Citigroup in Tokyo. "Rakuten is competing against two big players -- Amazon Japan and Softbank -- they're both eating into its online shopping market share."
Building a wireless network from scratch is a serious undertaking. Rakuten estimates it will need to spend around 200 billion yen ($1.9 billion) to get the mobile network online next year, and as much as 600 billion yen ($5.6 billion) by 2025.
And it will face tough competition. The Japanese market is dominated by three established mobile networks that have tens of millions of users each: NTT Docomo (DCM), KDDI (KDDIF) and Softbank (SFTBF).
Related: Walmart enlists help from Japan in fight with Amazon
Rakuten, which only started out 20 years ago, has a market value of $11 billion and owns businesses such as messaging app Viber. It announced an alliance with Walmart (WMT) in January and has tried to build its international brand by sponsoring top sports teams like the Golden State Warriors and soccer giant Barcelona.
But it's a financial minnow next to Japan's big three mobile operators, which are worth several times as much. The internet company could try to gain an edge by offering consumers prices that are too low to ignore, analysts said.
"There will be a price war," Tsuruo said. "Their only weapon will be price, and they will certainly be aggressive."
That's likely to be welcomed by the Japanese government and other critics who have complained about the prices the big three carriers charge.
Rakuten also says it plans to lure customers by linking its customer loyalty system with the wireless network.
The company already has some experience in the wireless industry. It launched Rakuten Mobile in 2014, but that involves renting capacity on DoCoMo's network rather building its own.
An internet company building a new mobile network contrasts with recent moves in the United States, where big telecommunications companies have been seeking to grow by acquiring businesses that produce popular content.
Verizon (VZ) recently bought Yahoo, and AT&T (T) is trying to buy Time Warner (TWX), the parent of CNN.