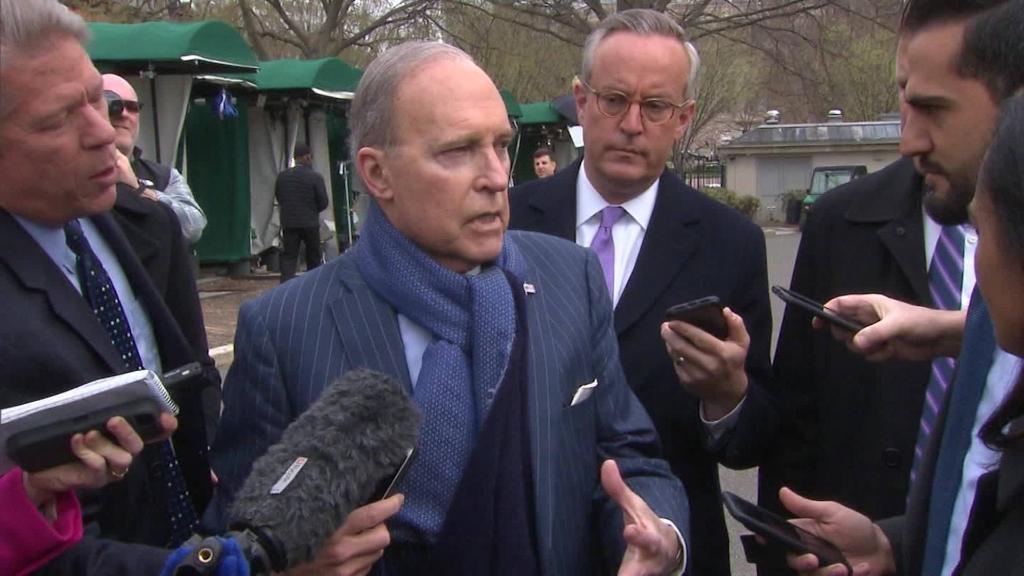 Chinese President Xi Jinping's pledge to lower tariffs on US cars sounds like great news for American workers and companies.
In some respects, it is.
US auto exports to China have already been surging, despite the current 25% tariff. In 2017, the United States sent $10.5 billion of cars — new and used — to China, up from $1.1 billion in 2008, according to the US Census Bureau. Last year's exports were up from $8.8 billion in 2016.
With a lower tariff, car companies in the United States would presumably be able to export more cars to China, the world's biggest consumer market. That would benefit American workers.
But a few realities make Xi's promise a little less exciting.
President Donald Trump often mentions that the United States has only a 2.5% tariff on Chinese cars imports. His argument is that the playing field isn't level. On a tariff basis, that's true. In reality, the tariffs haven't stopped automakers in the United States from shipping cars to China.
The United States imported $1.6 billion in new and used cars made in China last year, roughly six times less than US auto industry exports to China, according to the Census Bureau.
Most of the cars sold in China by iconic US automakers are made in China
America's most iconic automakers, such as Ford and General Motors, already make cars in China for Chinese customers in joint-venture factories. That means Ford and GM partner with Chinese firms to make and sell cars.
China is GM's biggest market and has been for six years straight, according to the company. Both Ford and GM manufacture the majority of their cars sold to Chinese customers in China. The 25% tariff doesn't apply to cars made in China.
From January to October last year, Ford sold 939,000 cars in China, but only 2% of those were imported, according to the company's most recent report on China.
GM and Ford do export certain models from the United States to China, such as the Ford F150 Raptor. But those models make up a small share of overall sales in China.
The bottom line: It's more cost effective to make cars in a region where they will be sold. That's one reason why Ford and GM build cars in China, rather than ship them from America. By the way, Japanese automakers like Toyota and Honda follow the same principle: They make most of the cars they sell to US customers in North America.
German automakers with US factories actually stand to gain the most
The US factories for BMW and Mercedes could be the big winners if the tariff is pulled. But they too make cars in China.
BMW is the largest auto exporter in the United States by value with its plant in Spartanburg, South Carolina, according to the automaker. It's unclear how many cars made in Spartanburg go to China. BMW didn't respond to a request for that information.
Mercedes has a plant in Vance, Alabama. A Mercedes spokesperson said the majority of the SUVs it produces in Alabama are exported around the world, but declined to provide China-specific data.
As major auto exporters with US operations, BMW and Mercedes would benefit more from China lowering its tariff than the iconic American automakers. But even the German car companies make the majority of their cars sold to Chinese customers in China.
Mercedes sold 170,000 cars in China between January and March, and more than two-thirds of which were cars made in China, according to a press release last week.
BMW sold 517,000 cars in China in 2016. Its plant in Shenyang, China, produced 305,000 autos that same year, according to the company's most recent annual report. It can't be assumed that BMW's cars made in America fill in the gap between those two figures. The company also exports certain models from Germany to China.
It's still unclear how much would be accomplished by removing the tariff. BMW and Mercedes sell to wealthy clientele who can generally stomach the higher price tag a 25% tariff can cause.
China often says it will cooperate on trade. And then doesn't
Chinese officials said last fall they would lower auto tariffs, but they provided no time line. Xi didn't provide any timing either on Tuesday.
Xi's appeasing comments also stand in contrast to rhetoric from China's Foreign Ministry, which on Monday said trade talks with the United States would be impossible "under current circumstances." Between Monday and Tuesday, neither nation changed its proposed trade tariffs.
Xi has been China's president since 2013 and this year he was effectively granted the presidency for life. So far, he has defied calls to meaningfully change China's trade behavior. It remains to be seen if his words will translate to action.