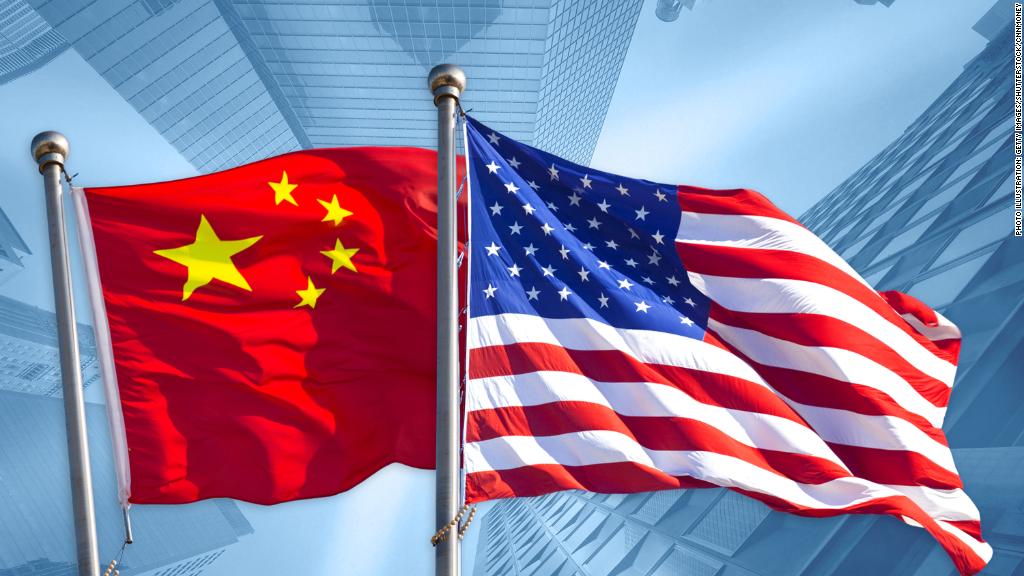 The United States and China have spent weeks threatening each other with higher tariffs on goods worth tens of billions of dollars, measures that could trigger a full-blown trade war if enacted.
Apart from the damage that would cause to trade between the world's two biggest economies, the fallout from such a conflict could create other losers, as well as winners.
Several countries in Asia sell goods to China that are used to make products exported to the United States.
"Any escalation in trade tensions that leads to a significant fall in US imports from China would have a sizable impact, not just on China, but on other countries such as Taiwan and Malaysia which export a lot of intermediate goods to China," economists at Capital Economics wrote in a research note.
Japan, which relies on the United States for 19% of its exports and on China for another 19%, would face a relatively low direct impact from the tariffs, according to Marcel Thieliant, senior Japan economist at Capital Economics. But the country's economy could be significantly impacted by stock market volatility and fluctuations in its currency, the yen, if trade tensions escalate, he added.
South Korea, which counts both China and the United States among its largest trading partners, would be one of the biggest casualties if a trade war breaks out.
Losers in Asia
"Asian economies... are likely to be significantly impacted in a full-blown trade war," Chua Han Teng, head of Asia country risk at BMI Research, told CNN. "These countries are export-oriented... and are key suppliers of components to China."
BMI Research said that big financial centers such as Hong Kong and Singapore, which rely greatly on the Chinese manufacturing sector, would also suffer if trade tensions escalate.
Related: How much ammo does China have for a trade war
The effects could also be felt further West.
Benoit Coeure, a board member of the European Central Bank, was quoted as saying last week that fears of a trade war between the United States and China are driving up borrowing costs and pushing down stock prices.
Companies with global operations, such as German carmaker BMW (BMWYY), have also warned that a US-China trade war would ripple around the globe.
"Barrier-free access to markets is... a key factor not only for our business model, but also for growth, welfare and employment throughout the global economy," BMW said in a statement. "A further escalation of the trade conflict between the US and China would be harmful for all stakeholders," it added.
Related: How tariffs on China could make your life more expensive
Gaurav Saroliya, director of global macro strategy for Oxford Economics, said in a note that the real risk stems from further escalation, particularly if the United States targets Chinese consumer electronics.
There could be "a considerable loss of growth across the board if the ongoing trade skirmishes spiral out of control," he added.
Winners elsewhere
Not everyone will lose, however. Some regions could benefit from a drop in exports of US goods, such as soybeans. China was the largest buyer of soybeans from the United States last year, according to the Department of Agriculture.
"Given that China's agricultural import needs are generally inelastic, there would likely be a redistribution in trade flow, which could see China substitute US soybeans for those from Latin America," said Han Teng of BMI Research.
China's proposed tariffs on fossil fuel imports from the United States could also see the Middle East gaining a greater share of Chinese trade.
China already gets most of its polyethylene imports from the region, according to Goldman Sachs, and could further increase its reliance on Middle Eastern countries if it decides to tax American supplies. The United States currently accounts for less than 5% of China's imports of the commonly used plastic, the bank's analysts said, but that number is expected to triple over the next two years if the tariffs aren't imposed.
While otherwise vulnerable, South Korea could also potentially benefit from a greater Chinese need for polyethylene, Goldman Sachs added, with Korean companies like Lotte Chemical and LG Chem among potential suppliers.
-- CNN's Charles Capel contributed to this report