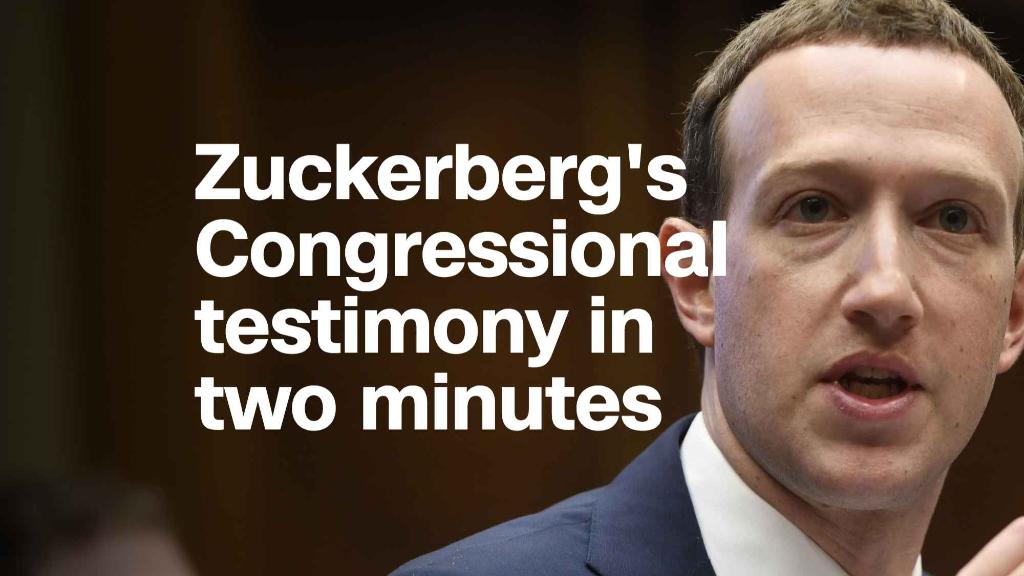 Mark Zuckerberg survived his first grilling by Congress. The second round was more difficult.
The Facebook (FB) CEO was pelted with tough questions on the company's data collection practices and the need for new regulation during a five-hour hearing with the House Energy and Commerce Committee Wednesday.
It was his second and final hearing this week in the wake of the Cambridge Analytica data scandal, bringing the once press shy CEO's total time testifying on Capitol Hill to about ten hours.
Zuckerberg repeated an apology offered in the previous hearing that Facebook made a "big mistake" by not taking "a broad enough view" of its responsibility.
But he faltered somewhat Wednesday when pressed by Rep. Frank Pallone, a Democrat from New Jersey, for a "yes" or "no" answer on whether Facebook would commit to changing its default settings to minimize data collection "to the greatest extent possible."
Related: Zuckerberg unscathed after five-hour Senate grilling session
"This is a complex issue that deserves more than a one word answer," Zuckerberg said. Pallone called the response "disappointing."
Rep. Kathy Castor pressed Zuckerberg hard on whether and how Facebook tracks users after they are off the platform. Rep. Ben Luján got Zuckerberg to admit that Facebook goes so far as to collect data from some people who have not signed up for the social network "for security purposes."
Multiple legislators also raised the prospect that Facebook's data policies with third-party apps violated a 2011 agreement with the Federal Trade Commission after a prior privacy complaint. If so, Facebook could be subject to hefty fines. The FTC confirmed last month that it's investigating Facebook.
The Congressional hearings come nearly a month after news broke that Cambridge Analytica, a data firm with ties to President Donald Trump's campaign, accessed information from as many as 87 million Facebook users without their knowledge.
Zuckerberg revealed in the hearing Wednesday that his own data was exposed as well. Reps for Facebook did not immediately respond to a request for comment clarifying his remarks.
The CEO emerged largely unscathed after a five-hour session before a joint hearing of the Senate Judiciary and Commerce committees Tuesday. The hearing marked his first time ever testifying on Capitol Hill.
At the House hearing, however, legislators hit Zuckerberg with more pointed questions. But with only four minutes allotted to each of the 55 committee members, there was limited opportunity for followup questions.
Rep. David McKinley excoriated Zuckerberg and Facebook for "hurting people" by enabling the illegal sale of opioids on its platform.
Rep. Jan Schakowsky, a Democrat from Illinois, recounted a long list of Zuckerberg's apologies over the years before concluding: "This is proof to me that self-regulation does not work."
The Facebook CEO has said before that his industry probably needs to be regulated. He repeated that in response to questions Wednesday.
"The internet is growing in importance around the world ... I think it is inevitable that there will need to be some regulation," he said.
However, when asked whether he would support specific proposed privacy legislation, like the Browser Act, Zuckerberg hedged and cited what he said was his lack of familiarity with the details.
Related: Senate fails its Facebook test
In both hearings, legislators pushed Zuckerberg on its potential monopoly power. Zuckerberg said Wednesady that Facebook feels "a lot of competition" because the average American uses eight apps daily to stayed connected to people. It's unclear, however, how many of those apps are also owned by Facebook.
The data scandal wiped away tens of billions of dollars from Facebook's market value, prompted political scrutiny on both sides of the Atlantic and even raised the once unthinkable question of whether Zuckerberg should step down as CEO. It also reignited long simmering concerns about Facebook's impact on the world's privacy, civil discourse and domestic institutions.
Investors appeared to like Zuckerberg's debut on Capitol Hill. Facebook stock ended Tuesday up 4.5%, and ticked up another 1.5% in trading Wednesday.