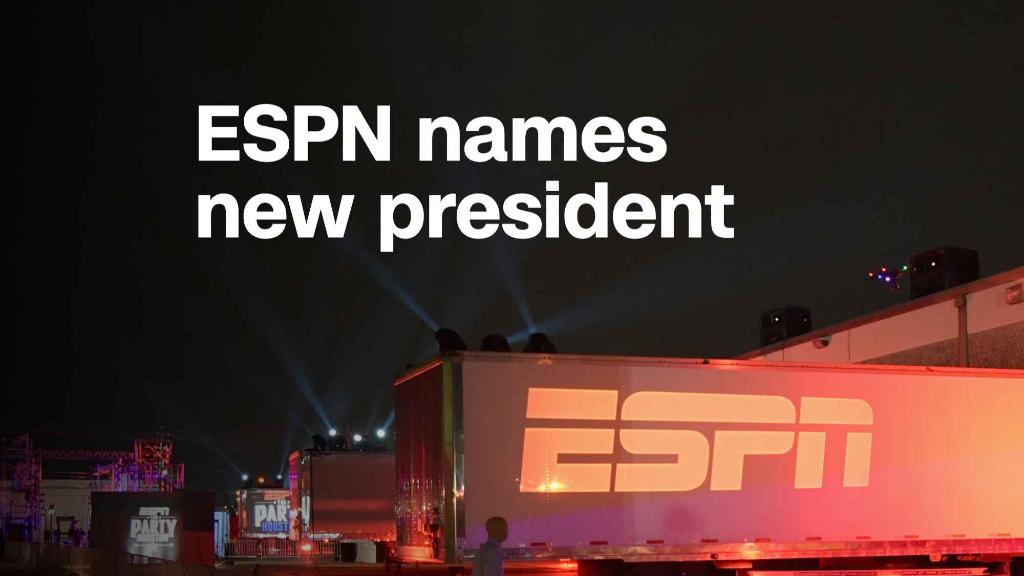 ESPN says it has a pretty good idea of who's going to pony up $4.99 a month for its new streaming service.
Cord cutters, it probably won't be you.
The new service, dubbed ESPN+, debuts Thursday. The company gave CNNMoney a sneak peak last week — and there's a lot that it brings to the table.
It offers thousands of hours of live sports that aren't available on national TV, including, soccer, boxing, golf, rugby, cricket, and a baseball and hockey game or two every day of the MLB and NHL seasons.
It has a few exclusives, too, including some episodes of the lauded ESPN documentary series "30 for 30" — plus that show's entire back catalog. There's also Kobe Bryant's new basketball analysis show "Detail," which premieres just in time for the NBA playoffs.
That all adds up to a ton of content, and it's hard not to feel a bit overwhelmed by the variety. ESPN executives sounded downright breathless last week as they rattled off the number of programs they are bringing to the service.
"I, personally, am incredibly excited about the potential," new ESPN President Jimmy Pitaro told reporters at the company's Connecticut headquarters. "We really like our hand here."
Related: ESPN+ launches into hazy future with 'Last Days of Knight'
But all that pomp and circumstance comes with a couple of glaring caveats.
This is not the Netflix (NFLX) of the sporting world. You will still need a cable subscription to watch all the biggest NFL, NBA and college games featured on traditional ESPN networks.
And even if you're a fan of the sports touted on ESPN+, you'll still likely need paid access to the ESPN TV channels or another season pass to watch every game.
In other words: If you don't already pay for cable, an ESPN+ subscription will give you some of a lot of things, but not all of everything. And you're definitely not getting the big stuff.
The Disney (DIS)-owned ESPN knows this. Pitaro made it pretty clear that he didn't expect customers to treat the new service as a standalone, and described it as "complementary and additive to what you've been getting."
Pitaro added that ESPN+ wasn't designed to compete with distributors like Comcast (CMCSA), AT&T (T) and Dish Network's (DISH) Sling TV that offer cable bundles. All of those companies sell packages that include ESPN's TV channels.
All of the ESPN+ content is integrated into a newly redesigned ESPN app, which you can download for your phone or streaming device. It works on all the major platforms, including iPhone, Android, Apple TV, Roku and Amazon Fire.
I tested an iPhone version that subscribed to ESPN's TV channels and ESPN+, and it was easy to pull up live games, replays and other clips playing on any of the main ESPN channels or the add-on service. A tab that features game scores for all of my favorite teams was an added bonus.
The Apple TV version of the app was just as simple to use, and even allowed me to watch up to four events simultaneously. (ESPN says that function is limited to Apple TV for now.)
Anything exclusive to ESPN+ was marked with an orange icon, so if you're not a subscriber, at least you'll know when you're about to hit a paywall.
Related: What's behind ESPN's high-stakes morning show?
So is there enough in this add-on to make it worth the extra cash you'd spend in addition to your cable bill? That depends.
ESPN is marketing the new service to three types of customers. It's courting the superfans, people who watch niche sports like cricket and rugby, and fans of mid-major college teams, including those that play in the Ivy League and Missouri Valley Conference.
If you're the kind of person who wants to binge watch every episode of "30 for 30" after the Columbia Lions stomp their sixth opponent in a row, maybe there's some value here.
Whether you pay for ESPN+ will ultimately boil down to how much time you have to watch everything it offers, and whether you're the kind of person who loves the stuff that's not already playing in prime time.
Cord cutters, though, will have to keep waiting.