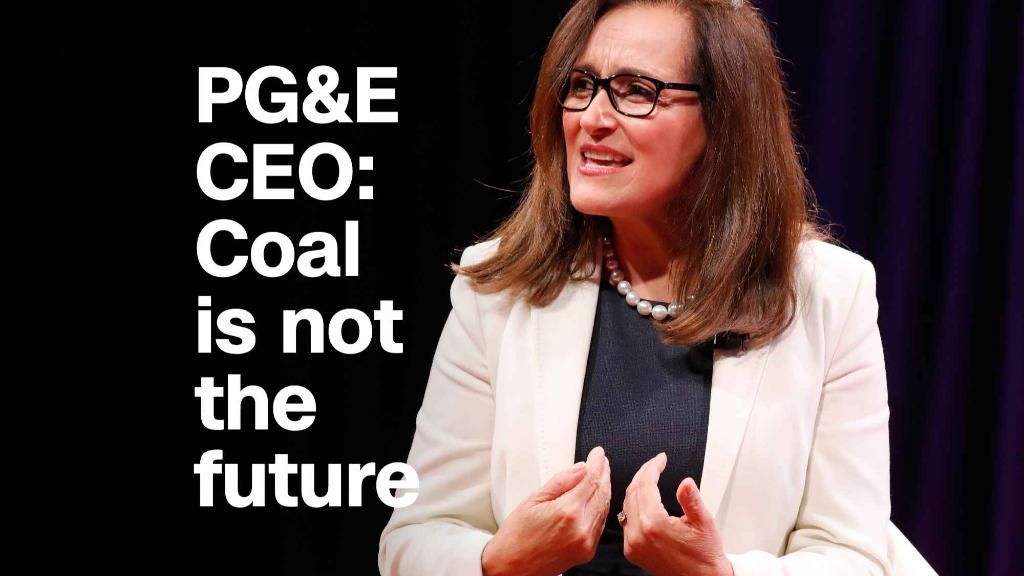 Burning coal used to be the primary way power companies generated the electricity needed to cool homes, run factories and brighten streets. But US electricity production is changing dramatically, as companies rely more on natural gas and renewable energy sources.
"I don't think coal is the future. I really don't," Geisha Williams, CEO of PG&E Corp., tells CNN's Poppy Harlow in a new episode of Boss Files. "I think coal played an important role. I don't believe it's economical. It's certainly not as clean."
Natural gas is cheaper and cleaner, she says. That's why PG&E (PCG), which is California's largest utility, now has three natural gas power plants and zero coal plants, Williams told Harlow.
The $30 billion firm, which employs some 20,000 employees, once used coal to generate electricity. But now it delivers some of the nation's cleanest power using natural gas and renewable energy sources, such as wind, solar and geothermal energy. Nearly 70% of PG&E's electricity comes from sources that are greenhouse-gas free.
In recent years, natural gas has surpassed coal as the leading source of electricity in the US. In 2017, natural gas accounted for nearly 32% of US power generation, up from about 22% a decade earlier, according to federal data. Coal, meanwhile, now accounts for 30%, after falling from 49% over the same time period.
Despite President Trump's promises that he would bring back coal jobs, the industry saw a net gain of only 400 jobs during his first year in office.
California still uses some coal to produce electricity, but barely any. The state's move away from coal is driven by its aggressive environmental goals.
PG&E, the parent company of Pacific Gas and Electric which serves some 16 million customers in the state, aims to boost the amount of power it gets from renewable sources like wind and solar energy from 33% to 50% by 2030, says Williams.
"We'll bank 50% by 2030. I'm confident of that, and actually, we've taken on a higher goal and said we want to be at 55% by 2031. I'm confident that we can do it. We have to do it," Williams declares.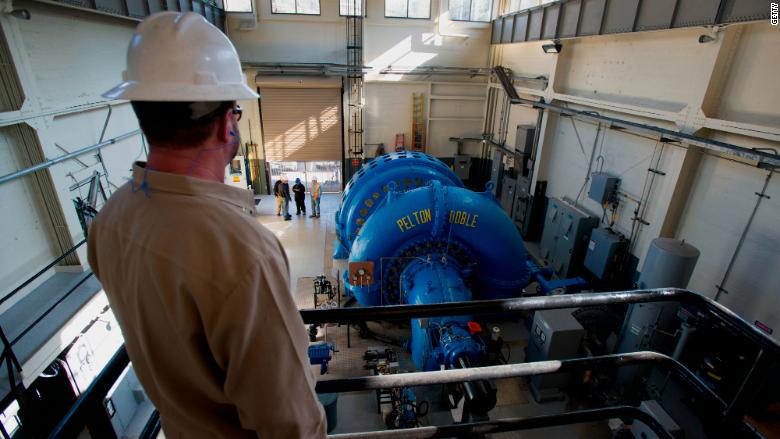 Williams acknowledges that a large percentage of President Trump's base comes from coal country and voted for him because he promised to revive America's coal industry.
She said California's success with renewable energy can show them a different way. While not every state has the same wealth of natural resources, she believes California can serve as a model of how it can be done.
Related: Former refugee is now the first Latina CEO of a major US company
"I really believe it can be an example to the rest of the country in how to do this properly," Williams tells Harlow. "Our reliability has never been better. Our customer bills are 20% to 30% lower than the national average. Our system is safe, we've created jobs, our economy is booming."
She says it's up to the states to push for new plants fueled by renewable energy.
"When states are ready to go to higher levels of renewables, the market's going to be there, the costs are going to be more competitive, and it's going be more reliable," Williams said.