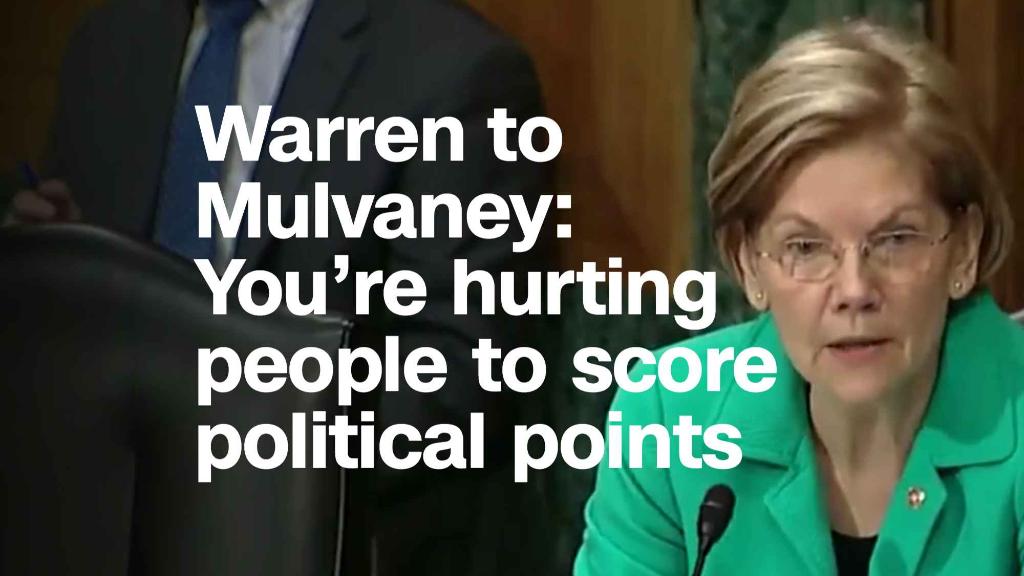 Senator Elizabeth Warren blasted Mick Mulvaney, the head of the government's consumer watchdog agency, for not standing up for millions of Americans who get cheated by financial predators.
"You are hurting real people to score cheap political points," Warren told Mulvaney on Thursday at a Senate Banking Committee hearing.
The showdown had been building for months. Warren, a Massachusetts Democrat, conceived the agency and is its staunchest defender in Congress. Mulvaney, who was appointed interim director by President Trump, argued as a congressman that it should be abolished.
Related: Trump official denies he's trying to destroy the CFPB
The CFPB was created in 2010 by Congress and former President Barack Obama to safeguard Americans from financial predators. The agency rolled out mortgage and payday-lender rules and cracked down on bad behavior by penalizing Citigroup, Wells Fargo and many other lenders.
Under Mulvaney, the CFPB has reversed course. It has delayed the payday-loan rules, dropped lawsuits against payday lenders and stripped enforcement of fair-lending protections.
"You've taken obvious joy in talking about how the agency will help banks a lot more than it will help consumers and how upset it must make me," Warren told Mulvaney.
"This isn't about me," she said. "This is about active duty military. It's about first responders and students and seniors and families ... and millions of other people who need someone on their side when consumers get cheated."
Mulvaney has repeatedly tried to dispel that criticism, arguing he is following the letter of the law and is simply seeking better oversight of the agency by Congress.
Earlier this month, Mulvaney asked lawmakers to make a number of significant changes to the agency, including giving Congress control over the consumer bureau's budget and calling for an independent inspector general to oversee the bureau.
"I know it [CFPB] was set up to be independent and that's fine," he said at the hearing. "I don't think that equates with being free of oversight, free of accountability, free of transparency."