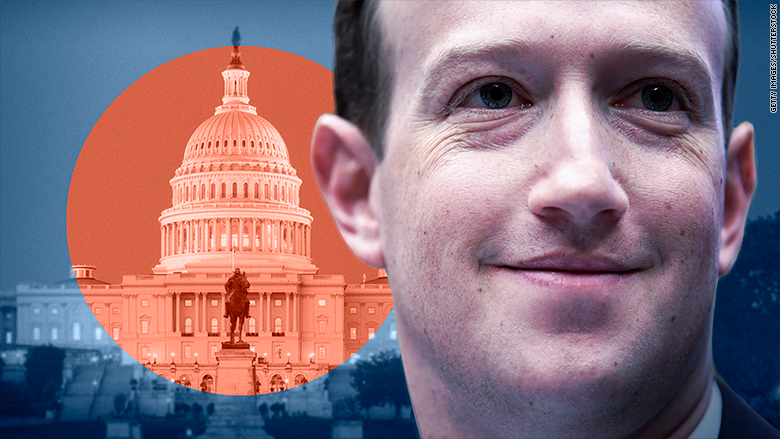 What's Next: The Zuckerberg hearings have raised national awareness about how much data Facebook collects on people, even when they're not on Facebook. The question now is whether Americans accept this level of monitoring as the new status quo or push lawmakers to enact regulation. As of today, based on the lack of user revolt and the absence of a cohesive congressional plan, regulation appears to be a long ways away.
Sign up for PACIFIC: The new CNNMoney newsletter about the center of change and innovation
---
Today's PACIFIC
Good morning. Mark Zuckerberg is back in California and feeling relieved, per our Facebook sources. He survived Washington relatively unscathed, and Facebook stock is at its highest point since mid-March.
I'm on tonight's DCA-to-LAX.
What Silicon Valley is talking about: Google's turn in the spotlight, Apple's new music chief and Elon Musk's new promises ... What Seattle is talking about: The future of brick-and-mortar retail, and Walmart's India move ... What Hollywood is talking about: Les Moonves, Netflix vs. Cannes and new soccer rights ... Plus: Warriors playoff preview ...
---
The Trust Crisis: Why Zuck didn't talk data
In 10+ hours of hearings, Zuckerberg was only once forced to acknowledge that Facebook collects data from users even when they're not on Facebook.
Why he avoided it:
• Facebook's data collection is the core of its business. The company brings in $40 billion in advertising revenue annually because it offers brands data that gives them an unparalleled ability to target consumers.
• Facebook collects data on users and non-users on every site that features a Facebook "Like" or "Share" button. Facebook states this on its Help page, but Zuckerberg wouldn't say it in front of cameras.
• Facebook also provides advertisers with a tool called Facebook Pixel, an invisible code that allows both marketers and Facebook to track users' actions.
If Zuckerberg doesn't want to talk about this issue in front of lawmakers, it may be because he doesn't want to encourage regulation that would curb Facebook's ability to track data on third-party sites.
Other questions Zuckerberg didn't answer:
• "If I delete Facebook, how long will it take for Facebook to purge my data?"
• "Will Facebook do anything about its confusing privacy policy and terms of service?"
• "Is Facebook willing to change its business model?"
Mounting scrutiny:
• "Here's How Facebook Tracks You When You're Not On Facebook" by BuzzFeed's Alex Kantrowitz.
• "What You Don't Know About How Facebook Uses Your Data" by NYT's Natasha Singer.
• "I downloaded 14 years of my Facebook data and here's what happened" by CNNMoney's Sara Ashley O'Brien.
• "I Downloaded the Information That Facebook Has on Me. Yikes." by NYT's Brian Chen.
Bonus: "Here's How Much Facebook Donated to Every Lawmaker Questioning Mark Zuckerberg This Week," by The Verge's Sarah Jeong and Shannon Liao.
---
Alphabet Soup: Is Google next?
Now that Facebook has taken his turn in the ringer, Alphabet and Google could be next, per the Washington Post's Drew Harwell:
• "In the privacy firestorm that has grown out of Facebook's Cambridge Analytica scandal, Google has emerged almost entirely unscathed."
• "The titan of search, smartphones and Web browsing makes more money off its users than Facebook does, gathers more of their data and covers parts of their lives that Facebook can only dream of."
• "The quiet fear among the nation's tech elite, though, has been that extra attention on Facebook will reflect on everyone — Google, perhaps, most of all."
Sign up for PACIFIC: The new CNNMoney newsletter about the center of change and innovation
---
Analog Congress: What's not next
Regulation.
• NYT's Kevin Roose: "The biggest obstacle to regulating Facebook... is [Congress's] lack of political will, and an unwillingness to identify the problems they're trying to fix in the first place."
---
Valleyspeak
• Apple Music names new chief, surpasses 40 million subscribers (Variety)
• Tesla targets November 2019 for Model Y production (Reuters)
• WeWork confirms deal to buy Chinese competitor (TechCrunch)
• Twitter's Jack Dorsey declines compensation, again (Variety)
• Google unveils new Gmail design (The Verge)
---
Future of Retail: What Jeff Bezos is reading
The Amazon vs. Walmart war is heating up with a focus on pairing what Amazon does best (online delivery) with what Walmart has the most of (brick and mortar).
The Big Picture, via Axios' Steve LeVine:
• "The future of retail in the world's leading economies is increasingly expected to be not online shopping, but a melding of e-commerce and physical stores."
• "Chinese Big Tech appears to be in the vanguard of how to pull this off.... internet giants led by Alibaba are becoming online-offline behemoths... Walmart and Amazon are the leading contenders to play this role in the U.S."
The Latest:
• India: "Walmart is likely to reach a deal to buy a majority stake in Indian e-commerce player Flipkart by the end of June in what could be the U.S. retail giant's biggest acquisition of an online business." (Reuters)
• The U.S.: "Since Amazon's [bought Whole Foods], Instacart has signed on large grocers such as Kroger and Albertsons, while expanding its existing partnership with Costco." (Fast Company)
---
Amazon on Offense
• Amazon head of devices Dave Limp and Ring CEO Jamie Siminoff talk to CNET's Ben Fox Rubin about how their plans to enhance delivery services, among other things.
Sign up for PACIFIC: The new CNNMoney newsletter about the center of change and innovation
---
The Pitch: SoftBank's soccer play
The FT has revealed that Japan's SoftBank "is part of an international consortium behind a radical $25 billion plan to create global football tournaments for FIFA, the international governing body of the sport."
• Backstory: FIFA President Gianni Infantino told his board last month that a mystery group of investors from the Middle East and Asia wanted to pay $25 billion to buy an expanded version of FIFA's Club World Cup and create a new global league for national teams.
• Investors: In addition to SoftBank, the FT reports that the group includes investors from China, Saudi Arabia, the US and the United Arab Emirates.
The Big Picture, via NYT's Tariq Panja:
• "Such an agreement would be unprecedented. FIFA has never sold control of its events to the highest bidder, and never to an investment fund."
• "Selling the competitions to a third party would also represent a major shift in FIFA's business model, which relies on the sales of tickets, sponsorships and media rights for revenue."
The Other Big Picture: This is huge news for soccer fans, including yours truly. The world's top-flight clubs play at a much higher caliber than national teams. A FIFA Club World Cup could supplant the traditional World Cup as the biggest sporting event in the world.
---
Talk of Tinseltown: Netflix vs. Cannes
Ted Sarandos tells Variety's Ramin Setoodeh that Netflix will not be going to the Cannes Film Festival this year after the hosts banned films without theatrical distribution in France:
• "Netflix's chief content officer says that the festival sent a clear message with [the] new rule... Netflix could screen some of its upcoming movies out of competition, but Sarandos says that doesn't make sense for the streaming service."
• Sarandos: "There's a risk in us going in this way and having our films and filmmakers treated disrespectfully at the festival. They've set the tone. I don't think it would be good for us to be there."
The Big Picture: This is a smart play by Netflix. The new Cannes rule is admirably très français, but also archaic and woefully out of touch with the new media landscape in which audiences spend more time watching films at home.
Bonus: Netflix had planned to screen Orson Welles' unfinished film, "The Other Side of the Wind," at the festival. Vanity Fair's Rebecca Keegan now reports that Welles' daughter has made a personal appeal to Sarandos to reconsider his decision.
Sign up for PACIFIC: The new CNNMoney newsletter about the center of change and innovation
---
M&A on Delay: Moonves vs. Redstone, con't
Negotiations between Viacom and CBS are ongoing after reports that Shari Redstone was ready to fire Les Moonves if the two sides couldn't read a deal.
The Latest, via my colleague Brian Stelter:
• "CBS took the unusual step of issuing a statement defending its CEO: 'The industry and the marketplace know Leslie Moonves' record and we think it speaks for itself.'"
• "Redstone's camp tried to take the temperature down a notch, [saying] "has tremendous respect for Les Moonves and it has always been our intention that he run a combined company."
---
The Stream: ESPN+ launches (for real)
Correction: Yesterday I said ESPN+ was launching yesterday. Today I'm letting you know that it launches today.
New this morning from CNNMoney's Jill Disis: "ESPN+ is the farm team to ESPN TV's major league. Is it worth your $5 per month?"Dub
• "This is not the Netflix of the sporting world. ... If you don't already pay for cable, an ESPN+ subscription will give you some of a lot of things, but not all of everything. And you're definitely not getting the big stuff."
---
Dub shot: Warriors Playoff preview
The NBA Playoffs are finally here.
What's Next: Warriors vs. Spurs kicks off this Saturday in Oakland. For those who can't make the game: Coverage starts at Noon on ABC.
• The Good News: The Warriors avoided facing Oklahoma City, Minnesota or Utah in the first round. The Mercury News' Dieter Kurtenbach says "the Warriors could not have asked for a better playoff bracket."
• Apple SVP Eddy Cue told me last month that he believes OKC is the biggest threat to Golden State's title ambitions, because of the way the two teams match up (or don't). The way the bracket shakes out now, the Warriors won't play OKC til the Western Conference Finals -- assuming both teams make it that far.
New at ESPN: "Everything you need to know about the binge-worthy NBA playoffs."
Bonus: James Harden in GQ.
---
What Next: Bill Simmons on the Best NBA-Finals Food Cities.
See you tomorrow.
Want this in your inbox every morning? Sign up for PACIFIC: The new CNNMoney newsletter about the center of change and innovation