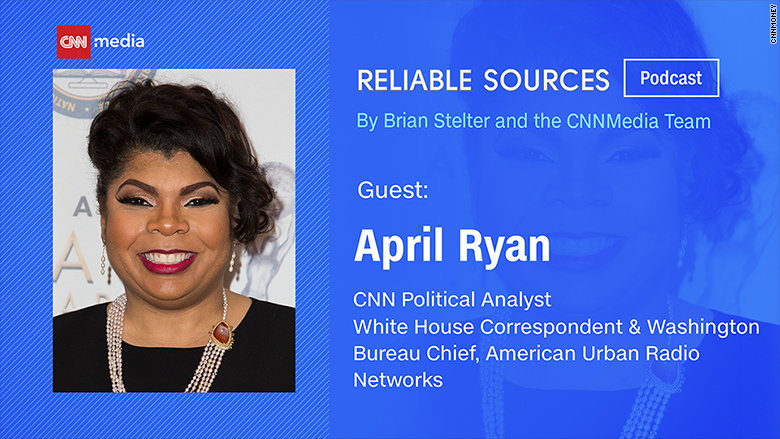 White House correspondent April Ryan says she's received death threats from the public since asking press secretary Sarah Sanders at the White House press briefing on Tuesday if President Donald Trump has ever "thought about stepping down."
Sanders, in response, told Ryan "no" and said her question was "absolutely ridiculous."
"That was one of the options that I was told was on the table and had been on the table before," Ryan told CNN's Brian Stelter. "It's not beyond the realm of logic right now because this president is in the midst of a firestorm on various issues."
Ryan's question came the day after the FBI raided the office of Trump's lawyer, Michael Cohen. The New York Times reported that agents were seeking records related to the "Access Hollywood" tape. The Justice Department said Friday that Cohen has been "under criminal investigation" for months in New York due to his business dealings, but he has not been charged with a crime.
Ryan says her employer, American Urban Radio Networks, has also received death threats via email and has since been in contact with the FBI regarding the situation.
"I'm angry about it, but it's not going to deter me from doing my job," Ryan said. "I'm angry about the fact that people are ginning people up to come after me for that. I'm viewing the attacks as partisan. But that question had nothing to do with politics. And my source was a Republican source that's close to the administration."
Ryan, who is also a CNN analyst, spoke to Stelter about the ire she's faced since reporting on the Trump administration for this week's Reliable Sources podcast.
Listen to the whole podcast here:
When Ryan reported on Bill Clinton's presidency, she gravitated towards press secretary Mike McCurry's concept of a "friendly adversarial relationship" between the press and the press office. "I've always worked under that guise," Ryan told Stelter.
But in speaking about her contacts with current White House officials, she simply doesn't "go upstairs anymore," she said in reference to the office of the White House press aides.
"I pretty much deal with the briefings and do my pool duty," she said. "I'm mindful of their disdain for me."
When asked to elaborate, Ryan mentioned various reporters that she says the White House doesn't like, including CNN's Jim Acosta, Playboy's Brian Karem, and ABC News' Jonathan Karl, whom she says ask questions "that come with unbiased truth of the matter."
"It's not about the phrasing," Ryan said. "It's about asking a question, whether you like it or not, and answering it. Many presidents have done that. Why is that such a problem for this administration?"
Tuesday wasn't the first time Ryan has sparred with Sanders; back in November, Ryan questioned whether Sanders had actually baked a Thanksgiving pie shown in a photo the press secretary shared on Twitter. The pie looked "Photoshopped," Ryan told Stelter.
In a debate users coined #PieGate, Sanders offered to bake a pie for Ryan, but Ryan declined, tweeting, "Remember you guys don't like the press."
Ryan said she and Sanders went to dinner after the incident to discuss "where did we go wrong" but told Stelter that "if someone doesn't like you, you're just not going to sit down and break bread with them."
Ultimately, "it takes more than a pie" to make up for what she's dealt with, Ryan said. "What has happened to me in this administration these last two years has been very rough. They've tried to discredit me, tried to take my job from me, starting since before the administration came into the White House."
Ryan speaks of her experiences in a forthcoming book titled "Under Fire: Reporting from the Front Lines of the Trump White House." From her perspective, common ground between Democrats and Republicans is in short supply.
"Now, it's like we're tribal," she said.
In times of distress, Ryan goes back to something her mother used to tell her: "It is not what they call you, but what you answer to."
"She would tell me so many wonderful things, and I lean on her words," Ryan said. "I'm not what they call me. I'm not the N-word. I'm not the C-word. I'm not the slut, I'm not any of that. I am a woman. I am a great journalist. I'm a mother, I'm a Christian, and I'm going to do my job. So that's what I call me. I don't answer to that stuff."