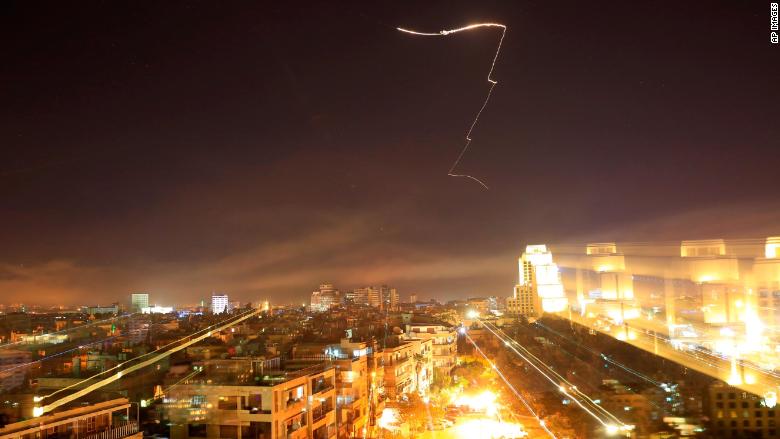 Friday the 13th lived up to its reputation. For viewers, the day began with talk of "golden showers" and ended with missiles raining down on Syria.
Now the U.S. media is back on a war footing, at least for one night.
Newsrooms were on standby on Friday night, suspecting there might be an announcement from the White House or the Pentagon about new strikes in Syria.
Many national news anchors and reporters stayed close to work, just in case. And their suspicions were confirmed just after 8:40 p.m. ET when the White House confirmed that President Trump would address the nation.
His 9 p.m. address in the Diplomatic Room announced a joint U.S./UK/France operation targeting Bashar al-Assad's chemical weapons capability. The Pentagon followed up with a briefing one hour later.
Reporters and anchors said Trump was "sending a message" to Assad, although the coverage was occasionally laced with doubts about the long-term U.S. strategy with regards to Syria.
Related: US, France and UK strike Syria's chemical weapons program
To some viewers, it played like a repeat of last April's strike by the U.S., although this time there were multiple targets. Trump said "we are prepared to sustain this response until the Syrian regime stops its use of prohibited chemical agents."
Journalists have very limited access to Syria. That's one of the reasons why there were very few pictures of the strikes. Reporters passed along alerts about loud blasts near the Syrian capital, and several Syrians posted pitch-black videos on social media, but there was little to see. Daybreak may change that.
Cable news channels announced plans to stay live throughout the night in the U.S.
Until the strikes were announced, Friday's news diet was dominated by scandal -- the investigation of Trump lawyer Michael Cohen, the imminent release of James Comey's book, and other subjects unfavorable to Trump.
On MSNBC, liberal host Rachel Maddow brought up the perception problem right away: "The perception that the president may have ordered these strikes in part because of scandal will affect the impact and the effectiveness of these military strikes. Unavoidably. Even if the tail is NOT wagging the dog."
She added: "It is a sad thing and it is an upsetting thing in terms of American influence in the world."
On the other side, Fox News hosts had a variety of opinions about Trump's action. Fox is not a monolith when it comes to Syria -- far from it. Tucker Carlson is deeply skeptical of military force in this ongoing conflict. Sean Hannity is instinctively more supportive of the president's position. And Laura Ingraham was somewhere in between.
Carlson briefly handed off to news anchor Bret Baier for coverage of the presidential address, but even in Carlson's questions, his concern came through loud and clear. He said of Trump, "This is clearly not something that he ran on, and it's inconsistent with a lot of the things that he's said over the years."
Later in the evening, the banner on Ingraham's show said, "What does the U.S. really accomplish by striking Syria?" Ingraham remarked to a guest: "Sometimes, when it feels good in the moment -- the Iraq war, which I was all in favor of -- then all of a sudden, you look at four years later, you're like, what the heck, what, what's ISIS, what's happened?"
By 11:45 p.m., MSNBC had resumed discussion of the investigations into Trump and his associates.