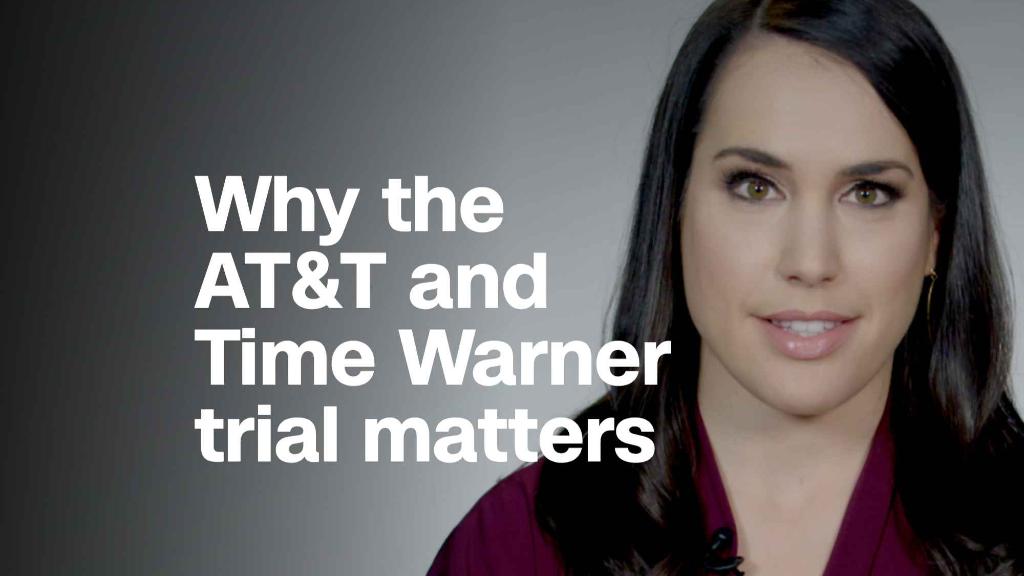 AT&T introduced two more expert witnesses on Monday, as lawyers for the defense continued to question the credibility of the government's experts in the lawsuit to stop the telecom company's bid to take over Time Warner.
Professor Michael Katz of the University of California, Berkeley, a former Federal Communications Commission and Justice Department official, testified that Time Warner's arbitration offer to distributors will hold down price increases. The arbitration offer was presented to 1,000 cable distributors after the government filed its lawsuit last year and guarantees distributors no blackouts and baseball-style arbitration for seven years in the event a distributor believes Turner, a Time Warner subsidiary, is charging too much for its content.
The Justice Department sued to stop AT&T's $85 billion acquisition of Time Warner, which owns HBO, Warner Bros., and the Turner networks, including CNN. The government has claimed that with the Turner content, AT&T will have too much bargaining leverage with other pay-TV distributors, and as a result raise prices for consumers.
Carl Shapiro, an economist from the University of California, Berkeley, testified last week that based on his analysis, the merger would cause a price increase for cable consumers nationwide. That price increase would be around 50 cents a month per subscriber, but that it would add up to hundreds of millions of dollars a year for American consumers.
But Katz said on Monday that a "fatal flaw" in Shapiro's analysis is that he did not consider Turner's arbitration offer, where an arbiter chooses a binding offer after each side makes its case. That offer would eliminate the possibility that Turner will pull its content -- a practice known as a "blackout" -- and creates an incentive for both sides to "come to the middle" and present fairer offers. Conventional arbitration, he said, splits the difference and would lead the companies to put in "absurd" requests.
Arbitration, Katz said, worked out well for Comcast and NBCUniversal, which went through a similar vertical merger in 2010. Judge Richard Leon, who will decide the AT&T case, also oversaw the settlement agreement between the Justice Department and Comcast/NBCUniversal that allowed their merger to go through.
Upon cross examination, government attorney Fredrick Young noted that distributors do not like to go into arbitration because of the risks and unknowns. He noted, and Katz acknowledged, that the arbitration offer rests on the idea of a "fair market value" for Turner content, but that such a value is not defined.
Young also attempted to question Katz's expertise on the issues, noting that none of the dozens of academic articles and book chapters that he authored are on FCC rules or arbitration.
Following Katz, AT&T called Professor Peter Rossi from University of California, Los Angeles, to dispute Shapiro's reliance on two surveys in his analysis. The surveys, one done by Professor John Hauser of MIT and the other by the consulting firm Altman Vilandrie & Company, tried to establish the approximate number of customers who would switch their TV subscriptions if they lost access to Turner content.
But Rossi questioned Hauser's findings, which came from an internet survey of 1,600 people, 12% of whom said they would likely switch if they were to lose access to Turner content. Rossi said the survey was "designed in a biased way and the results are unreliable."
Even though the respondents were proportionate to the population, they don't necessarily reflect real-world pay-TV customers, Rossi said. He also questioned the use of a scale on the survey -- where respondents were presented with both percentages, like 10%, and descriptions, such as "very slight possibility," of how likely they would switch TV providers if they lost Turner access. He noted that there was no time period presented -- so respondents did not know if they were responding to whether they would switch tomorrow, or next year.
"The text description is out of whack with the numbers," he said. "At the very least, they're confusing."
Last month, Leon questioned Hauser's survey, noting that if respondents were confused, they could not just call up the survey creator and get clarity. Leon also asked how a survey can determine what a participant "actually believes" or identify a participant who just trying to get through the survey to get payment, which all the survey respondents received.
Rossi said that certain slides in Hauser's survey were biased "in favor of Turner content" because he placed more Turner logos on the survey screen, "causing an undue association" between valued content and Turner programming. In one example, Rossi said a slide was presented with sports programming logos like that of the The Golf Channel. Turner channels such as TBS and TNT were also presented on that same slide though they include both sports and entertainment programming. Other networks with the same mix, like NBC, were not included.
Rossi was no more charitable to the study conducted by Altman Vilandrie, which worked on behalf of the TV provider Charter (who is opposed to the merger) and was the subject of a separate testimony at the trial earlier this month. Calling the study's methodologies "completely invalid," Rossi said Altman Vilandrie made "arbitrary assumptions" to determine that Charter could suffer a 9% subscriber loss in the event of a Turner blackout.
Those assumptions, Rossi explained, were based on viewing habits collected from Charter's set-top box data; when a viewer's consumption of a specific channel eclipsed a certain threshold, Altman Vilandrie concluded that the viewer would change providers if that channel were no longer available. What's more, Rossi pointed out that the set-top box data used in the study didn't shed light on prospective customers, as the information is based on habits of existing Charter customers.
"Essentially everything here is made up of assumptions," Rossi said.
Rossi's cross-examination will resume Tuesday morning.
AT&T's defense will continue this week with the testimony of its CEO Randall Stephenson and Time Warner CEO Jeffrey Bewkes, who could could testify as soon as Tuesday.
The government has not yet technically rested its case. Government lawyers said they plan to call one more witness.