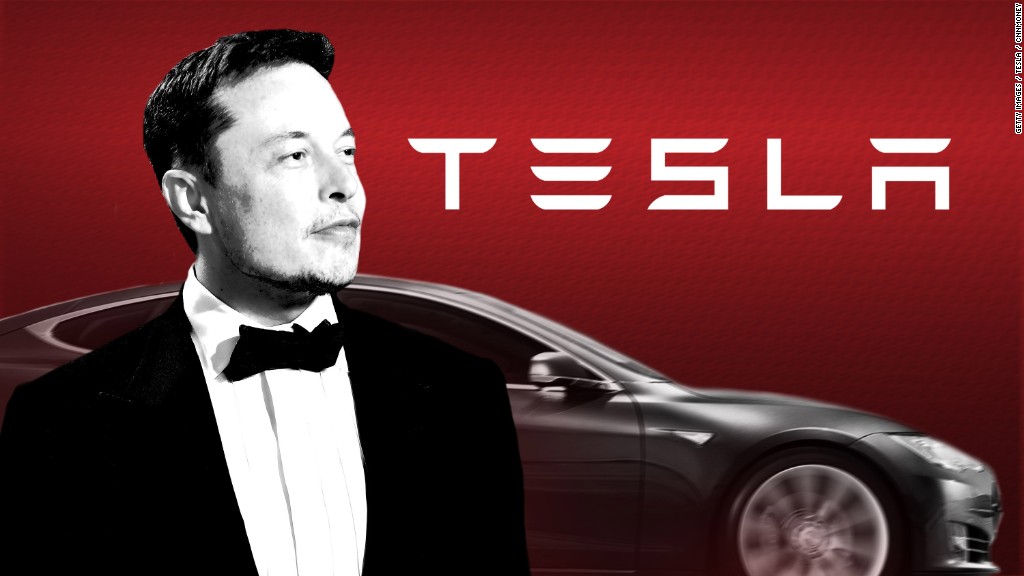 Elon Musk has been working hard to convince Tesla investors that production of the company's first mass market car, the Model 3, is going just fine.
But the electric vehicle maker has now temporarily suspended production of the sedan to work out kinks in its assembly line.
Tesla (TSLA) said Monday that it's pressing pause in order "to improve automation" and deal with bottlenecks. The company declined to say how long the stoppage would last.
It's the latest issue for Tesla, whose stock has been battered by worries that it's behind on production of the Model 3. The sedan is an attempt by the company and Musk, its CEO, to shift from putting out small numbers of luxury vehicles to making cars on a much larger scale.
Related: Elon Musk's brash promise: Tesla will soon make money
The production halt was first reported by BuzzFeed, which said it would last four to five days.
"Our Model 3 production plan includes periods of planned downtime in both Fremont and Gigafactory 1," a Tesla spokesperson said in a statement, referring to the two factories where the Model 3 is made. "These periods are used to improve automation and systematically address bottlenecks in order to increase production rates. This is not unusual and is in fact common in production ramps like this."
Tesla also had to temporarily stop production in February. The company had the same explanation then.
Earlier this month, Tesla said it was producing about 2,000 Model 3 cars per week — short of its goal of 2,500. The company wants to raise production to 5,000 cars a week in the next three months.
The slow pace of production has raised concerns about whether Tesla can successfully enter the market for mass-produced vehicles.
Related: Tesla built 2,000 Model 3s in one week, but missed its target
The Tesla spokesperson declined to say Monday whether the temporary halt would affect the company's current targets.
Musk, Tesla's CEO, tweeted last week that "excessive automation at Tesla was a mistake" and that humans are "underrated."
In a recent interview with CBS, Musk conceded that he was "stressed" but said he expected production to increase significantly this quarter.