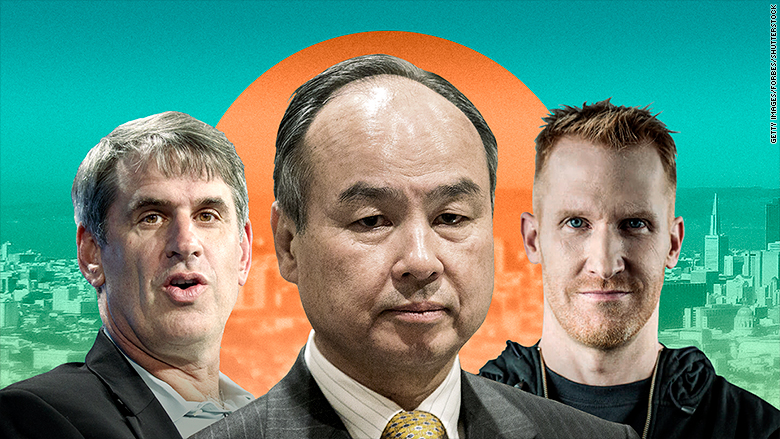 What's New: The Top 100 Venture Capitalists per CB Insights: 1. Bill Gurley, Benchmark ... 2. Steve Anderson, Baseline ... 3. Joshua Kopelman, First Round ... 4. Alfred Lin, Sequoia ... 5. Brian Singerman, Founders Fund ... 6. Jeffrey Jordan, Andreessen Horowitz ... 7. Rob Hayes, First Round ... 8. Ravi Mhatre, Lightspeed ... 9. Mary Meeker, Kleiner Perkins ... 10. Jeremy Liew, Lightspeed ... First-time appearances: 41. Shawn Carolan, Menlo ... 79. Albert Wenger, Union Square ... 80. Meyer Malka, Ribbit ...
Sign up for PACIFIC: The new CNNMoney newsletter about the center of change and innovation
What's Next: NYT's Jack Nicas: "Investors, bankers and analysts said they expected a wave of initial public offerings to bring some of the most highly valued and recognizable start-ups to the public market over the next 18 to 24 months..."
---
Today's PACIFIC
Good morning. We'll keep it short.
The Week Ahead:
• Netflix: Earnings are today. My colleague Jordan Valinsky says Netflix is expecting a 40% increase in sales and a 60% jump in profit compared to a year ago, plus 7.5 million new subscribers since last quarter.
• AT&T-DOJ: AT&T CEO Randall Stephenson and Time Warner CEO Jeff Bewkes are expected to testify this week in defense of their $85.4 billion merger.
• Cybersecurity: The RSA Security conference kicks off today in San Francisco. Microsoft and others plan to announce a new "Tech Accord" to protect users, while an new IBM Harris survey shows only 20% of Americans trust tech companies with their data.
---
Tokyo Drift: SoftBank shakes VCs
What's Next: SoftBank's $100 billion Vision Fund has radically driven up financing for startups and forced other VCs into unwanted bidding wars. And it is just getting started: So far, Softbank has invested just over one-third (roughly $36 billion) of its fund.
The Shake Up:
• WSJ's Eliot Brown: The cash injection is "causing deep-pocketed global investors -- and some US venture firms -- to arm up in response. ... Sequoia Capital ... is in the process of raising up to $13 billion, including an $8 billion fund for late-stage companies."
• Saudi Arabia and Abu Dhabi, the two primary backers of the fund, are also increasing direct investments into Silicon Valley startups.
• More than 100 US startups raised at least $50 million each in Q1 of this year, the highest number on record, according to Pitchbook.
The Latest:
• SoftBank investment Ola has unveiled plans to deploy 1 million electric vehicles across India. We wonder how that news is going over at Softbank's other big auto investment: Uber.
• SoftBank has expressed interest in Tronc, per Axios' Dan Primack.
---
What Bill Gates is reading
The Economist launches Open Future: "Amid anger over inequality, immigration and cultural change, basic elements of the liberal credo, from globalization to free speech, are assailed from right and left. ... So we have launched Open Future, an initiative to remake the case for liberal values and policies in the 21st century. ... The initiative will culminate in a global event, the Open Future Festival, held simultaneously in Hong Kong, London and New York on Saturday September 15th."
---
The Ad Game: WPP post-Martin Sorrell
Valinsky emails:
Martin Sorrell's decision to step down as CEO of WPP has raised fears about the longterm strategy for the world's largest ad agency. The move comes two weeks after WPP launched an investigation into alleged misconduct by the 73-year-old:
• WPP shares are down nearly 7%.
• Sorrell to staff: "As I look ahead, I see that the current disruption we are experiencing is simply putting too much unnecessary pressure on the business."
• Bloomberg's Joe Mayes: "[T]he sprawling network of agencies faces its biggest challenges since the global financial crisis. ... His departure ... puts into sharp focus WPP's omissions in grooming a successor ... even with shareholders long flagging the issue."
• Egyptian telecom magnate Naguib Sawiris: "He's created a success story that is very difficult to replicate. ... This is not the kind of guy you can replace and think the next CEO will do a good job."don and New York on Saturday September 15th."
Sign up for PACIFIC: The new CNNMoney newsletter about the center of change and innovation
---
El Segundo Times: L.A. Times to move
Some quick local news: New Los Angeles Times owner Patrick Soon-Shiong abruptly announced Friday that he is moving the paper from its historic art deco building in downtown Los Angeles to the westside suburb of El Segundo.
Staffers I spoke with over the weekend said the news had left the newsroom stunned and anxious about what it would mean for the identity of the paper, as well as their daily commute.
What Soon Shiong is telling staff: The move puts the Times closer to Silicon Beach and to Los Angeles International Airport, which is the gateway to the world.
What staffers are telling us: This is a radical cost-saving measure that could kill morale.
Bonus for the DTLA crowd: "Potential 2020 hopeful Eric Garcetti makes debut in Iowa" by the AP's Thomas Beaumont and Bill Barrow.
---
Dub Shot: NBA Playoff watch
Three things we learned from NBA Playoffs opening weekend:
1. James Harden is unstoppable. He had 44 points last night and was 7-of-12 from 3-point range. Charles Barkley, last night on TNT: "Harden, to me, might be the most unguardable player I've ever seen."
2. OKC's hopes rest on Westbrook and George. The Ringer's Jonathan Tjarks: "Everything in Oklahoma City depends on Westbrook and George, since the mix around them is far from ideal."
3. The Milwaukee-Boston series is the new "Game of Thrones." Binge that.
Tonight: Heat vs. 76ers at 5pm, Spurs vs. Warriors at 7:30pm. TNT.
---
What Next: Jon Caramanica reviews Beyoncé at Coachella.
See you tomorrow.
Want this in your inbox every morning? Sign up for PACIFIC: The new CNNMoney newsletter about the center of change and innovation