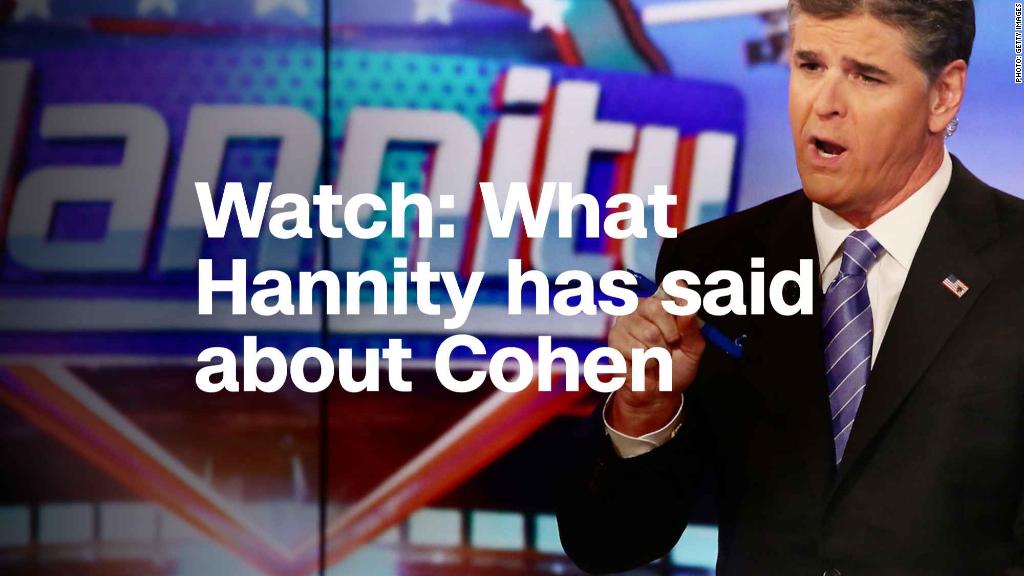 Something isn't adding up in the case of Michael Cohen and Sean Hannity.
But Hannity's employer, Fox News, says it fully supports him.
"While Fox News was unaware of Sean Hannity's informal relationship with Michael Cohen and was surprised by the announcement in court yesterday, we have reviewed the matter and spoken to Sean and he continues to have our full support," the network said Tuesday afternoon.
The statement puts an end to questions about whether the network knew about Hannity and Cohen's legal relationship.
But it will likely trigger new questions about the lack of accountability for Fox's highly rated, highly opinionated talk show hosts.
Hannity is Fox's biggest prime time star and one of President Trump's chief defenders. Cohen is Trump's personal lawyer whose office and residences were raided by federal investigators last week. Critics immediately pounced on the potential conflicts of interest.
There were audible gasps in court on Monday when it was revealed that Hannity was the mystery third client that Cohen was trying to keep secret. Stormy Daniels' attorney Michael Avenatti, who was in the room, said it was like "a bomb went off."
Hannity scrambled to respond -- first on his radio show, then with tweets, then on his TV show. On Monday evening, Hannity downplayed the legal relationship, saying, "Cohen never represented me in any legal matter."
He said the two men chatted occasionally, and his questions "focused almost exclusively" on real estate.
Hannity said "I never retained his services, I never received an invoice. I never paid Michael Cohen for legal fees."
But if that's true, why did Cohen's lawyer identify Hannity as a client in federal court?
Cillizza: 5 questions I still have for Hannity about Michael Cohen
Some of Hannity's own explanations are also head-scratching. On the radio earlier in the day, Hannity said "I might have handed him ten bucks" and told Cohen "I definitely want attorney-client privilege on this" at times.
The revelation caused a serious headache for Fox News. Fox waited a full 24 hours to comment on the matter -- an unusually long delay before expressing support for him.
By concealing a friendship and legal relationship with one of the president's lawyers, Hannity seemed to run afoul of ethical norms in the news business.
But things are sometimes different at Fox News, where Hannity does not follow the same rulebook as his colleagues, both inside the network and in the industry at large. He proudly says he is not a "journalist," although at other times he calls himself an "opinion journalist" and says his show is "real news."
Hannity said on Twitter that he assumed his conversations with Cohen "were confidential."
Now it's an open question whether those conversations are in the hands of federal investigators.
Last week's Cohen raid reportedly swooped up sensitive documents and recordings.
Monday's court proceeding was primarily about how the evidence would be reviewed and used by the government. Experts say Cohen and his longtime client President Trump could be in legal jeopardy.
The Hannity story is just a sidebar -- but a confusing one for sure.
Related: Hannity has few rules, and that's why Fox now has a problem
Hannity said on Fox Monday night that his conversations with Cohen "never rose to any level that I needed to tell anyone that I was asking him questions."
The disclosure question came up repeatedly on Monday -- even on the Fox talk show "The Five."
"The question for me is why Sean didn't disclose this earlier?" co-host Juan Williams said.
Later in the day, the network's 8 p.m. host Tucker Carlson strongly defended Hannity.
"Sean Hannity is a talk show host. He's not under investigation by anyone for anything. Who he hires as a lawyer, and why, is nobody's business," Carlson said. No judge has a right to violate his privacy or anybody else's. Those used to be the rules -- but the rules have changed."
Carlson then pivoted to say that the point of special counsel Robert Mueller's Russia probe "is not to find collusion," the point is "to hurt Trump and anybody close to Trump."
Anti-Mueller and anti-FBI themes are a daily feature of Fox's pro-Trump talk shows.
Hannity was trying to host one of those segments on Monday night when guest Alan Dershowitz brought up the Cohen predicament.
"I really think that you should have disclosed your relationship with Cohen when you talked about him on this show," Dershowitz said.
Hannity responded by saying it was a "minimal" relationship.
Dershowitz said "you had the right, by the way, not to have your identity be revealed," and Hannity agreed: "I have the right to privacy. I do."