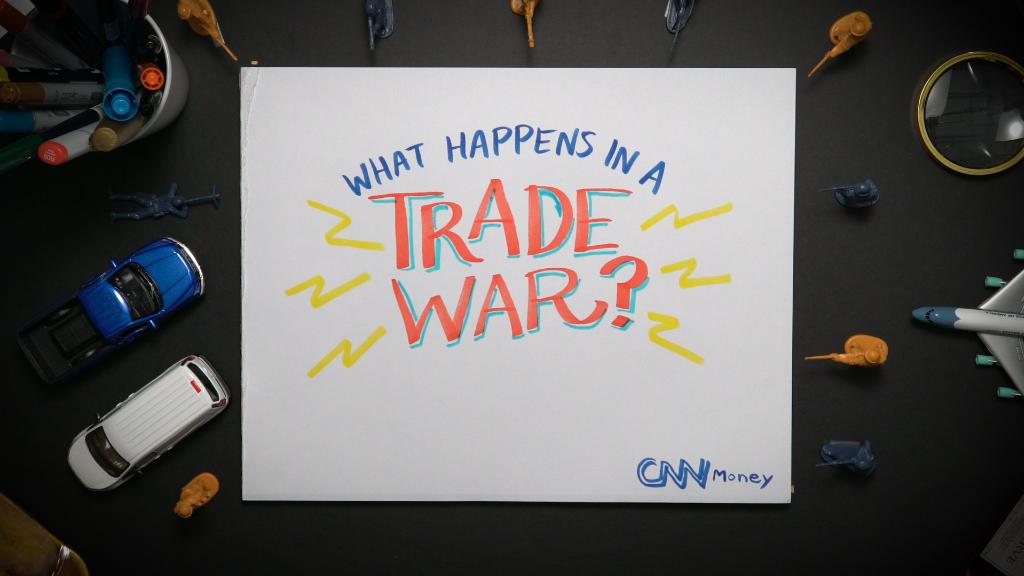 After a brief lull in the skirmishing, the trade battle between the United States and China is escalating once again.
In the last 24 hours alone, the United States dealt a potentially crippling blow to a big Chinese tech company, Beijing hit out at a major American export crop, and President Donald Trump fired off another angry tweet.
"I hesitate to call it a [trade] war ... It's more of a trade battle at the moment, but it's escalating," said Ian Mitchell, a trade expert and senior policy fellow at the Center for Global Development.
China made clear again Tuesday that it was willing to stand its ground in the increasingly tense standoff between the world's two biggest economies.
"If the US continues to act recklessly ... we stand ready to show our sword, and fight to win this battle to defend multilateralism and free trade," Foreign Ministry spokesperson Hua Chunying said in response to a punitive US move against Chinese smartphone maker ZTE.
A potential trade war has been brewing since April 2017 when Trump directed the Commerce Department to investigate whether imports of foreign steel from China and other countries could be a threat to national security.
Fast forward to March 2018: The US imposed a 25% tariff on steel imports from China and many other nations. Beijing responded by imposing tariffs on US imports worth around $3 billion. This escalated to the point that Trump ultimately threatened to impose new tariffs on $150 billion of Chinese goods.
Here's a catchup on the latest moves that are turning up the heat.
Sorghum slammed
China said Tuesday that it would introduce a huge import charge on US shipments of sorghum, a grain that is used to feed livestock and make a liquor that's very popular with Chinese drinkers.
Starting Wednesday, Chinese customs officers will charge importers a fee of about 179% on US sorghum after an investigation found the shipments were unfairly subsidized and damaging Chinese producers.
China is the largest buyer of American sorghum, and its imports were worth nearly $1 billion last year.
ZTE banned
The US cracked down on ZTE, one of China's biggest tech companies, on Monday.
The Department of Commerce has banned American companies from selling parts and services to ZTE for seven years. The US threatened the ban in 2017 after ZTE illegally shipped equipment to Iran and North Korea. Further misconduct led the Commerce Department to impose the ban, according to a statement from the agency.
ZTE buys microchips from Qualcomm (QCOM) and glass from Corning (CNIG), and the company is the fourth biggest smartphone supplier in the United States.
The company's shares were suspended from trading in Hong Kong on Tuesday following the US announcement.
Currency clash
During his presidential campaign, Trump repeatedly accused Beijing of undervaluing its currency to boost exports. By May 2017, he said the manipulation had stopped, and he personally took the credit.
Now, he seems to be having second thoughts. In a tweet on Monday, he said the world's second largest economy was once again "playing the Currency Devaluation game" and this was "Not acceptable!" (He also lumped Russia in with China.)
The rebuke from Trump contradicted a recent report from the Treasury Department saying that no US trading partner was manipulating its exchange rate.
Since Trump took office, the dollar has weakened against other currencies including the Chinese yuan.
"It seems that President Trump might be looking to focus on currencies next to influence his trade battle," said Hussein Sayed, chief market strategist at FXTM.
More to come?
To top it all, the Wall Street Journal reported on Monday that US trade representatives are considering fresh retaliatory measures against Beijing for its restrictions on American tech and cloud services.
The story, which cited unnamed sources, said the officials believed China was unfairly restricting trade in these US services.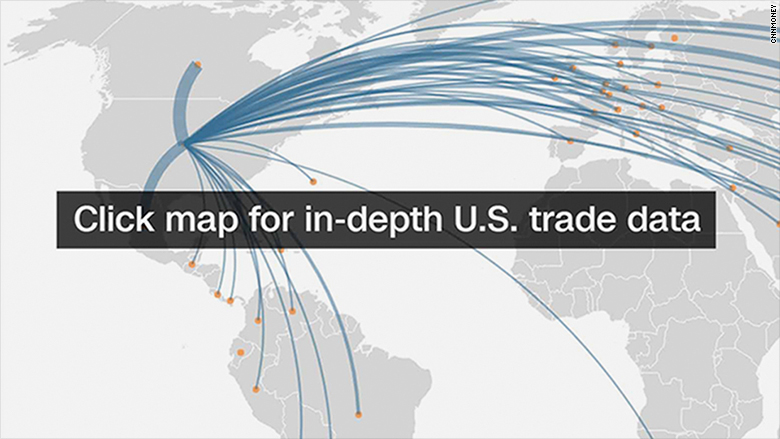 Experts are deeply concerned about how the situation is unfolding.
From the perspective of Chinese trade negotiators, "there is not enough understanding on what is being sought" by the Trump Administration, explained Roberto Azevêdo, the director-general of the World Trade Organization, in a Monday interview with CNN's Christiane Amanpour.
Demanding "reciprocity" might be a digestible political slogan, he said, but "for a negotiator on the other side, it's not that clear... They need more details."
Mitchell also noted that the moves by both sides didn't adhere to international norms.
"From a broader perspective, these are two countries ignoring the rules of the global trade system and engaging in tit-for-tat trade measures," said Mitchell.
"I think it will damage business in both countries. But it's still at a stage where it's inconvenient rather than a full blown economic crisis," he said.
The flare up comes after recent signs that tensions may be easing. A week ago, Chinese President Xi Jinping said his government would cut tariffs on vehicle imports this year, a long-promised move that addresses one of Trump's major gripes.
There was more news in that vein Tuesday, with the Chinese government outlining a timetable for removing restrictions on foreign ownership of automakers in the world's biggest car market.
-- CNN's Steven Jiang in Beijing contributed reporting.