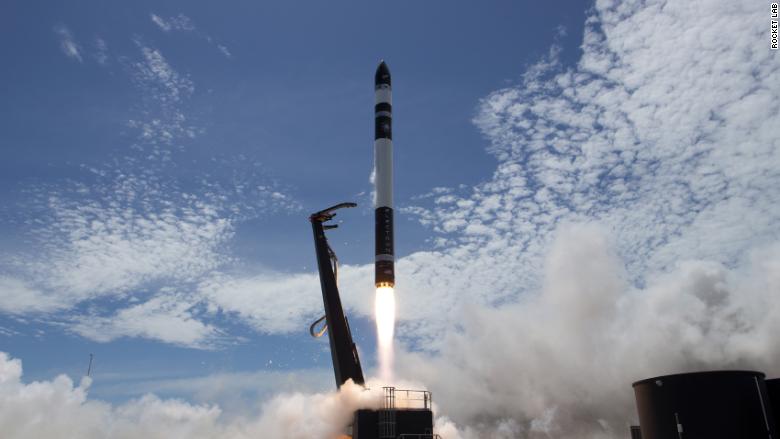 A satellite startup just signed a first of its kind deal that it hopes will bring it more business in the red-hot small satellite market.
York Space Systems announced Tuesday that it signed a contract with Rocket Lab, a California and New Zealand-based startup that aced its first-ever orbital launch in January. The companies plan to streamline and reduce the cost of getting a small satellite to space.
York and Rocket Lab want to upend the current system, which takes months for satellites to undergo what's called "mission integration" — tests and retrofitting to ensure a satellite can fly safely aboard a rocket.
Their partnership will eliminate that process by doing all the integration work up front, making it easier and cheaper for a company to purchase a York satellite and get it to space on a Rocket Lab vehicle.
"The space industry has always been really fragmented," Rocket Lab CEO Peter Beck told CNNMoney. "So, in order to really reduce the time frame from idea to orbit, [you have to think of the satellite] and rocket as a marriage."
This agreement is the first of its kind and could provide a window into what's to come for the small satellite industry and a new era of ultra-cheap launches.
The back story
Throughout history, launching objects into space has involved lengthy time frames and many millions of dollars.
The cumbersome process has made space inaccessible to companies and research groups that would otherwise find it useful to send up their own data-collection or communications satellites.
As technology has evolved, small satellites that are cheaper and more capable have come onto the market.
But those satellites still need rockets to get to orbit. And today's rockets aren't built for lightweights.
A SpaceX Falcon 9 rocket, for example, can deliver hefty telecommunications or military satellites into distant orbits. The rocket has a bargain sticker price of $62 million and can hoist more than 50,000 pounds into space.
Related: Meet Rocket Lab, the newest player in the global space industry
Small satellites headed for Low-Earth Orbit can tag along on Falcon 9 launches, but they'll be a secondary payload. And with high demand for getting small satellites into space, there's no telling when a hitchhiking opportunity will arise.
But a number of commercial space startups have plans for small, simple rockets that can fly frequently at unheard of price points. Just a few million dollars per launch.
Rocket Lab is one of those startups, and in January it made spaceflight history by becoming the first among these SmallSat launch providers to actually deliver satellites into orbit with its $5.7 million Electron-R rocket.
Now, customers are lining up.
Beck, the CEO, says he wants the Electron-R to launch eight times this year and eventually reach a once-per-month cadence. The second-ever of its launches is slated to come in the next few weeks.
The S-Class
York, founded in 2015, has developed what it says is a highly versatile satellite — a base structure that can be rejiggered to perform all types of tasks in orbit.
It's called the S-Class, and it's about the size of a mini fridge, costs less than $1 million, weighs up to 150 pounds, and can stay in orbit for three to five years. York plans to mass manufacture the S-Class as a sort of ready-to-use small satellite platform.
Dirk Wallinger, the firm's CEO, outlined a few ways the satellite can be used in an interview with CNNMoney.
Insurance companies could use S-Class satellites to give them better weather modeling and assess damages after natural disasters. Oil and gas companies like Shell and Exxon could use an S-Class to scan the Earth for undiscovered resources in remote areas.
There are already satellites in orbit that can provide this type of information. But the data those satellites deliver can be accessed by anyone.
Related: AI companies spot a business opportunity in space
That is one reason Wallinger says companies have an appetite for buying their own, personal satellites: They'll have exclusive rights to whatever data it collects.
And York's new deal with Rocket Lab is aimed at making it more economically feasible for companies and research groups to get it done.
The deal isn't exclusive. So, York is free to ink similar deals with Rocket Lab's competitors. Richard Branson's Virgin Orbit and Arizona-based startup Vector both plan to put rockets into orbit for the first time in the coming months.
Likewise, other small satellite builders are free to make deals with Rocket Lab.
There are still questions, however, about how sending up hoards of tiny new satellites can be done responsibly. Experts have called for the industry to regulate itself to ensure that there are no collisions as Low-Earth Orbit gets more crowded. And it remains to be seen exactly how long there will be strong demand in the SmallSat industry.
Wallinger, however, is confident this is just the beginning. The S-Class already has 91 governmental and commercial customers. And Wallinger says it's only the "tip of the iceberg" for how many use cases there could be.
Rocket Lab plans to launch the fist S-Class, retrofitted to take images of the Earth for Finnish space firm Iceye, in November.