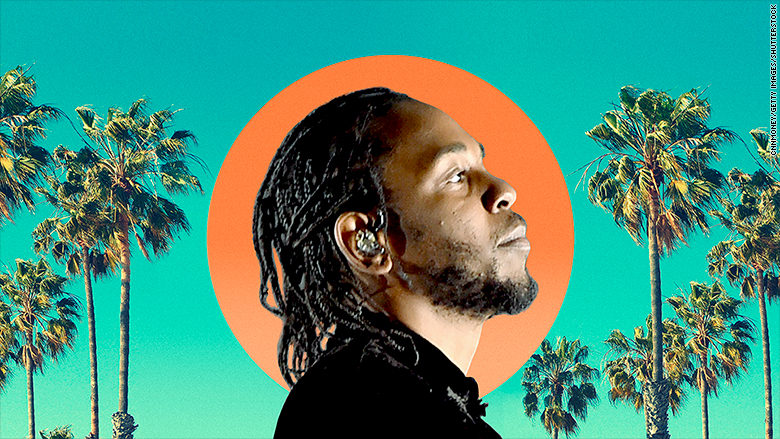 What's Good: The Pride of Compton: Kendrick Lamar has been awarded the Pulitzer Prize for Music for his album "DAMN", the first non-classical, non-jazz album ever to win the award. The Pulitzer Board calls it "a virtuosic song collection unified by its vernacular authenticity and rhythmic dynamism..."
Sign up for PACIFIC: The new CNNMoney newsletter about the center of change and innovation
How it happened: The Nation's music critic David Hajdu, a Pulitzer music juror, told the New York Times that the board considered more than 100 compositions, including "some pieces of classical music that drew upon hip-hop as a resource," leading them to consider hip-hop "on its own terms."
This year's music jurors were Hadju; violinist Regina Carter; composer David Lang; Metropolitan Opera director Paul Cremo and Columbia University professor Farah Jasmine Griffin. Their decision was unanimous: "We listened to it and there was zero dissent," Hajdu said. "A lively and constructive conversation, but no dissent."
What we're listening to: "God." on repeat.
---
Today's PACIFIC
Good morning. Jeff Bezos' Washington Post also won a few Pulitzers: One for its investigative reporting on US Senate candidate Roy Moore and another, which it shared with the New York Times, for its reporting on Russia's interference in the 2016 election.
Bezos: "Great reporting requires patience, grit and a willingness to follow a story wherever it leads, whether Alabama or Moscow..."
What Silicon Valley is talking about: Elon Musk at the crossroads; China on offense; and a new "Cybersecurity Tech Accord" ... What Hollywood is talking about: The new Netflix numbers ... What Seattle is talking about: A $10-million public radio gift ...
---
Star Man: Elon Musk's limits
The Big Picture: Elon Musk is a visionary and a showman, and he takes the long view. But until he puts men on Mars, connects our brains to A.I. or builds an underground tunnel that alleviates urban congestion, he will be judged by more mundane metrics like Tesla production levels. If he can't build cars on time, critics ask, how can he take us to space?
Musk often responds to bad news by making new promises, such as saying Tesla would be profitable by Q3 of this year, or announcing new plans at one of his other companies to throw off the hounds. It's not clear much longer he can do that with Model 3 production, which is starting to feel like a litmus test of his entire enterprise.
The Latest:
"Tesla Is Temporarily Shutting Down Model 3 Production. Again" by BuzzFeed's Caroline O'Donovan:
• "This is the second such temporary shutdown in three months for a vehicle that's already significantly behind schedule."
• "The announcement of the four- to five-day production pause ... came without warning. ... During the pause, workers are expected to use vacation days or stay home without pay."
• "A Tesla spokesperson said that the assembly line is on pause in order to 'improve automation.'"
"Elon Musk pumps more than $100 million into his Boring Company" by CNNMoney's Aaron Smith:
• "Elon Musk's Boring Company has raised nearly $113 million. ... [M]ore than 90% of the funding this round came from Musk, with the rest from early employees."
• "The tunnel-digging company doesn't say what the funding is for. But the Boring Company is designing and planning to build a network of high-speed tunnels for mass transportation, which Musk has referred to as 'an urban loop system.'"
"SpaceX to build Mars rocket at the Port of Los Angeles" by CNNMoney's Jackie Wattles:
• "SpaceX won't have to pay rent for the facility for more than two decades. It will get more than $40 million in rent credits for renovating and upgrading the facility, which has been vacant since 2005. The company will not receive any subsidies from the city."
• "The Big Falcon Rocket is at the heart of CEO Elon Musk's plan to settle a colony of humans on Mars."
Sign up for PACIFIC: The new CNNMoney newsletter about the center of change and innovation
---
What San Francisco is freaking out about
"San Francisco's Big Seismic Gamble" by NYT's Thomas Fuller, Anjali Singhvi and Josh Williams: "San Francisco lives with the certainty that the Big One will come. But the city is also putting up taller and taller buildings clustered closer and closer together because of the state's severe housing shortage. Now those competing pressures have prompted an anxious rethinking of building regulations. Experts are sending this message: The building code does not protect cities from earthquakes nearly as much as you might think."
---
Rise of China: Beijing leads 5G race
What's Next: China is beating the United States in the race to own 5G, the technology that will power the future, according to a new CTIA report.
My colleague Julia Horowitz breaks it down:
• "China is most prepared to launch the next generation of super-fast wireless technology. South Korea is second, while the United States ranks third."
• "Beijing plans to deploy 5G on a large commercial scale by 2020, and China's top carriers have all pledged to meet this timeline."
• "The Chinese government has also already distributed a good portion of the necessary radio frequencies."
The Big Picture: "Around the world, mobile carriers are sprinting to adopt 5G networks, which will ultimately be used to power self-driving cars, virtual reality and smart cities. Whichever country gets 5G networks up and running first will have a huge global investment and hiring advantage."
The Latest:
• China's economy grew by 6.8% in Q1 2018.
• China is slapping 179% tariffs on US sorghum imports.
• China's ZTE has been blocked from buying US components.
All in one place: "US-China trade: 24 hours that escalated the fight" by CNNMoney's Alana Petroff.
---
Tech Treaties: A new 'Cybersecurity Accord'
Microsoft, Facebook and roughly 32 other tech companies have signed a new "Cybersecurity Tech Accord" declaring that they will not help governments launch cyberattacks against "innocent civilians and enterprises." The companies also pledged to defend any nation that is the victim of such an attack, whether "criminal or geopolitical."
Who else is on the list: Cisco, Dell, HP, Intuit, Oracle, RSA, and more ...
Who isn't on the list: Apple, Alphabet and Amazon.
The Latest:
• Microsoft President Brad Smith has been leading the fight for US cybersecurity and believes the world needs a "digital Geneva Convention" to set common rules.
• The biggest cybersecurity threats come from Russia, Iran, North Korea and China.
• The US and UK warned this week about new cyberattacks from Russia against governments, private companies and citizens.
Speak of the Devil: New from CNNMoney's Sara Ashley O'Brien: "TaskRabbit shuts itself down while it investigates cybersecurity incident."
Sign up for PACIFIC: The new CNNMoney newsletter about the center of change and innovation
---
Valleyspeak
• "Apple Is Planning to Launch a News Subscription Service" (Bloomberg)
• "Facebook tries to clarify how it collects data when you're not on Facebook" (CNNMoney)
• "Amazon in talks with airline Azul for shipping in Brazil" (Reuters)
• "Didi vs. Uber: The New Global Order in Ride Hailing" (The Information)
---
Talk of Tinseltown: Netflix on fire
My colleague Jordan Valinsky emails:
• Netflix had a blockbuster first quarter, adding 7.4 million new subscribers -- nearly 1 million more than Wall Street was expected. Revenue also jumped 43% year-over-year to $3.7 billion.
• Netflix says it will spent up to $8 billion on content this year.
• Netflix now has 125 million global subscribers.
Bragging Rights, via CNNMoney's Seth Fiegerman:
• On a conference call with analysts, Netflix executives admitted to being surprised by the company's current level of success.
• David Wells, Netflix's CFO: "We've outperformed the business in a way we didn't predict. ... The business has grown faster than we expected."
The Debt Conundrum:
• Requisite cautionary note, via Bloomberg's Shira Ovide: "Netflix owes $28 billion in coming years to pay for programming, its debt and other contractual commitments."
• In a quarterly letter to shareholders, Netflix said it will "continue to raise debt as needed to fund our increase in original content," adding that its debt levels were "quite modest as a percentage of our enterprise value."
The Big Picture, via Valinsky:
Netflix has an unparalleled library of buzzy shows, a growing portfolio of high-profile producers and international reach that makes it unstoppable -- for now. But the cash burn is fast, big and potentially disastrous.
Bonus: Streaming Subscriber Scoreboard: Netflix: 125 million; Amazon: 90 million; Hulu: 17 million; HBO: 5 million ... New players next year: Disney and Apple ... (h/t Axios' Sara Fischer)
Sign up for PACIFIC: The new CNNMoney newsletter about the center of change and innovation
---
How to Give it: KEXP gets $10m donation
Seattle public radio station 90.3 KEXP has received a nearly $10 million gift from a donor known only was "Suzanne."
• KEXP's chief content officer Kevin Cole says it is "among the largest bequests to a single public radio station in history."
• Coles says the "transformative" gift will be "used to implement a range of music and media education programs, accelerate KEXP's digital content strategy, and allow for more room for experimentation with radio and online music programming."
The Big Picture: The things that bolster civil society -- serious newspapers, public parks and quality radio stations -- usually don't pay for themselves.
Raise a glass for benefactors.
---
What Next: Pitchfork's "10 Amazing Music Festivals to Plan Your Summer Vacation Around," from Los Angeles to Reykjavik to Niigata Prefecture.
See you tomorrow.
Want this in your inbox every morning? Sign up for PACIFIC: The new CNNMoney newsletter about the center of change and innovation