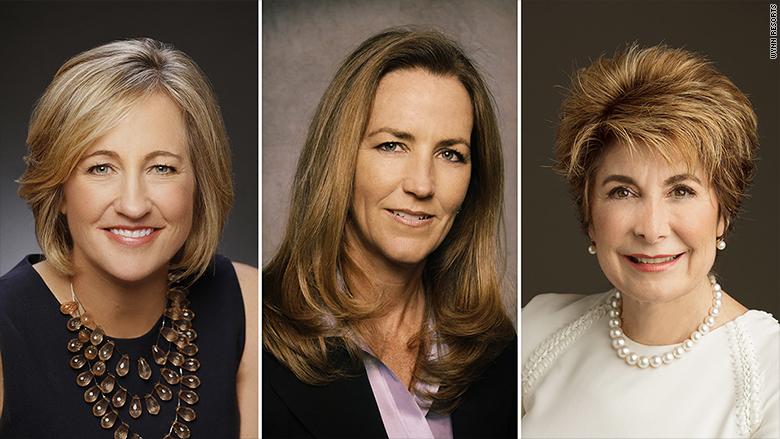 Wynn Resorts has appointed three women to its board of directors, a move the company says ushers in a "new era" following the resignation of former CEO Steve Wynn, who stepped down earlier this year amid allegations of sexual misconduct.
"These appointments signify a turning point for us, and I look forward to working with each of our new directors as we usher in a new era at Wynn," Chief Executive Officer Matt Maddox said in a statement on Wednesday.
Wynn's board of directors announced the appointments on Wednesday -- more than two months after Wynn Resorts founder Steve Wynn resigned as CEO, citing "an avalanche of negative publicity." The billionaire founder of Wynn Resorts (WYNN) has denied allegations of sexual misconduct, which were first reported in a Wall Street Journal story.
The board said its new members are Wendy Webb, CEO of Kestrel Advisors who was an executive for 20 years at The Walt Disney Company (DIS), a "three-time CEO" Betsy Atkins, and also Dee Dee Myers, a public relations executive for Warner Brothers Entertainment who was White House press secretary during the Clinton administration. Myers also wrote a book in 2009 called "Why Women Should Rule the World."
Maddox said the new appointments "make Wynn a global leader in board diversity."
"We have made it a priority to implement meaningful change at Wynn Resorts and are committed to elevating our corporate governance practices and fostering a diverse and inclusive workplace," said Maddox.
Related: Steve Wynn steps down as CEO of Wynn Resorts
A company spokesman said the three were selected because Atkins is "an expert in corporate governance," Myers has a "deep knowledge of strategic positioning, branding and communications," and Webb has "world-class hospitality and tourism experience."
Steve Wynn allegations punish his company's stock
There are now 11 members on the Wynn Resorts board of directors.
Last month, Wynn sold the last of his stake in the gambling empire that bears his name. The company said it's conducting an internal investigation with a third-party law firm "into the company's awareness and response to allegations regarding its former CEO, Steve Wynn."