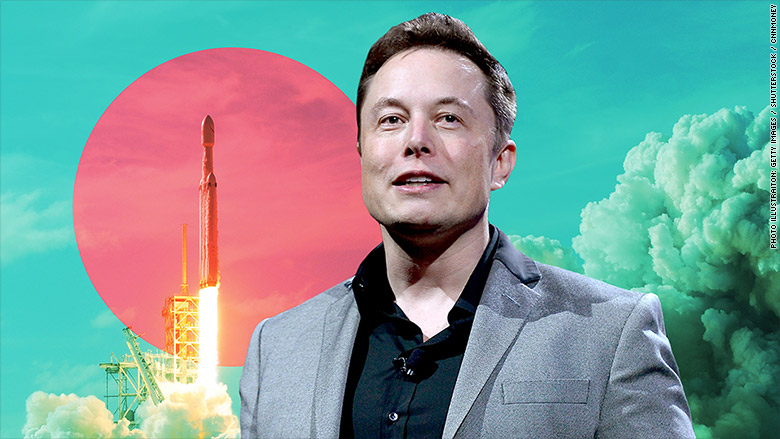 What's Next: Rethinking the A.I. conversation: My conversations with artificial intelligence experts over the six weeks since PACIFIC launched have taught me something: Radical, irreversible change is coming to every facet of our lives, but it's not coming nearly as fast as A.I.'s most ardent evangelists would have you believe. When a bright-eyed entrepreneur tells you we're 2 years away from X, it's a safe bet we're at least 5 years away from X.
Sign up for PACIFIC: The new CNNMoney newsletter about the center of change and innovation
New today from the McKinsey Global Institute:
• "Artificial intelligence is attracting growing amounts of corporate investment ... So far, however, only about 20 percent of AI-aware companies are currently using one or more of its technologies in a core business process or at scale."
• "For all their promise, AI technologies have plenty of limitations that will need to be overcome ... [including] onerous data requirements ... [and] the difficulty of obtaining data sets that are sufficiently large and comprehensive ..."
• "In some areas ... the cost and complexity of deploying A.I. may simply not be worthwhile, given the value that could be generated."
• "Societal concerns and regulations can also constrain AI use. Regulatory constraints are especially prevalent in use cases related to personally identifiable information."
I don't begrudge visionaries their visions. I just begrudge them their timelines.
---
Good morning. What's your favorite coffee spot? Seriously, I'd love to know. dylan.byers@cnn.com.
What Silicon Valley is talking about: Elon Musk's Tesla letter and Facebook's GDPR measures ... What Seattle is talking about: Starbucks as case study and tech beyond Amazon ... What Hollywood is talking about: DOJ vs. AT&T ...
---
Star Man: Elon Musk goes 24/7
Tesla's Model 3 production is becoming a litmus test of Elon Musk's entire enterprise, as I wrote yesterday. Until he puts a man on Mars or links our brains to A.I., he will be judged by his ability to build cars on time.
Now, Musk is moving Tesla to a 24/7 work schedule and pledging 6,000 Model 3s per week by the end of June.
Musk emails Tesla employees (via Jalopnik):
• "Please note that all areas of Tesla and our suppliers will be required to demonstrate a Model 3 capacity of ~6000/week... no later than June 30th."
• "Any Tesla department or supplier that is unable to do this will need to have a very good explanation why not, along with a plan for fixing the problem and present that to me directly."
• "As part of the drive towards 6k, all Model 3 production at Fremont will move to 24/7 operations.
---
Innovation at Work: Musk's productivity tips
Bonus: Musk ends his letter with "productivity recommendations" for staff, which we here at PACIFIC believe should be applied to every company, everywhere, all the time:
• "Excessive meetings are the blight of big companies and almost always get worse over time..."
• "Also get rid of frequent meetings, unless you are dealing with an extremely urgent matter...."
• "Walk out of a meeting or drop off a call as soon as it is obvious you aren't adding value. It is not rude to leave, it is rude to make someone stay and waste their time."
• "Don't use acronyms or nonsense words for objects, software or processes... In general, anything that requires an explanation inhibits communication."
• "Communication should travel via the shortest path necessary to get the job done, not through the 'chain of command.' Any manager who attempts to enforce chain of command communication will soon find themselves working elsewhere."
• "A major source of issues is poor communication between depts. The way to solve this is allow free flow of information between all levels. ... It must be ok for people to talk directly and just make the right thing happen."
• "In general, always pick common sense as your guide. If following a 'company rule' is obviously ridiculous in a particular situation, such that it would make for a great Dilbert cartoon, then the rule should change."
Sign up for PACIFIC: The new CNNMoney newsletter about the center of change and innovation
---
Valleyspeak: Jordan Valinsky's top headlines:
• "Retail Rivals Amazon and Best Buy Team Up to Sell Smart TVs" (WSJ)
• "U.S. Moves to Block Sales by Chinese Telecom Equipment Makers" (NYT)
• "Marissa Mayer Is Still Here ... and planning her next act." (NYT)
• "Electric scooter permits will be required in San Francisco" (TechCrunch)
---
The Trust Crisis: Facebook's GDPR moves
Facebook has announced new steps it will take to comply with the European Union's General Data Protection Regulation and says it will put those measures in to effect for all 2 billion of its users across the globe.
What Facebook will ask users:
• To agree to its updated terms of service and data policy.
• To agree to share political, religious, and relationship information.
• To agree to use third-party data to enhance advertising.
• To turn on or off facial recognition.
What Facebook will not do:
• Stop monitoring your activity across the Internet.
The Big Picture: The new measures will remind Facebook users how their data is used and give them a clear and obvious opportunity to opt in or opt out. But they do not fundamentally change how Facebook monitors user data.
Sign up for PACIFIC: The new CNNMoney newsletter about the center of change and innovation
---
Crisis Management: The Starbucks case study
The Latest: Starbucks will close down 8,000 US stores for an afternoon of racial bias training in response to the arrest of two black men at one of its Philadelphia locations.
• Shutting down U.S. stores for half a day could cost Starbucks tens of millions in lost revenue, based on the fact that it brought in an average of $46.7 million dollars a day from its Americas segment in Q4 2017 (h/t Michael Carson).
• Axios' Mike Allen rightly calls it "a case study in how corporations act when called out for wrongdoing in 2018," and says it "shows a new normal in how fast events escalate and companies respond."
New today: Starbucks' Howard Schultz talks to CBS:
• "I'm embarrassed, ashamed. I think what occurred was reprehensible at every single level."
• "[C]losing our stores... is just the beginning of what we will do to transform the way we do business and educate our people on unconscious bias."
• "It will cost millions of dollars, but I've always viewed this and things like this as not an expense, but an investment in our people and our company."
• "We're better than this."
---
Beyond Amazon: Silicon Valley eyes Seattle
What's Next: Seattle's South Lake Union is expanding beyond Amazon HQ and becoming a favored site for Silicon Valley's big tech players, including Apple, Google and Facebook.
The Latest:
• Google has more than 3,000 employees in Seattle and is building a new 600,000-square-foot campus in South Lake Union.
• Facebook has more than 3,000 employees in Seattle and has leased a new 384,000-square-foot building in South Lake Union.
• Apple, which has made Seattle a hub for its AI operations, is now expanding its downtown offices to accommodate as many as 500 staffers, per GeekWire.
What it costs: Seattle rents are up 42% since Amazon opened its headquarters in 2010. That's more than double the national average. (h/t Mike Rosenberg)
---
Talk of Tinseltown: AT&T gains edge on DOJ
AT&T and Time Warner "may have gained an edge" on the DOJ by exposing "weaknesses in the Trump administration's antitrust lawsuit to block their $85 billion merger," per Bloomberg's Erik Larson and David McLaughlin:
• "AT&T and Time Warner have poked holes in the Justice Department's claim that the deal would give them the power to raise prices on cable and satellite-TV competitors, and disadvantage competitors by coordinating with Comcast Corp..."
• "Lead defense attorney Daniel Petrocelli and his team... attacked the centerpiece of the case: a detailed study by economist Carl Shapiro... [which they portrayed as] unreliable..."
• "Investors have become more confident AT&T will win ..." Bloomberg's Tara Lachapelle: "By my math, trading in AT&T and $TWX imply probability of merger has gone up to 72%, so investors feeling pretty confident."
What's Next: Time Warner CEO Jeff Bewkes is expected to take the stand today. AT&T CEO Randall Stephenson is expected to do so on Thursday.
---
What Next: "Where Hollywood Eats: L.A.'s 20 Hottest Restaurants Right Now," via The Hollywood Reporter.
See you tomorrow.
Want this in your inbox every morning? Sign up for PACIFIC: The new CNNMoney newsletter about the center of change and innovation